Tom Colicchio Reveals Why There Isn't A Top Chef GOAT Season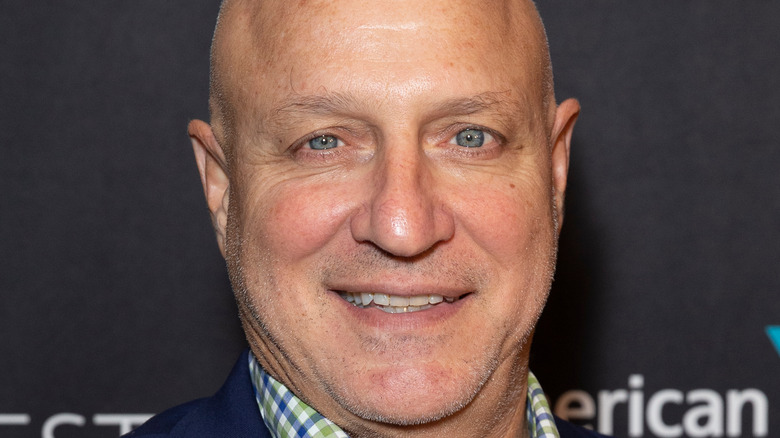 lev radin/Shutterstock
It's hard to believe it's been 16 years since Bravo's "Top Chef" first appeared on our TV screens, but believe it, dear readers, because it's true. The cooking competition made its debut on March 8, 2006, according to IMDb, and in the years since, has turned dozens of chefs into household names. We've seen heartwarming wins and even more heartbreaking losses throughout the show's 19 seasons, and if you're someone that loves all the thrills and scandals of "Top Chef" you might be happy to know that the fun isn't going anywhere anytime soon. During a recent interview with E! News, judges Tom Colicchio and Gail Simmons not only confirmed the show would be returning for Season 20, but also shared that the entire contest will be hosted overseas for the first time ever.
Thus far, most seasons of "Top Chef" have seen a new slew of contestants step into the kitchen, though for Seasons 8 and 17 — which are titled "All-Star" seasons — the program offered chefs that just missed out on the title a chance to try for it again (via Top Chef Stats). The show has also inspired a number of spin-off series as well, including "Top Chef: Masters" and "Top Chef: Just Desserts." While spin-offs are clearly aplenty, one Twitter fan recently noted a "Top Chef: GOAT" season is noticeably absent from the program's lengthy lineup of offshoots, begging the question: What gives?
Tom Colicchio says winners aren't interested in returning
"Top Chef" fans have seen several of the series' winners and a slew of other contestants return to the studio as judges. However, one thing viewers have yet to see is the program's 19 titleholders step back into the "Top Chef" kitchen to battle it out amongst each other, which is what one Twitter user said they're hoping to see. "I think Season 20 should be TopChef GOAT. And we have all the Winners compete to see who is the #topchef #GOAT #Fangoals Can we make this happen?" they tweeted last month, tagging judge Tom Colicchio and others.
We're sure many "Top Chef" lovers could agree that this is a pretty great concept. After all, who wouldn't want to see the show's greatest alumni compete head-to-head? Sadly, for now, it seems that "Top Chef: GOAT" is nothing but a dream. "We have tried, we don't have interest from a majority of the chefs," Colicchio responded. He did not provide any explanation as to why the chefs don't want to compete again, though, as another Twitter user noted, the filming experience takes much longer than other cooking competitions, which can often be completed in just a day. It looks like we'll have to catch our favorite winning chefs by rewatching the series until "Top Chef: GOAT" becomes a reality.