Easy Cherry Dump Cake Recipe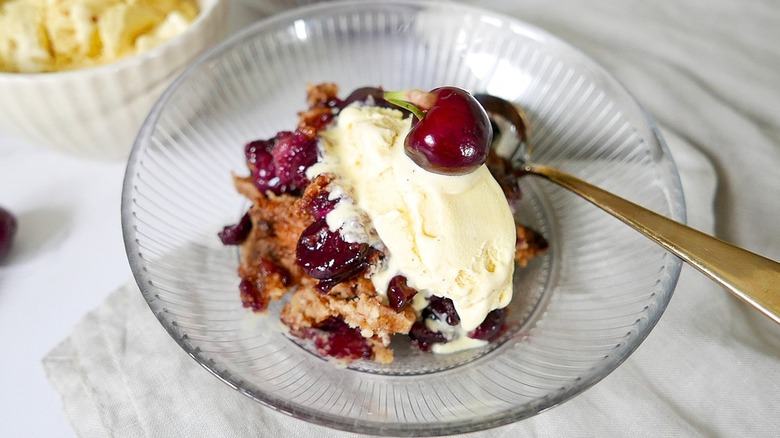 Ting Dalton/Mashed
There are times you want to attempt a challenging baking project, and there are other times you want dessert on the table with minimal effort. We get it! For the days you want an effortless sweet treat, there is nothing easier than a dump cake. Recipe developer Ting Dalton brings us this recipe for an easy cherry dump cake, something that she says is "very much like a British fruit crumble." "This is such a quick and easy way to make a dessert for family and friends, and served with lashings of ice cream, this is both comforting and delicious," she adds.
This cake is ideal during summer as fresh cherries are in season, but if you want to make this cake during winter or don't have the energy to pit the fresh cherries, you can always use frozen cherries. If you choose frozen, Dalton suggests that you should "defrost first otherwise they will release too much moisture." Move over cherry pie — there's a new cherry-centric dessert in town!
Gather your ingredients for an easy cherry dump cake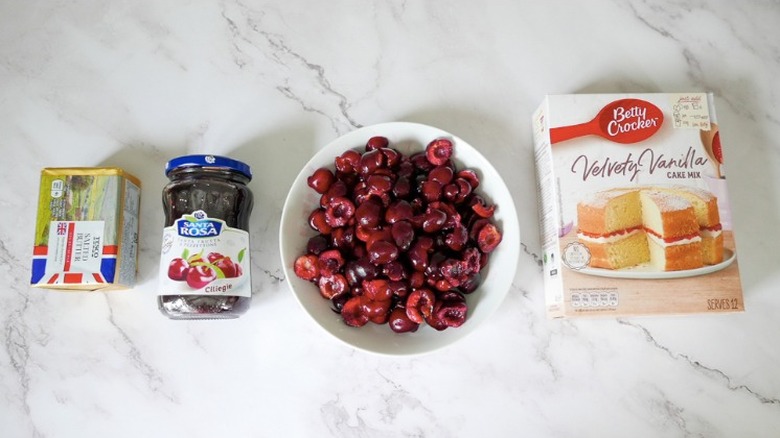 Ting Dalton/Mashed
To make this cherry dump cake, you will need white cake mix, fresh cherries, cherry compote, and melted butter. Dalton notes that "while you can use tinned cherry pie mix, making the extra effort to use fresh cherries will make all the difference to this yummy dump cake."
Add the cherries to a baking dish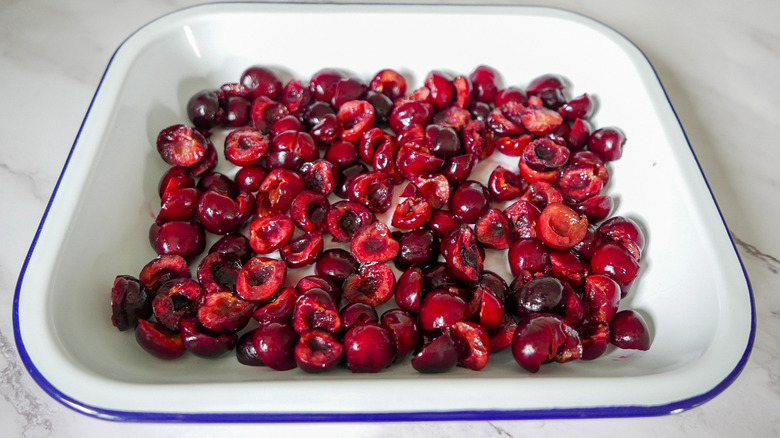 Ting Dalton/Mashed
First things first, preheat the oven to 350 F and grease a 9x13-inch baking dish. Into this baking dish, add the halved cherries and the cherry compote. While you don't technically need the cherry compote here, Dalton includes this ingredient because it "adds an unctuous, fruity sweetness that once baked with the fresh cherries makes it saucy and rich."
Add the white cake mix to the cherries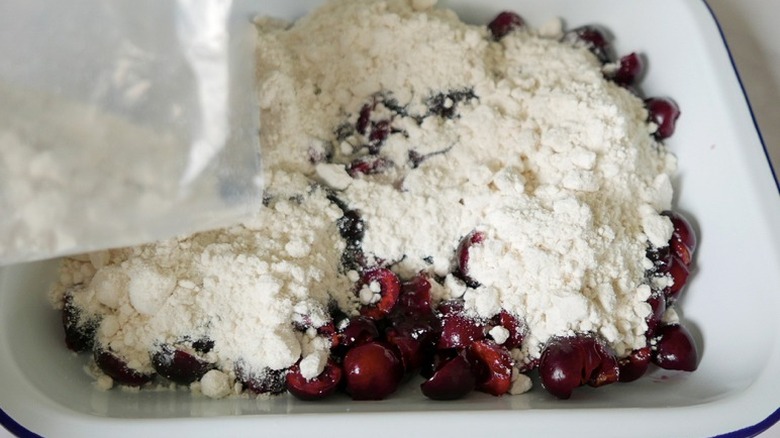 Ting Dalton/Mashed
Now, dump out the contents of the boxed cake mix on top of the cherries. Give the baking dish a good shake to distribute the mix amongst the cherries. You want to make sure that the cherries are evenly coated in cake mix. If necessary, you can pull out a wooden spoon and stir the mixture a bit. It doesn't get easier than this!
Pour melted butter over top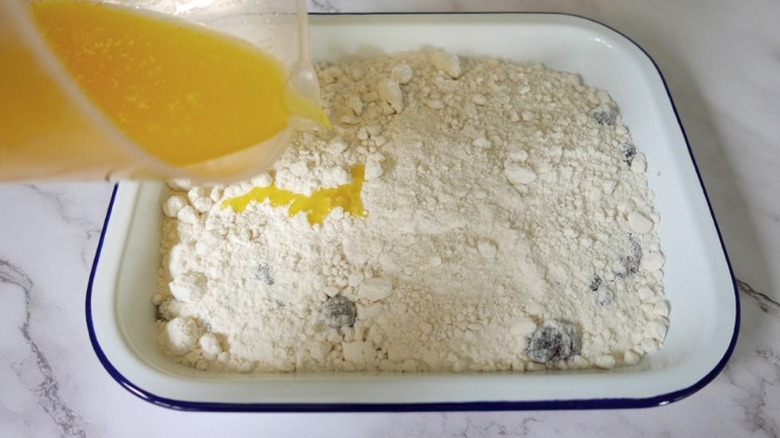 Ting Dalton/Mashed
The last step before you bake this cake is to add the butter. Pour ½ cup or 1 stick of melted butter on top of the dump cake. There is no need to stir at this step. The butter will make its way into every nook and cranny leading to a delicious golden brown cake when baking.
Bake the cake and serve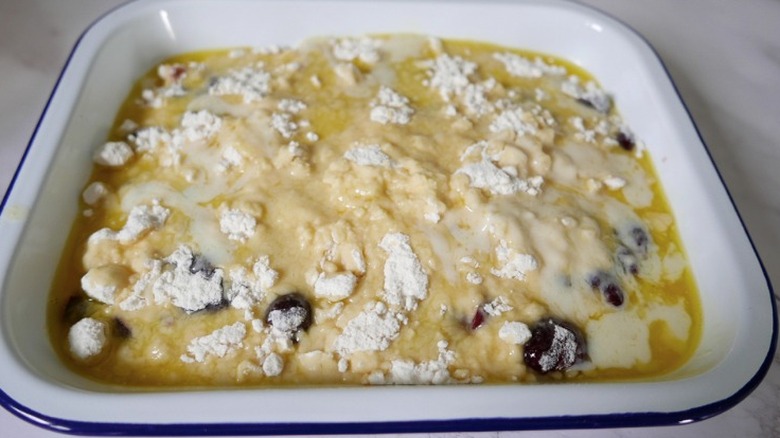 Ting Dalton/Mashed
Now, you can place the baking dish in the preheated oven. Bake for 45 minutes until the top is golden brown and bubbling. Are you drooling yet? Dalton likes to add "lots of vanilla ice cream or whipped or clotted cream" on top of each serving. We doubt there will be leftovers, but if you have any Dalton says you can save them for up to three days and reheat at your leisure. "This can also be frozen for three days," she adds.
Easy Cherry Dump Cake Recipe
Give that cherry pie recipe a break and opt for this easy cherry dump cake instead!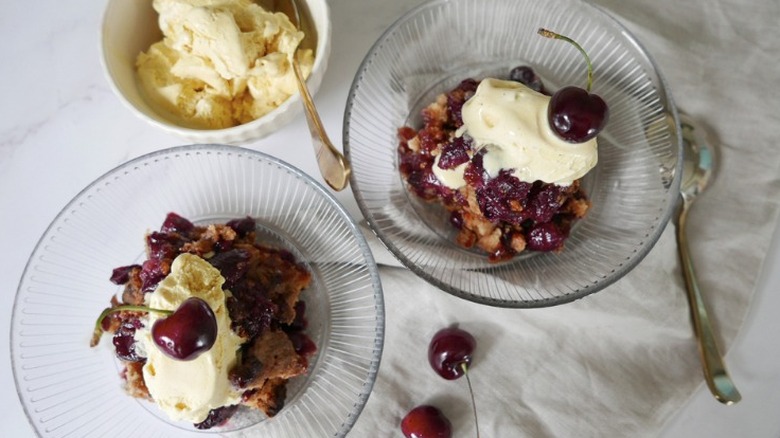 Ingredients
1 box white cake mix
1 pound fresh cherries, pitted and halved
6 tablespoons cherry compote
½ cup melted butter
Optional Ingredients
vanilla ice cream, for serving
Directions
Preheat the oven to 350 F.
Grease a 9x13-inch baking dish, then add the fresh cherries.
Evenly spoon out the cherry compote over the cherries.
Pour the cake mix over the top of the cherries, and shake the baking dish, so all the cherries are evenly covered with the mix.
Pour over the melted butter over the mix, but don't stir.
Bake the cake in the oven for 45 minutes, until the top is bubbling and golden brown.
Serve large spoonfuls with scoops of vanilla ice cream
Nutrition
| | |
| --- | --- |
| Calories per Serving | 561 |
| Total Fat | 25.0 g |
| Saturated Fat | 11.2 g |
| Trans Fat | 1.0 g |
| Cholesterol | 40.7 mg |
| | |
| --- | --- |
| Total Carbohydrates | 81.6 g |
| Dietary Fiber | 2.6 g |
| Total Sugars | 58.4 g |
| Sodium | 582.0 mg |
| Protein | 5.0 g |