The Shocking Burger King Discovery Behind A Delaware Mall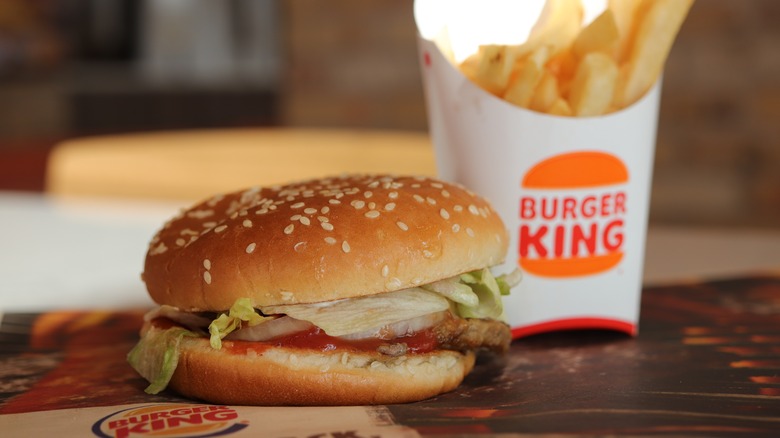 Deutschlandreform/Shutterstock
Its easy to keep track of what happens to a standalone restaurant or bar that closes for good when it's in public view — the property either sits empty, or a new tenant comes in and takes over. But what happens when a fast-food restaurant located in a mall serves its last value meal?
In the case of one former Burger King outlet at the Concord Mall in Wilmington, Delaware, the restaurant turns into a time capsule that pays homage to the 1980s, per People.
An image of the space was originally captured and shared by local Delaware resident Joanthan Pruitt, who stumbled upon it and told Today that he "I didn't think anything of it. But then ... people started telling me it was circulating on the internet and now? I don't know!"
As it turns out, Pruitt's original image had been picked up and shared on Reddit and Twitter by a user whose content specializes in nostalgia. The account user, @RealJezebelly, told Today, "My Twitter account is all about retro gaming and nostalgic '80s and '90s content. Many of us elder millennials are turning or have just turned 40. Seeing things from our childhood sparks joy particularly as we move on in years."
The vintage Burger King is hidden in plain sight
A video tour of the space shared on Facebook live doesn't reveal any mysterious doorway to another dimension. Instead, the old Burger King is hidden in plain sight — behind an ordinary mall facade, the kind we see when a shop has closed and is without a tenant. In the video, the mall's general manager, Tom Dahlke, goes for a walkthrough with New Castle County Executive Matt Meyer — and he reveals that the property is 5000 square feet in size, with all its food prep and beverage service equipment intact. While Dahlke doesn't know when the restaurant opened, he says it closed in 2009.
In a statement to People, Burger King says that they "aren't able to confirm details regarding this location, [but] we have verified that the gloriously retro design and décor lines up closely with Burger King restaurants operating in the 1980s and 1990s and this is in fact a former Burger King restaurant."
While Dahlke seems thrilled that the mall has received so much national attention, the mall executive sounds even more hopeful that the attention will turn into interest for the restaurant space which has been empty for 13 years. He's likely hoping to catch the attention of a prospective tenant who wants to turn the relic from the past into a money-making venture for the here and now.