How The Popeyes Founder Inspired A Local Christmas Tradition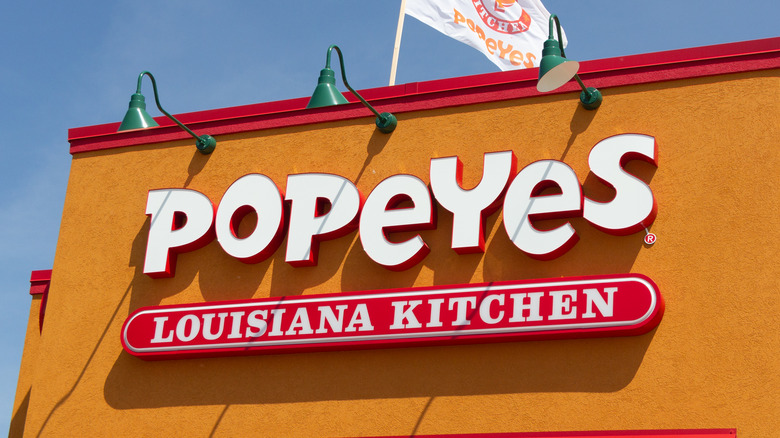 Ken Wolter/Shutterstock
Popeyes Louisiana Kitchen is a fast food favorite hailing from New Orleans and its crispy fried chicken is famous around the globe. The founding store can be traced back to the suburb of Arabi — on the southeastern border of New Orleans — and it was originally called Chicken on the Run (via YouTube). After not performing well, the restaurant got a new name and a new, spicier recipe before re-opening as Popeyes Mighty Good Fried Chicken.
The Popeyes franchise is currently under the umbrella of big food corporation Restaurant Brands International — the same company that owns Tim Hortons and Burger King. Originally, Popeyes was owned by one man, Al Copeland, who founded the restaurant in 1972. He became a New Orleans fixture and even had a local television show on station WWL-TV which was a combination of live host-presented TV and Popeye cartoons (via YouTube). Even though the restaurant name was actually after a movie character played by Gene Hackman and not the iconic cartoon character, Al Copeland realized the marketing potential and bought the rights to use the Popeye cartoon imagery.
However, Al Copeland was a local celebrity and it wasn't just for his spicy chicken.
Christmas lights and giving back to the community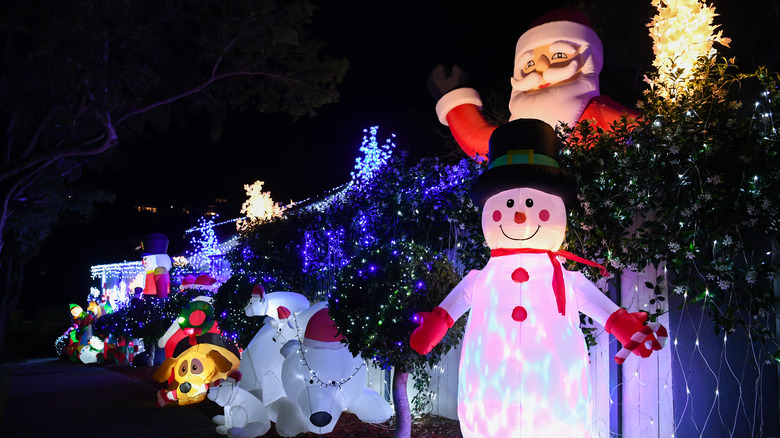 James D. Morgan/Getty Images
Growing up in poverty, the Popeye's owner, vowed that he would give back to the community in some way if he ever made enough money (via The New York Times). When Al Copeland was young, he was one of many kids who loved to stop and look at a highly decorated house in Mid City, New Orleans. This was the Centanni house — owned by local business owners of Gold Seal Creamery (via Go NOLA). When Mrs. Centanni died in the 1960s and the Christmas displays discontinued, Copeland took it upon himself to decorate his own house in the suburb of Metairie.
Unfortunately, some of Mr. Copeland's neighbors weren't overly thrilled with the crowds that were drawn by displays of a brightly lit 15-foot Rudolph statue amongst various similar displays. There were many lawsuits against the lavish exhibit that lit the lawns throughout December each year for 35 years (via Houma Today). "I always said if I ever have enough money ... I'm going to do these Christmas decorations. ... I did it successfully for about six to seven years before anybody complained," Copeland said during a 1985 interview with WWL-TV.
Copeland sadly died from cancer in 2008 and the famous house that supported the thousands of twinkling lights was demolished. Much of the house was donated to Habitat for Humanity and the Christmas lights were donated to Lafreniere Park in Metairie (via Nola.com).
Al Copeland's legacy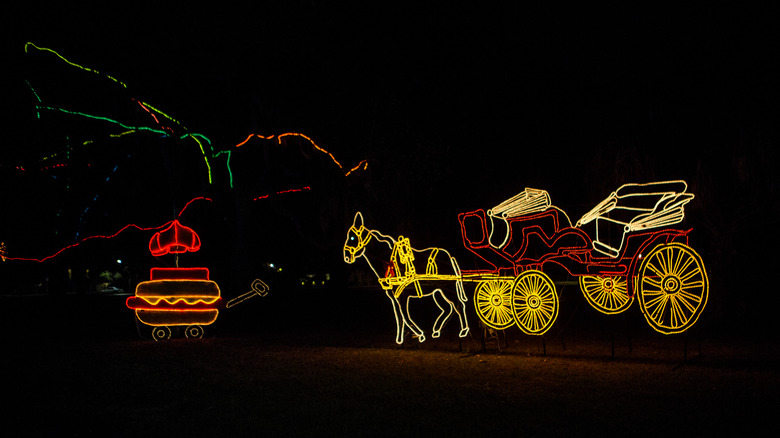 Josh Brasted/Getty Images
The annual Christmas lights display at the Copeland house in Metairie was a way for the restaurant magnate to give back to the community, and that legacy continues to live on in the yearly display at Lafreniere Park. "Christmas in the Park" has been ongoing since the 1980s and the light display has grown significantly since then — especially with the addition of Mr. Copeland's decorations (via Nola Curbed).
At the beginning of December, Lafreniere Park opens to tours of the light displays. Guests can typically pay an entrance fee of $10 and either walk or drive through the 155-acre park to see the lights. In 2021, there were over 10 million LED lights that lit up various displays, statues, and trees (via Lafreniere Park). The celebration also included appearances from Santa and other Christmas characters (via Jefferson Parish).
While the Popeyes' founder may no longer be around, his memory and gift to the community is still going strong in New Orleans.