Classic Aperol Spritz Recipe
Jaime Shelbert/Mashed
If you regularly enjoy dinner and drinks out on the town, you've likely seen Aperol spritzes on restaurant cocktail menus. This simple and tasty drink combines Aperol with Prosecco along with a splash of soda water to give the drink the perfect amount of fizz. This beverage is wonderful to enjoy at a brunch or a happy hour, and it also goes well with dinner. According to Tuscany Now & More, this drink originated in Northern Italy in the 1950s and has been gaining popularity in the United States.
Recipe developer Jaime Shelbert of Wholly Nourished came up with her spin on the Italian classic, and it's every bit as delicious as the original. "I can't resist the color and effervescence of this classic aperitif. It is super quick and easy to make as well," Shelbert shares. "This is the perfect drink to serve with appetizers or charcuterie. Aperol spritzes are also a fun option for brunch."
Gather the ingredients for Aperol spritz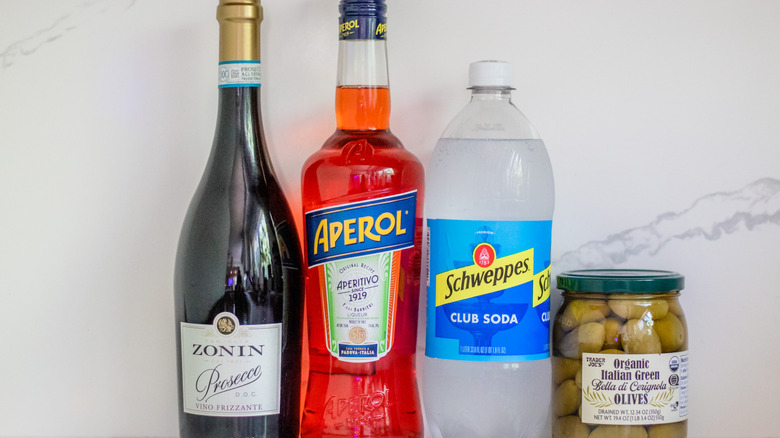 Jaime Shelbert/Mashed
Like most cocktail recipes, this one requires just a handful of ingredients. All you need is Aperol, Prosecco, and soda water. You will also need olives or orange slices for garnish (if you want), and you'll need some ice to make the drink nice and cold.
Once you have those items, you can make this classic Aperol Spritz.
Fill glasses with ice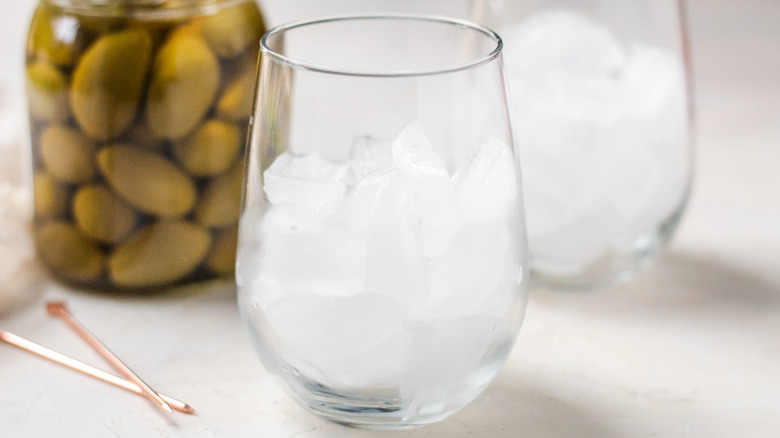 Jaime Shelbert/Mashed
People usually serve Aperol Spritz's in a wine glass, but you can use whatever glass you like. No matter what you choose, the first step is to fill each glass with ice.
Add the Aperol and Prosecco to each glass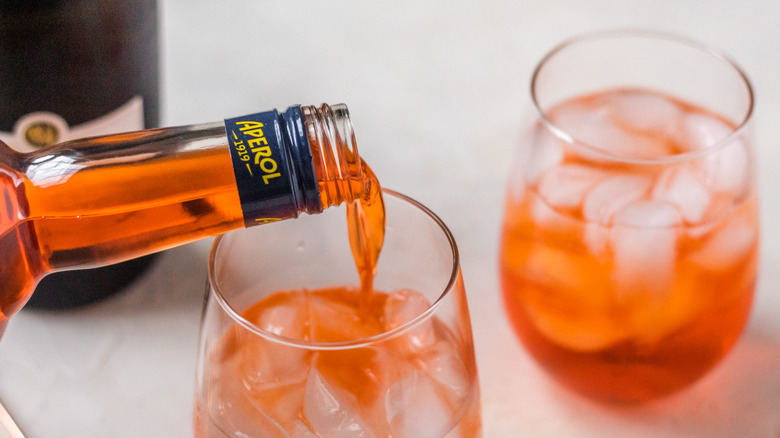 Jaime Shelbert/Mashed
Pour the Aperol and the Prosecco into each glass, distributing them evenly. "The flavor of Aperol can be described as both bitter and sweet," Shelbert explains. "Its high sugar content makes it sweet, but it also has hints of bitter orange." In other words, it's delicious. 
Add a splash of soda water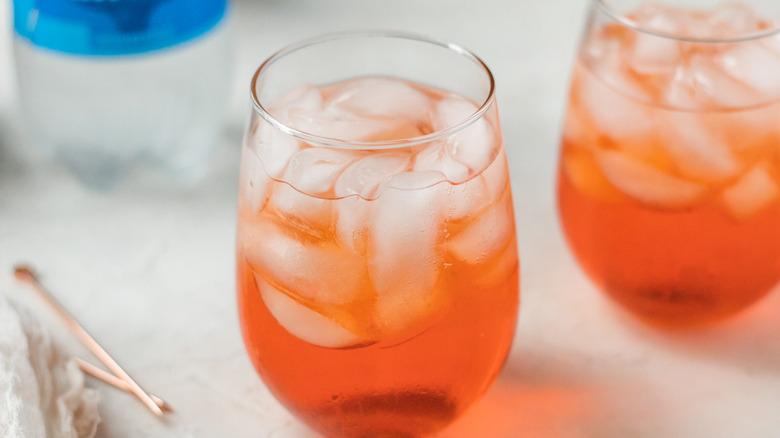 Jaime Shelbert/Mashed
The last thing you need to add to the beverage is a little splash of soda water. This adds just the right amount of fizz to the cocktail.
Garnish and serve
Jaime Shelbert/Mashed
You can garnish this drink with either olives or orange slices. That said, if you go with olives, that's Shelbert's "secret ingredient." 
"Aperol spritzes are commonly garnished with orange slices, but I opted for green olives here," Shelbert explains. "Not only is the color contrast pretty, but adding another flavor profile — the saltiness from the olives — makes it more unexpected and complex."
If you're looking for food to serve this beverage with, Shelbert gives some wonderful suggestions. "When I think of sipping on an Aperol spritz, I immediately think of salty, savory nibbles to offset the sweetness of the spritz," she shares. "Marcona almonds, crostini, charcuterie, and vegetable crudités come to mind as delicious pairing ideas."
Classic Aperol Spritz Recipe
Once you realize how easy it is to make a classic Aperol spritz at home, you'll make sure you have the ingredients on-hand for this bubbly cocktail every night.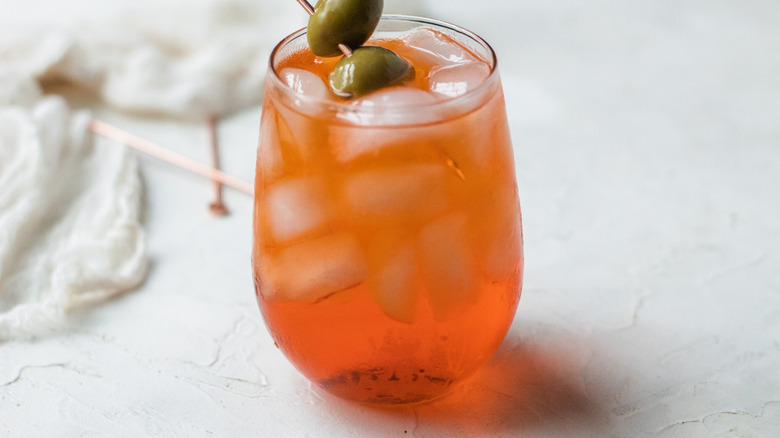 Ingredients
3 ounces Aperol
3 ounces Prosecco
2 ounces Soda water
Optional Ingredients
olives or orange slices, for garnish
Directions
Fill 2 wine glasses with ice.
Add the Aperol and Prosecco evenly to both glasses.
Finish with a splash of soda water to top off each glass.
Garnish the glasses with olives or orange slices, as desired.
Nutrition
| | |
| --- | --- |
| Calories per Serving | 70 |
| Total Fat | 0.0 g |
| Saturated Fat | 0.0 g |
| Trans Fat | 0.0 |
| Cholesterol | 0.0 mg |
| | |
| --- | --- |
| Total Carbohydrates | 2.3 g |
| Dietary Fiber | 0.0 g |
| Total Sugars | 0.7 g |
| Sodium | 10.2 mg |
| Protein | 0.1 g |