The Awkward Reason Diet Dr Pepper Is Trending On Social Media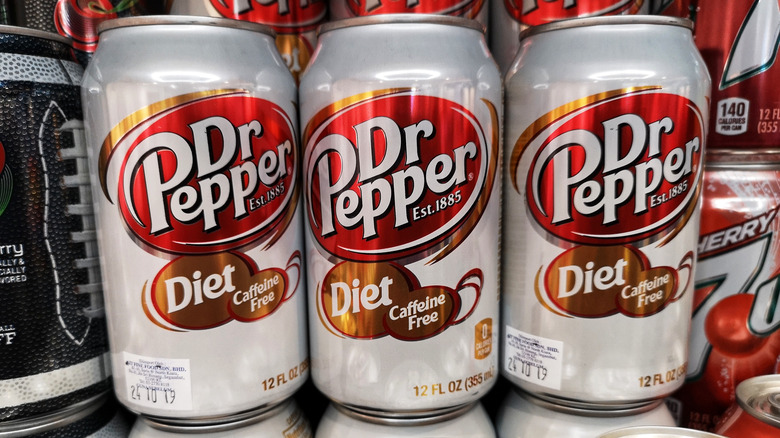 Zety Akhzar/Shutterstock
If you're a Diet Dr Pepper fan and have been following the January 6 committee hearings, you might have experienced a convergence of two interests when former Trump lawyer Sidney Powell was captured on camera with a can of Diet Dr Pepper. This unfolded while Powell was answering a question during a videotaped statement, per Twitter.
The scene was comic relief for an otherwise intense hearing where those inside the congressional chambers, as well as millions of viewers around the world, heard how former President Donald Trump took part in a long, expletive-filled meeting involving members of his White House team and outsiders that included Powell, lawyer Rudy Giuliani, and ex-General Michael Flynn on December 18, 2020. NPR called the meeting "the turning point that set the January 6 insurrection in motion."
What Powell said probably flew over the heads of most viewers, when they became transfixed at the sight of the disgraced lawyer who became known for her claim that she would "release the Kraken" cradle the soda can as she gave her testimony, per Mashable, and then throwing her head back for a long sip, a move which lightened the mood in the committee room for a brief moment.
Sidney Powell was caught on camera sipping Diet Dr Pepper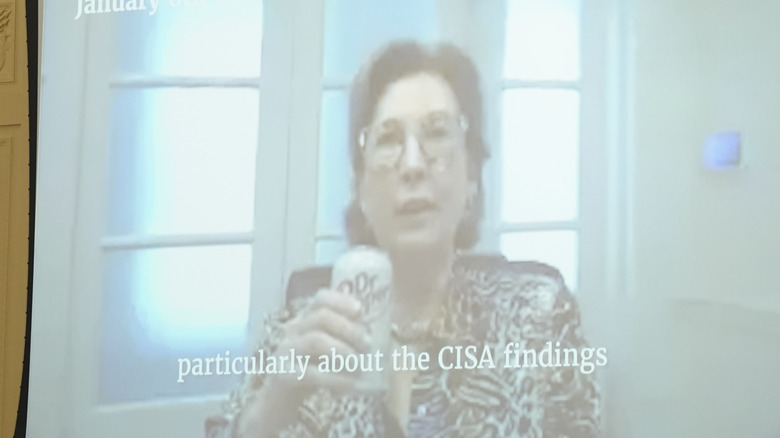 Pool/Getty Images
And it didn't take long before social media lit up with reactions to the Diet Dr Pepper sip seen round the world. "Who had diet Dr Pepper on their insurrection bingo card?" one reporter asked her followers, while another elevated the drink, saying "The unexpected star of today's Jan. 6 hearing: Sidney Powell's Diet Dr. Pepper."
The jokes didn't end there. "Is Sydney Powell trying to score an endorsement deal from Dr. Pepper? When I advise a president on bats*it crazy ideas, my throat gets a little parched. That's when I grab for a can of Diet Dr. Pepper..." remarked a third social media user. And while many thought now would be the time Dr Pepper's marketing department needed to go into damage control thanks to the diet drink's questionable association, others like this Twitter user said: "Thank you to the January 6th editor who included Sydney Powell swigging that Diet Dr. Pepper. You also deserve an Emmy nomination."
Among the more observant, there was just one comment: "That was an odd edit. She didn't say anything else after she drank the pop, so I don't know what they didn't end the cut after she stopped speaking. They didn't need that loooong shot of her just drinking pop out of a can."
Perhaps we'll hear more about that particular testimony at a later date.