Easy Sugar Cookie Icing Recipe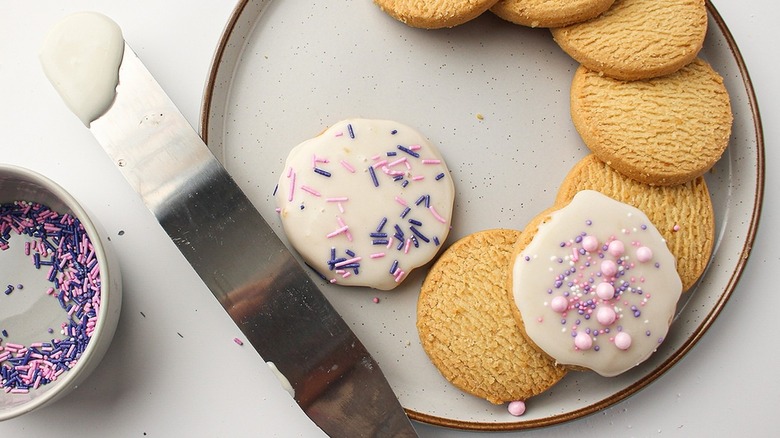 Susan Olayinka/Mashed
Sugar cookies are delicious all on their own or perhaps with a sprinkling of colored sugar, but if you really want to make them into a festive treat suitable for a special occasion, then you'll need the perfect frosting. The one in this recipe, according to developer Susan Olayinka, is just right for sugar cookies because, as she explains, "It's not too sweet, and has just the right amount of vanilla flavor." But wait, that's not all! She goes on to say that "the consistency is perfect for spreading or piping, and it hardens nicely so your decorated cookies will stay looking great." What's more, it's also quite easy to make, requiring only a handful of basic pantry staples.
One ingredient that Olayinka feels makes this recipe really stand out is almond extract, something she says "gives the icing that lovely flavor." She does say, though, that you can omit this ingredient if you prefer, or you could also replace it with different flavor extracts such as mint or lemon. Another way you can customize it is with the use of food coloring. As Olayinka tells us, "Just add a few drops until you achieve the desired color."
Gather the ingredients for this sugar cookie icing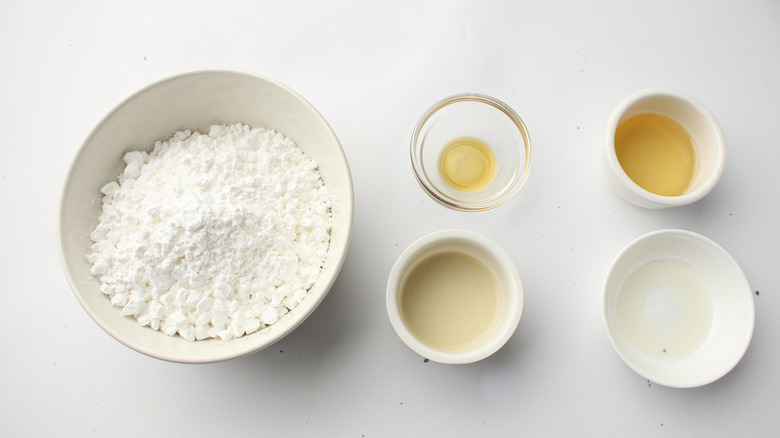 Susan Olayinka/Mashed
The bulk of this icing is made up of powdered sugar. You'll flavor it with the aforementioned almond extract plus some vanilla, then tie it all together with a tiny bit of milk and some corn syrup. As to what this last-named ingredient is doing in the mix, Olayinka says, "The corn syrup helps to thicken the icing and make it glossy." (And no, it's not the same thing as that high-fructose corn syrup we've all been taught to fear.)
Sift the powdered sugar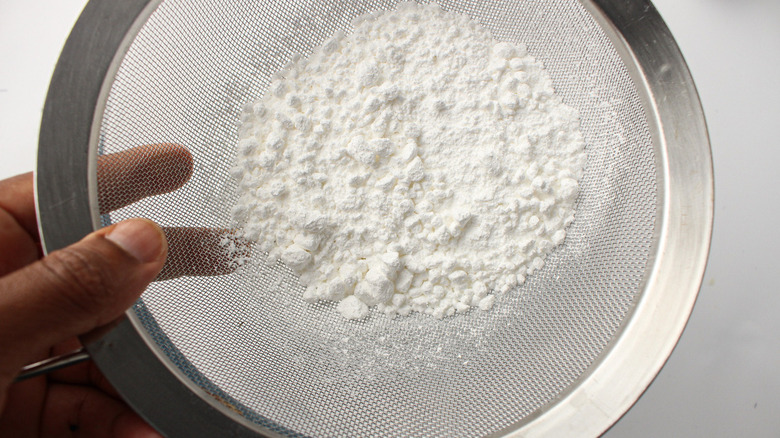 Susan Olayinka/Mashed
Before you measure, sift the powdered sugar. The reason for sifting it first, Olayinka explains, is "because it can clump together and make the icing too sweet." You do not need to have a dedicated sifter as a sieve will work, but you should first stir the sugar, then gently spoon it into the sieve and stir until it passes through. Once you have a sufficient amount in the bowl, again gently spoon enough sugar into a measuring cup to fill it, then use a knife to level out the top. At this point, empty the sugar into a bowl and stir it one more time using a fork.
Mix in the liquid ingredients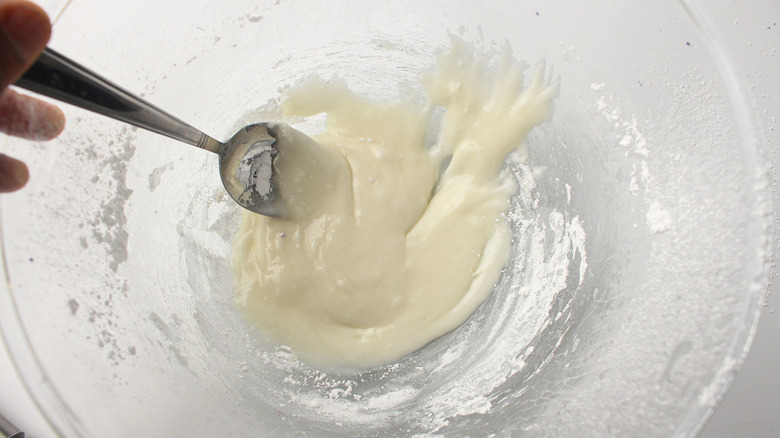 Susan Olayinka/Mashed
Stir the milk and the corn syrup into the sugar until you have a thick paste, then add the flavoring extracts. Stir again until all of the ingredients are well combined. "The final product," Olayinka says, "should be a thick glaze."
Put your icing to good use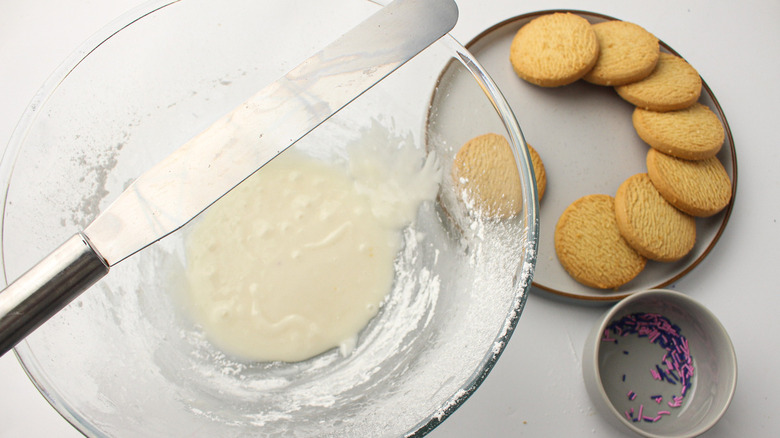 Susan Olayinka/Mashed
As the title of this recipe indicates, this icing makes the perfect topper for sugar cookies, but it can also be used on all manner of different cookies, as well. You can also use it on cupcakes and as a top layer for a frosted cake. Olayinka also feels that this frosting would be "delicious on its own as a dip for fruit or graham crackers."
Easy Sugar Cookie Icing Recipe
This easy sugar cookie icing is the perfect sweet addition to a homemade batch of cookies.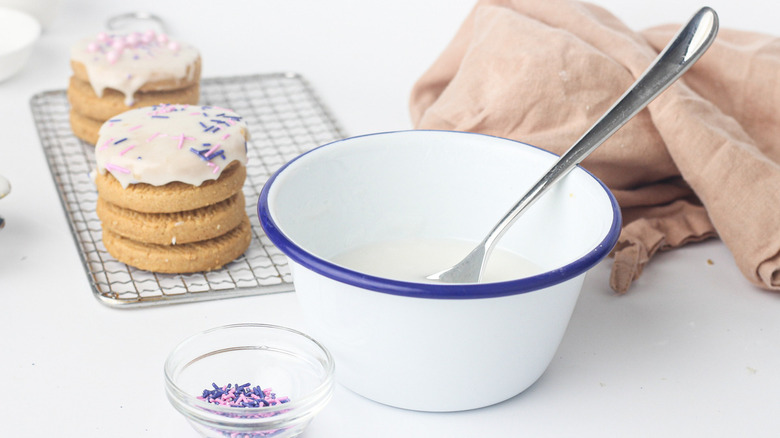 Ingredients
1 cup powdered sugar
1 tablespoon milk
1 teaspoon light corn syrup
¼ teaspoon vanilla extract
¼ teaspoon almond extract
Directions
Sift the powdered sugar, then measure out the proper amount.
Mix the milk and corn syrup into the sugar, stirring until smooth.
Stir the vanilla and almond extracts into the frosting.
Frost cookies as desired.
Nutrition
| | |
| --- | --- |
| Calories per Serving | 21 |
| Total Fat | 0.0 g |
| Saturated Fat | 0.0 g |
| Trans Fat | 0.0 |
| Cholesterol | 0.1 mg |
| | |
| --- | --- |
| Total Carbohydrates | 5.3 g |
| Dietary Fiber | 0.0 g |
| Total Sugars | 5.2 g |
| Sodium | 0.6 mg |
| Protein | 0.0 g |