Chick-Fil-A Is Giving Away Free Nuggets, But There's A Catch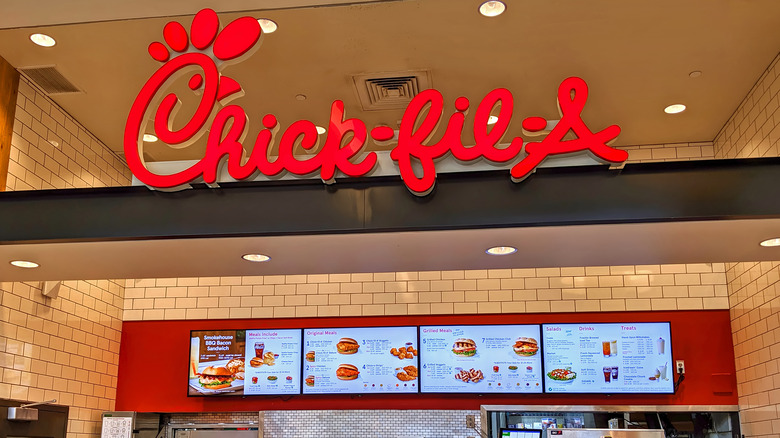 QualityHD/Shutterstock
There are few things in life as exciting as free food — especially when it's from one of the most popular chains in the country, Chick-fil-A. One of the most beloved items on the fast-food restaurant's menu is chicken nuggets. But it didn't always serve those tiny morsels of breaded chicken. Chick-fil-A's nuggets debuted in 1982 when, according to the chain's website, customers started asking for smaller portions of the iconic chicken that was served on sandwiches.
Though there have been myths about chicken nuggets and how they're made, a viral social media video revealed that Chick-fil-A's chicken nuggets are, in fact, real chicken. The video showed the process of creating the nuggets from start to finish, with one commenter saying, "I saw real actual chicken [and] that's all I needed to know." Now, Chick-fil-A's nuggets are the center of an exciting promotion: the chain is giving them away for free. However, similar to other fast-food deals, it comes with a couple of conditions.
Chick-fil-A is giving away free chicken nuggets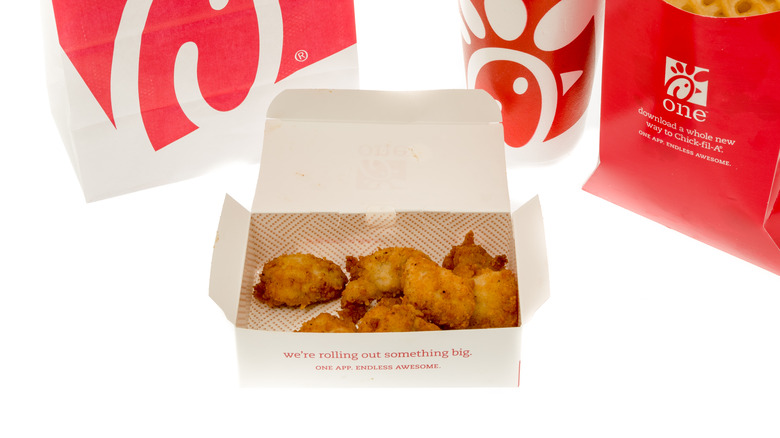 Keith Homan/Shutterstock
It's music to Chick-fil-A fans' ears: free chicken nuggets. The fast-food restaurant is giving away free, eight-count orders of its classic chicken nuggets as a way of rewarding dedicated customers. However, there are two catches: The free nuggets can only be claimed at San Antonio, Texas locations, and they must be claimed by ordering through the mobile app (per KENS5). "We hope our guests stop by and enjoy the nuggets as a tasty summer treat," Juan Garza, a Chick-fil-A operator in the San Antonio area, said in an email.
This isn't the first time that Chick-fil-A restaurants in the San Antonio area have given away free nuggets. The chain offered local customers the exact same deal back in January 2022 (via My San Antonio). Chick-Fil-A did not specify why it wanted to reward the city's customers, other than that its customer base has remained dedicated to buying its chicken. The offer is only valid July 13-20.