Reddit May Have Leaked A New Wendy's Item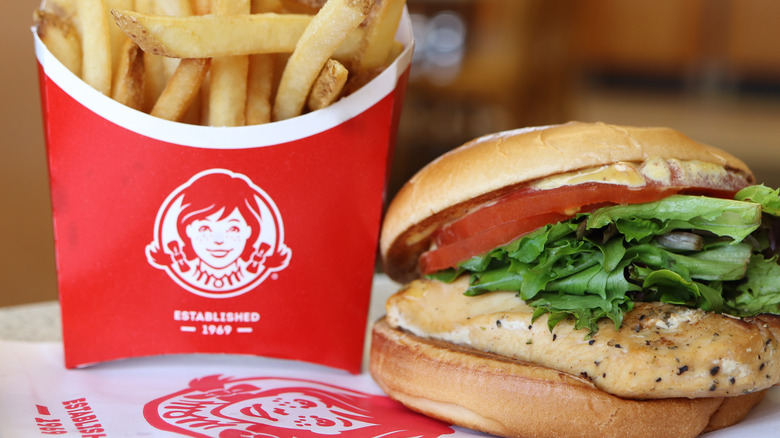 Deutschlandreform/Shutterstock
When it comes to fast food, every chain has it's standout selections that customers gravitate toward time and time again. From Arby's Beef 'n Cheddar and Five Guys' Cheeseburger to Chick-fil-A's Chicken Sandwich and McDonald's fries, there are a number of fast food items you need to eat before you die. Wendy's also has its fan-favorite offerings. This Ohio-based chain is known for its square-shaped burgers, icy cold frosty, and its infamous Baconator. Oh, and let's not forget its savage Twitter account. That said, there are also items that you should absolutely never order from Wendy's (you will want to stay away from the chili, for more reason than one).
While people will always appreciate Wendy's tried and true offerings, it's always exciting when something new gets added to the menu. According to a supposed company email that was leaked on Reddit, Wendy's may be removing something from the menu and adding several new items in its place.
The pretzel bacon pub cheeseburger and the pub fries may be making a Wendy's comeback
Sorry, Cheddar Bacon Sandwich fans. Your time on the Wendy's menu may be coming to an end. According to a alleged company email that was leaked on Reddit, the Cheddar Bacon Sandwich may soon be replaced by a "familiar friend" — the Pretzel Bacon Pub Cheeseburger.
The bacon pub cheeseburger was removed from the Wendy's menu in September 2021, as noted by Thrillist. This loaded sammy featured a quarter-pound burger, fried onions, Muenster cheese, Applewood bacon, pickles, honey mustard, and beer cheese sauce.
Thrillist deemed this discontinued sandwich potentially the "best burger on the Wendy's menu," primarily due to it's perfect balance of sweet and salty flavors and its delicious beer cheese. If this sandwich is really returning to menus, so will the pub fries, according to the memo. The memo also stated that French toast sticks would be added as a new morning meal option for customers.
When Wendy's first discontinued the pretzel bacon pub cheeseburger and the pub fries, they released a statement that gave fans hope. "We know how much cheeseburger fans love the Pretzel Bacon Pub Duo, so we'll never say never when it comes to a return to the Made to Crave menu." Well, folks, maybe today is that day. Will the pub burger and fries return to Wendy's menu? Will we get a chance to try french toast sticks at Wendy's? We'll just have to wait and see!