Here's What Was Served At Gordon Ramsay's Wedding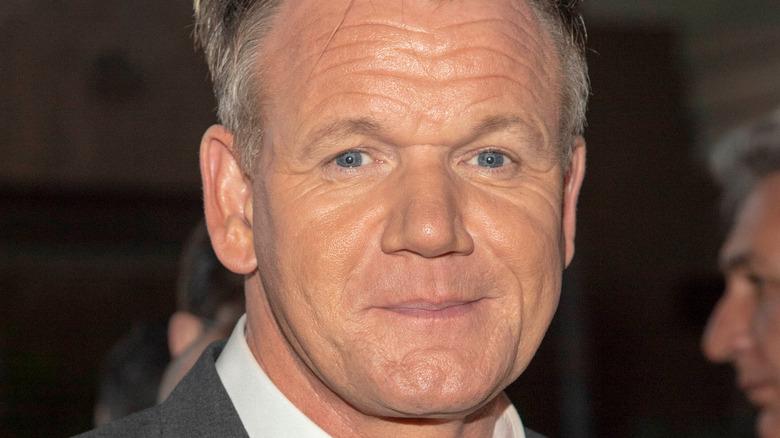 Eugene Powers/Shutterstock
As all former brides and grooms know all too well, planning a wedding is no picnic. From the flowers and the cake to the dress and guest list, there is an endless list of details that need to be arranged. Some happy couples like to keep their weddings small and simple for this reason, but others choose to go all out. Celebrity couples typically fall into the latter category (here are the most expensive celebrity wedding cakes ever).
While famous figures are known for hosting lavish and extravagant ceremonies, they also like to make this special day personal, particularly with their wedding menus. Ellen DeGeneres and Portia DeRossi, who are both vegan, kept things fully plant-based at their wedding, finishing off the evening with a vegan red velvet cake (via Buzz Feed). Meanwhile, Blake Lively and Ryan Reynolds' nuptials featured a whole table of decadent desserts as an ode to the "Gossip Girl" star's love for baked goods (via The Recipe). As for Gordon Ramsay's wedding to his wife Tana? If anyone was going to plan an A+ wedding menu, it would be the "MasterChef" host.
Gordon Ramsey's wedding feast sounds fit for a MasterChef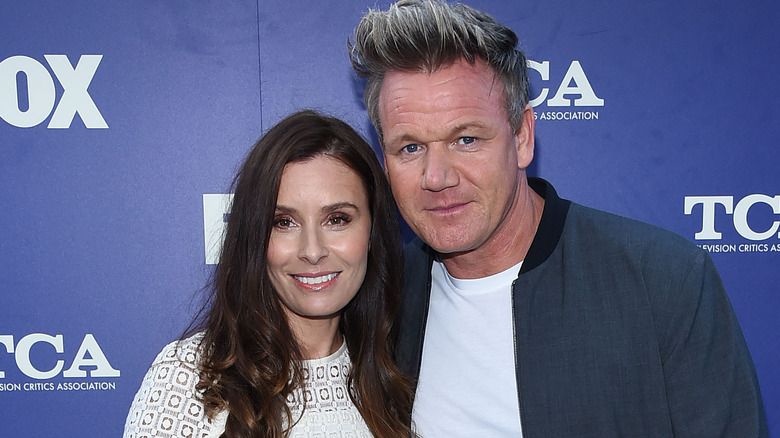 DFree/Shutterstock
It's no secret that Gordon Ramsey has high expectations when it comes to cuisine. In fact, Ramsay's worst insults ever are notorious in the kitchens across his various cooking shows. Due to both the Scottish-born chef's culinary expertise and critical nature, we can't imagine that the food served at his wedding was anything but flawless.
In an interview on "The Tonight Show Starring Jimmy Fallon", Ramsey described the delicious food he served his guests after saying "I do" (via YouTube). "I decided to keep it really nice and sort of straightforward," the celebrity chef told Fallon. Ramsey started things off with a prawn cocktail, followed by a ribeye steak and French fries that were triple-cooked with duck fat and truffle. The cherry on top of the cake was milk ice cream coated with chocolate fondant for dessert.
Fallon poked fun at Ramsey's menu, by teasingly asking, "But it's kind of simple, right? Meat and potatoes. You have ice cream and chocolate sauce. Shrimp cocktail." While Fallon makes the meal sound simple, knowing Ramsey, it was most likely anything but. Rib eye steaks typically cost around $15 to $20 per pound, as noted by My Chicago Steak, while truffles are notorious for being very expensive. To top that off, the TV host revealed that 150 chefs were tasked with preparing the feast at Café Royal, a 5-star hotel in London.