The Adorable Dog Sofa That Has Costco Members Freaking Out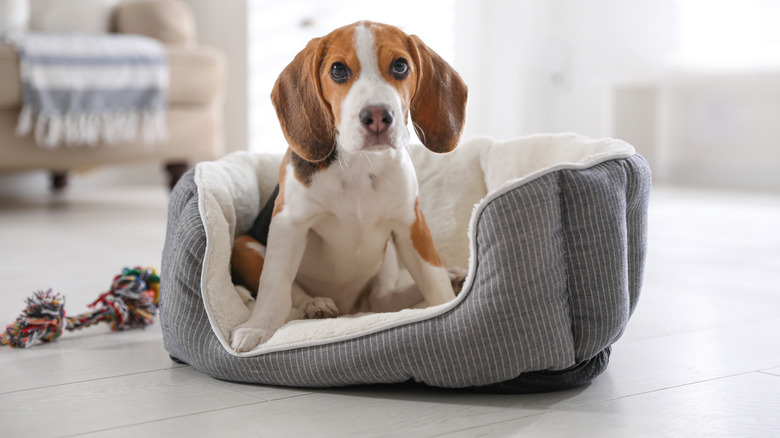 New Africa/Shutterstock
Many factors contribute to Costco's annual sales of more than $64 billion. For one, the warehouse-style supermarket's free samples are so coveted that the chain made national headlines when it announced that it would start offering them again after the peak of the COVID-19 pandemic. For another, the company's dedication to keeping its items at an affordable price became legend after one of the founders, Jim Sinegal, informed his fellow co-founder that if he raised the price of the Costco food court hot dogs, he would "kill" him, as reported by Mental Floss.
Perhaps another reason why the chain keeps so many people willing to pay its membership fees, year after year, is its one-stop-shop variety of products. Costco not only offers its shoppers a wide range of home goods and groceries meant to make meal time a breeze, but it also sells merchandise for the fuzzier members of their families. Recently, a find in Costco's collection of pet furniture has left Instagram swooning.
Your dog will be living its summer fantasy on an Adirondack sofa
If you're a fan of reclining in an Adirondack chair on summer evenings, thanks to Costco, now your dog can join you. Instagram user @costcohotfinds recently shared a post spotlighting Costco's Adirondack outdoor pet bed, an Adirondack-esque sofa with a stain- and fade-resistant cushion. If you find the idea of this bed too cute to resist but have a bigger canine companion, you don't have to worry about your favorite furry friend missing out: This piece of pet furniture can handle up to 220 pounds.
According to the video, the find costs $200 to bring home, though Costco prices differ at certain locations. Instagrammers in the comments section, however, were not deterred by the product's price and had plenty of praise for the couch-style dog bed. One user wrote, "my babies need this," while another said, "I might get this for my human babies haha." After finding a pet bed that matches your favorite outdoor Adirondack chair, you may also want to invest in Costco's indoor La-Z-Boy Pet Sofa — you know, to go with your La-Z-Boy couch. While the sofa can only handle up to 75 pounds, it does come with a plush blanket to drape over your pet's new favorite nap spot.