Red Robin Is Bringing The Steakhouse To Its Menu Offerings
If you regularly spend your lunch break perusing steakhouse menus, picking out a destination for your weekend dinner outing, you may not be alone. According to Eat This, Not That, chain restaurants like Ruth's Chris and Texas Roadhouse have already posted impressive sales this year. It would seem the call of a juicy steak, and maybe a side of creamed spinach, will always be enough to get people in the doors, and well known steakhouses are reaping the benefits.
One chain that doesn't fit neatly into the steakhouse category — but apparently isn't afraid to jump on the chophouse choo-choo — is Red Robin. According to a recent press release, the chain is adding some menu items that "put a Red Robin twist on familiar steakhouse dishes." While you won't see a filet mignon on the menu, you will find a new Savory Steakhouse Burger that's glazed with A.1. Sauce and served with a side of the chain's Bottomless Steak Fries. Accompanying the patty are garlic mushrooms, black pepper bacon, cheddar cheese, and garlic aioli. Adding to the steakhouse theme, Red Robin has also cooked up a riff on a baked potato with its new Loaded Baked Potato Fries, topped with the usual fixings, plus a five-cheese sauce. There's even something new to wash the new burger and fries down with.
Red Robin is also serving up some new sweet drinks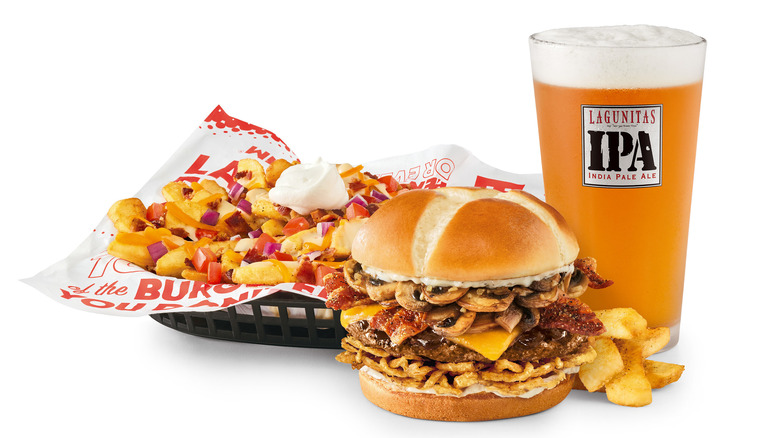 Red Robin
If you can't get enough pumpkin spice in your life, you may want to head to Red Robin on August 8. According to the restaurant chain's press announcement, that's the first date diners will be able to order a Pumpkin Spice & Everything Nice Milkshake. This limited-time drink is made from vanilla soft serve, pumpkin spice, caramel sauce, and whipped cream. It's kid-friendly, unless you're an of-age Fireball fan who wants to add an optional shot of cinnamon whiskey.
For those who prefer their cocktails on the fruity side, Red Robin will also be serving a tropical coconut Paradise Punch with Bacardi Superior, as well as orange and pineapple juices. (Guilty Eats reports Red Robin isn't the only chain bringing Bacardi to the party this summer, as Applebee's is adding two new Mucho Cocktails to its menu, one of which includes rum with lemonade and strawberries.) 
Of course, if sweet drinks aren't your thing, you can always follow Red Robin's recommendation and pair your steak burger with a good ol' Lagunitas IPA. Whatever drink you decide on, the combination won't be available forever, since the Steakhouse Summer menu is only available for a limited time.