Everything You Need To Know About The Sugar Cookie Dough Recall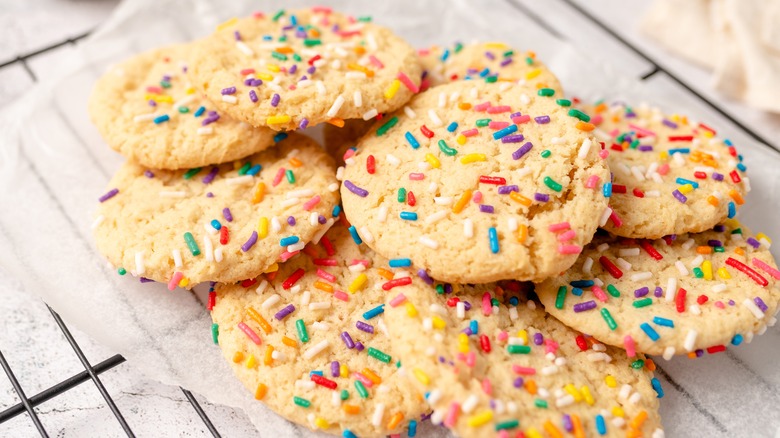 Tanya Consaul Photography/Shutterstock
Foodstuffs get recalled all the time for a dizzying amount of reasons. Some of the culprits are pretty scary, including contamination by a foodborne pathogen like listeria or salmonella, says Cleveland Clinic, which can cause serious illness, even death. Then, there's the foods that are recalled for the scariest reasons like when it gets mixed in with non-food foreign objects such as metal bits or even broken glass, says the U.S. Food & Drug Administration (FDA).
However, sometimes a food product is recalled because the manufacturer forgot to, or otherwise failed to list all ingredients on the label. This is a big deal for people who deal with allergies and sensitivities, as they closely read labels before consuming a product. Sadly, such is the case with a recent recall of Sweet Loren's Sugar Cookie Dough (in the 12-ounce size). In fact, the product is particularly deceptive, as it's labeled as being "gluten-free," even though it can contain traces of the protein, according to the FDA announcement.
What to do if you have the recalled sugar cookie product
Fortunately, no illnesses have yet been reported as a result of the inaccurately labeled products, per the FDA alert. Apparently, the cookie dough issue was discovered through in-house testing, where experts discovered that the oat flour used to make the product contained trace gluten, even though its own documentation said it did not contain gluten. Symptoms of a gluten allergy or intolerance can show up a few hours or even days after ingesting it and include bloating, gas, abdominal pain, diarrhea, constipation, headache, joint aches, nausea, vomiting, skin rash, and more, says Cleveland Clinic.
Affected Sweet Loren's products were sold in grocery stores in the following states: FL, LA, MA, NY, NJ, SC, NC, OR, UT, IL, TX, GA, CA, CO, WA, IN, PA, MD, DC, TN, AL, MI, OH, DC, KY, AR, AK. The lot code is AF22 115, and the Best By Date is 12/1/2022. Anyone who purchased the cookie dough can return it to the store for a refund. Those with questions can email the company at QA@sweetlorens.com or call 1(855) 496-0532, 7 days a week (9am-10pm Eastern Time).