The New IDK Meal Might Have Landed Popeyes In Hot Water
Popeyes may have accidentally gotten into some beef with a rapper. On Tuesday, July 19th, Popeyes tweeted that they're bringing back the IDK meal, which consists of a chicken sandwich (classic or spicy) and a specialty lemonade drink for $6. (Though it'll be $7 in New York and Los Angeles — other terms are detailed on the Popeyes website) The announcement was accompanied by a graphic imitating a text message chain between two "besties," with one saying that they didn't know what to order and the other replying that they have the perfect meal in mind. The idea of the IDK meal is pretty self-explanatory: It's the thing to order when you can't decide what to get. 
Just minutes after the tweet was posted, a rapper who also goes by the IDK acronym quote-tweeted, informing Popeyes that he owns the trademark for IDK. The rapper, who has 153.1k followers, said that people are confused and asking him if it's some sort of collaboration. He expressed chagrin that no one had reached out to him about the name and asked, "Can we fix this?" Popeyes has yet to reply to the rapper's tweet. XXL reports that IDK has indeed trademarked his three-letter stage name. IDK is currently on tour on the west coast, per his website. 
Does IDK's trademark apply?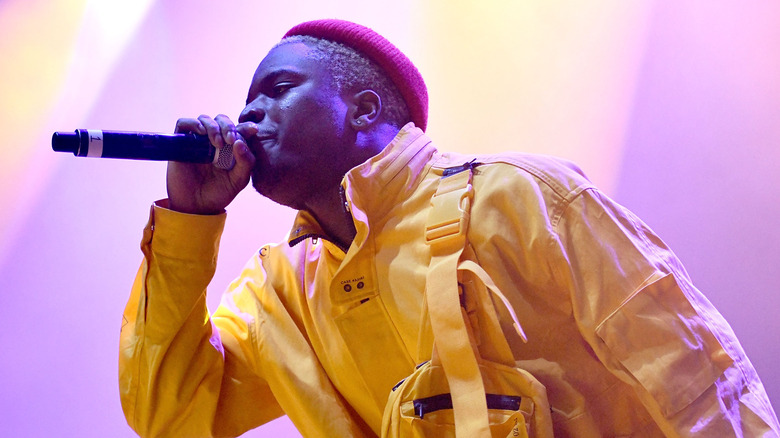 Scott Dudelson/Getty Images
On September 23rd, 2021, XXL tweeted a portrait of IDK along with a picture of his documentation from the United States Patent and Trademark Office, so it seems that his frustration with Popeyes is legitimate. On the other hand, HipHopDX reports that the trademark might not apply because IDK's patent only applies to specific classes of usage. They cite a tweet from user @ALdaOpportunist, who found documentation stating that Clue No Clue, IDK's LLC, owns the rights to IDK only in regard to audio and video recordings, apparel, and entertainment services. 
The Popeyes IDK meal was briefly on the menu last summer, but for only $3.99. That means this summer its price has been raised over 30%, per The Street. They say that inflation is to blame for rising food costs at both restaurants and grocery stores in recent months. The chain is also in the news this month for four men being arrested outside a location in Georgia (per Fox5 Atlanta) and a new Popeyes location opening at Louisiana State University in the fall, which will be the first campus Popeyes location in the Southeastern Conference, or SEC. Only time will tell if the restaurant will respond to IDK's complaints, or if IDK himself will take the battle into real litigation.