Here's What Gordon Ramsay And Guy Fieri Really Think Of Each Other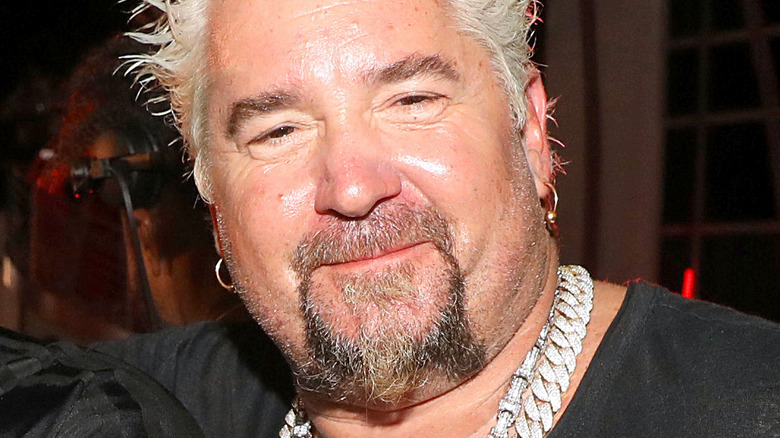 Aaron Davidson/Getty Images
Gordon Ramsay and Guy Fieri are the undisputed titans of the Food Network, so it's no surprise that fans often wonder what the celebrity chefs think of each other outside the kitchen. While Ramsay is no stranger to controversy, Fieri is known for being a little more tight-lipped about his opinions on other chefs. Despite the stars' relative silence in the media about their thoughts on one another, some recent controversies may offer a window into their true feelings.
When a "Kitchen Nightmares" alum spoke out about their treatment on social media by fans of the show, Fieri broke his silence on the matter in an interview with the Today Show. Said Fieri (via Eater), "It's tough, you know, I'm a chef first, and a restaurant owner, way before I was ever on Food Network, and it's a tough business."
Fieri also added his show was very different from Ramsay's, stating that "Diners, Drive-ins, and Dives" focuses on bringing exciting new dishes to audiences. The comment about the shows' differing tones may offer fans all the insight they need on Fieri's opinions on the controversy.
Gordon's visit to Flavortown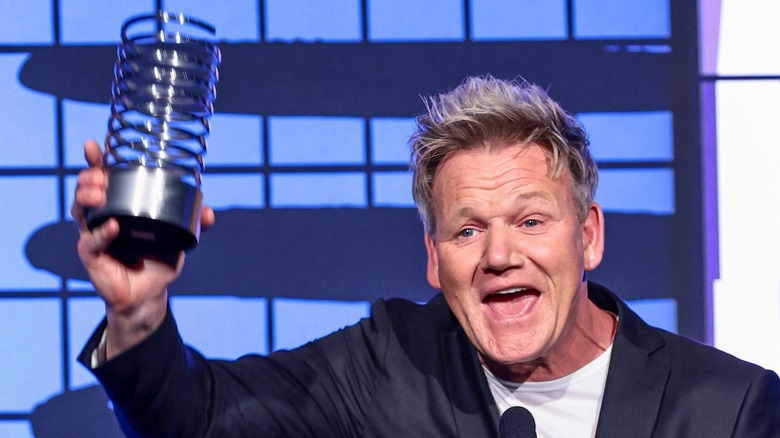 Dimitrios Kambouris/Getty Images
When a fan took to Twitter to muse about the possibility of Guy Fieri talking to people in Gordon Ramsay's signature snarky style, Ramsay weighed in, stating he didn't think Flavortown would allow it. The tweet caused a storm in the Twitterverse, with fans dissecting every word to decipher the Hell's Kitchen star's hidden meaning. Ramsay hasn't been shy in the past about his approach to conflicts with restaurateurs, causing fans to wonder if Gordon was taking a hit at Fieri's gentler temperament.
While off-color comments are not exactly out of character for Ramsay, it's more than likely the chef was just having a lighthearted laugh with fellow Twitter users at the mayor of Flavortown's expense. It's clear from the string of comments following Gordon's tweet that fans appreciated the rare interaction with the famous chef. Neither Fieri nor Ramsay have commented on the Twitter exchange, leaving fans to choose sides on Ramsay's actual sentiments.
Ramsay and Fieri to the rescue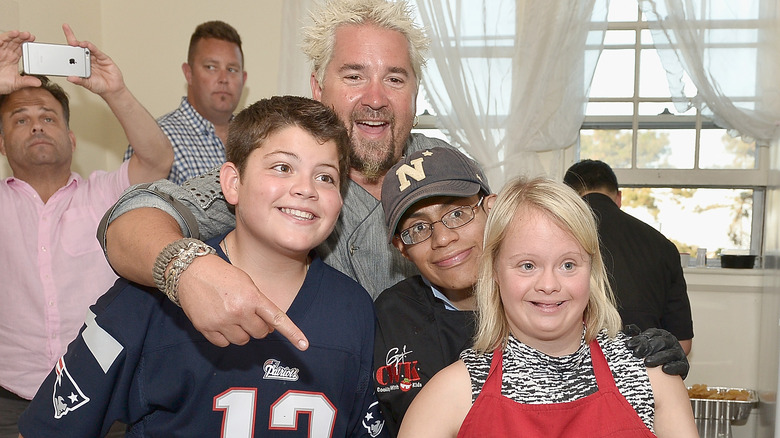 Paul Marotta/Getty Images
Guy Fieri and Gordon Ramsay may be best known for their skills in the kitchen, but both stars have offered their star power to deserving causes when they aren't dishing out delectable creations. According to CNBC, Fieri partnered with the National Restaurant Association to raise money for the Restaurant Employee Relief Fund. He helped raise 21 million for out-of-work restaurant employees during the COVID-19 pandemic. With most restaurant staff's sole sources of income being completely shut off due to lockdowns, the grants offered by the foundation made a huge impact in the restaurant industry.
Ramsay has also supported several charities, including the Scottish Spina Bifida Association and the Elton John Aids Foundation. Ramsay and his wife are also regular supporters of the Great Ormond Street Hospital through their charity, the Gordon & Tana Ramsay Foundation. 
While Ramsay and Fieri's cooking styles may be as different as deep-fried cheese and filet mignon, it's clear that the two chefs would definitely see eye to eye on the matter of giving back to charity.