The 2-Ingredient Dessert Costco Shoppers Can't Get Enough Of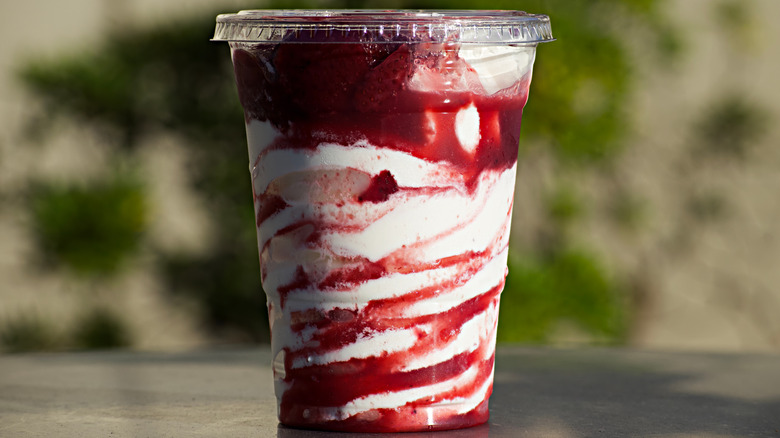 Kevin Avina/Shutterstock
Who doesn't love dessert? Naturally, there are several among the many Costco food items that have a cult following. These include brownie brittle, bakery muffins, and sheet cakes, the latter being one of Costco's all-time most beloved products.
However, some of the yummiest desserts are not premade Costco items, but rather are made at home with Costco items. For instance, Costco Kitchen shares recipes for desserts such as pound cake sundaes and a chocolate chia pudding, made with Costco products. Furthermore, the internet is full of Costco recipe dupes, so you can even use a copycat Costco sheet cake recipe to make this classic dessert at home.
Although some recipes are more complex, there are also plenty of simple desserts to try. Recently, Redditors have been going nuts over a super-easy, two-ingredient dessert made with Costco products. Once you hear their reviews, you might just have to try this sweet treat for yourself. 
Reddit has a quick and easy Costco dessert recipe for you to try
If you've been looking for an easy dessert, Reddit has you covered. Reddit user Marstein shared their favorite homemade dessert, essentially a berry sundae. All you need is Kirkland Signature's three berry blend and super premium vanilla ice cream. Yes, it's really that simple.
According to another commenter, this sweet treat is very similar to the Very Berry Sundae that Costco used to serve at its food courts. Other Redditors had additional recommendations for the dessert, like adding cinnamon and maple syrup (or even honey, as a substitute for maple syrup), topping with graham cracker pieces or oats, or microwaving the berry blend.
Several others suggested using the berry blend in other recipes, such as in yogurt parfaits, smoothies, or a bowl of granola. Another Redditor commented that they use the berries in a berry rhubarb crisp, rather than buying a bunch of fresh berries. The possibilities are seemingly endless!