Jeff Mauro's Sweet Message For His Brother Who Beat Cancer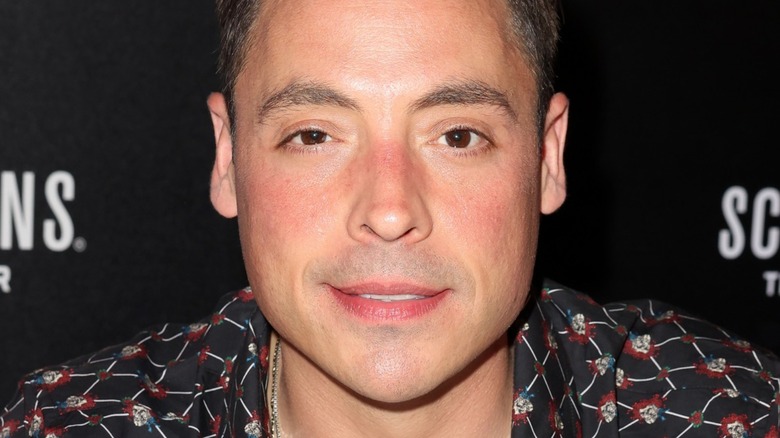 Alexander Tamargo/Getty
According to MD Anderson, the tradition of "ringing the bell for cancer" may have started with Irve Le Moyne, a cancer patient at the health center and a rear admiral in the U.S. Navy. In 1996, Le Moyne was receiving treatment for head and neck cancer at MD Anderson, and told the doctor overseeing his radiation treatments that he intended to bring a bell to his final appointment, which honored an old Navy ritual of ringing one to mark "when the job was done." True to his word, Le Moyne rang the bell upon completing his final treatment, and left it behind as a donation to the center and all those who would do the same. As MD Anderson explains, the idea spread to healthcare facilities and treatment centers across the country. Today, hearing the bell inspires hope among those undergoing cancer treatment and signifies an important milestone for those who ring it.
Jeff Mauro of Food Network's "The Kitchen" may or may not know Le Moyne's story, but he has certainly been all-too-familiar with the journey of a person living with cancer. Mauro comes from a tight-knit family; he credits his mother and two of his aunts for being the inspiration behind his culinary endeavors, and he happily co-hosts a podcast with his younger sister (via Medium). The chef and sandwich specialist recently opened up via social media about his brother's journey with stage 4 colon/rectal cancer, which recently reached a hugely successful milestone.
The Mauro brothers bring 'shenanigans' and successes to Edward Hospital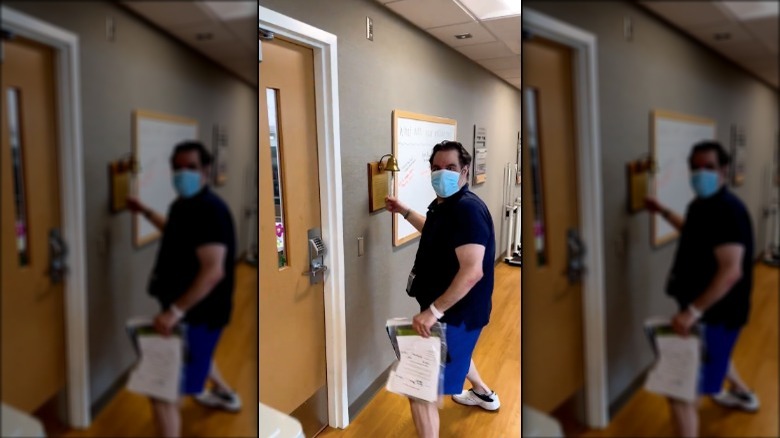 Instagram
"Congratulations to my big brother Frank," chef Jeff Mauro recently wrote on Instagram, "who rung [sic] the bell today in celebration of his final chemotherapy treatment." The triumphant message accompanies a sweet video of Frank Mauro, practically dancing his way over to ring the bell that marks the end of his treatments at Edward Hospital in Naperville, Illinois (also tagged in the post). "It was amazing to be part of this milestone today," Mauro wrote, "and I can honestly say, after attending several of these treatments with my big bro; that laughter, faith, family and positivity are indeed a force to be reckoned with."
Mauro went on to give a shout-out to the healthcare staff at Edward Hospital ("for dealing with our shenanigans") and reminded followers to get their colonoscopies done, particularly those who are aged 40 and above. "GREAT stuff my man," commented pal and comedian Pat Tomasulo, while fellow celebrity chef Alex Guarnaschelli posted loving hearts in response to the moving video. In fact, the entire comments section is flooded with well-wishers, congraulators, and a fair share of empathizers, as fans shared their own stories of loved ones who have been diagnosed with cancer. Here's hoping that bells will continue to ring around the country this week for those, like Frank Mauro, who are celebrating similar medical milestones.