Rachael Ray's Hilarious Ingredient 'Relationship Deal Breaker'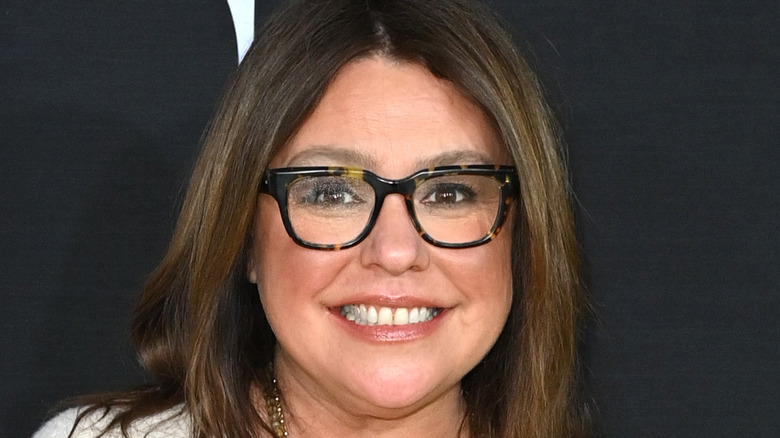 Bryan Bedder/Getty Images
It may be hard to believe, but it's been over two decades since Rachael Ray's face initially appeared on the Food Network. In 2001, the first episode of "30 Minute Meals" premiered, and the food world hasn't been the same since (via Cheat Sheet). Over the last 20 years, the New York native has become renowned for her down-to-earth persona, her signature catchphrases, and most importantly, her quick and easy meals.
While celebrity chefs aren't really just like us, they still have dishes they love and foods they can't stand. Ray is no exception — the TV personality is renowned for loathing mayonnaise. "There's something about a shelf-stable egg that freaks me out," Rachael admitted on her show (via YouTube). As for the foods that she adores? The cookbook author recently revealed in an Instagram video that she has one staple ingredient that she can't get enough of. In fact, she loves this ingredient so much, that if her partner disliked it? Well, that would be a relationship deal breaker.
Rachael Ray's second great love in life is garlic
Rachael Ray and her husband John Cusimano have a picture perfect marriage. Ray and her husband have been married since 2005 and are pretty much #couplegoals. But as it turns out, Ray has another great love in her life: garlic. The "30-Minute Meals" host opened up about her deep affection for this ingredient in a recent Instagram video. "I'll put garlic in just about anything," Ray admitted, as she simultaneously grates up a clove. "That would have been a deal breaker. If I met a man that didn't like garlic, forget about it. I smell like a salami all the time." Thankfully, because Cusimano and Ray are still going strong, we can assume that Ray's husband is a fellow garlic (and salami) lover!
Due to Ray's affinity for garlic, the celebrity chef happens to know a thing or two about this bulbous vegetable. A "Rachael Ray Show" viewer once asked what her go-to garlic storing method was. "I keep garlic at room temperature in its jacket — in its full bulb form. When I take the jackets off and trim the end of each clove, I keep that in the fridge in a little container," Ray shared. Good to know!