Why Americans Are So Jealous Of The Costco Samples In Taiwan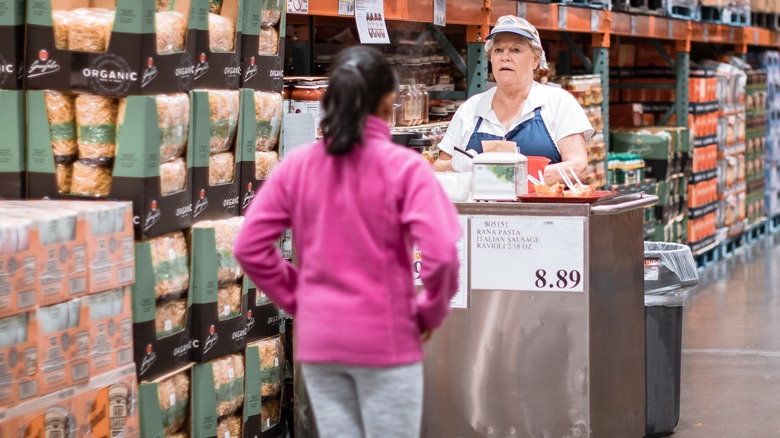 ARTYOORAN/Shutterstock
Costco is more than just a U.S. entity – according to the company's website, it has locations across the world, including in China, Australia, and Iceland. Costco also operates 14 stores in Taiwan (via Costco Taiwan's website), and the Taiwanese outlets have been exciting users of Reddit.
Reddit user milkcowcafe triggered lots of interest on the site when they revealed a Costco store in Taiwan giving out free samples of 15-year-old Glenfiddich whisky. A photograph shows a small amount of whisky in a tiny shot cup on a table beside one-liter bottles of Glenfiddich. The bottles are shown as costing $1,499, which in the U.S. would be close to $50.
Costco's complimentary items are given away during specific times in Taiwan, Vice reported in 2017. Patrons patiently queued for items, including plum slices and small pieces of kimchi. Despite this apparently mundane process, Redditors are very much fixated on the free whisky and have been dreaming about having such adventurous samples in Costco's U.S. stores.
Redditors wish US Costcos provided whisky samples
Responding to the fact that Taiwanese Costcos offer complimentary whisky tasting, Reddit users optimistically hoped the idea will become a trend in America. "One of the samples I would definitely hit up two or three times," said one pootoopoo, although another replied, "[Two or three] times? People would just camp there until they're done." One Redditor, enidokla, joked about bringing "hats and maybe a different shirt" so they could continue drinking the whisky for free. User rsg1234 recommended wearing fake facial hair and hats.
Other commenters said they have sampled alcohol, including wine and whisky, in the U.S., but one Leo_Looming issued a warning about unlimited liquor samples, namely that "people would murder each other." The uploader revealed there were two cases of Glenfiddich for sampling, a total of 24 bottles.
Costco is well-known for its free samples, but they aren't provided out of sheer generosity. Insider reports that samples are given out because they lead to customers buying the product that they've tried, in some cases leading to huge sales boosts. According to Wall St. Watchdog, weekends tend to have the greatest variety of samples at Costco, but during the week there are fewer queues, meaning more free goodies can be taken.