How Are Flavor Swirls And Flavor Shots Different At Dunkin'?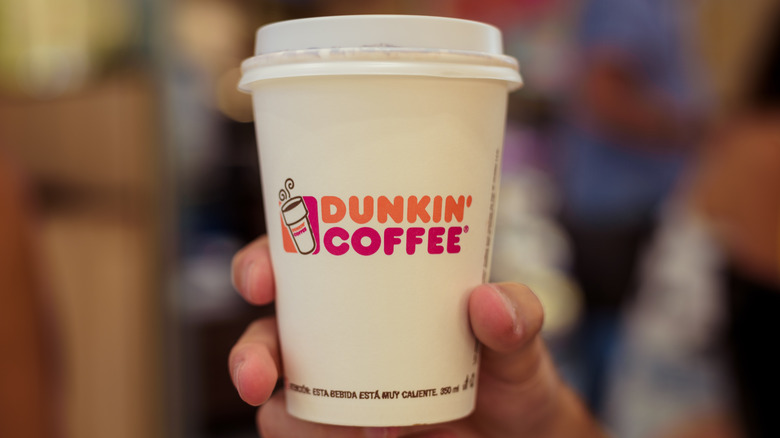 JCDH/Shutterstock
It's no secret that America runs on Dunkin', but it's probably more accurate to say the world runs on Dunkin' since it sells around 2 billion coffee beverages per year across the globe (per a Dunkin' Coffee Beverages fact sheet). Brand Keys, which is a global research company that assesses brand loyalty, has ranked Dunkin' first place for customer loyalty in the out-of-home and prepackaged coffee categories. With the DD Perks rewards program and vast menu of hot and iced coffees, teas, refreshers, donuts, muffins, and all-day breakfast sandwiches, it's no surprise customers keep coming back for more.
According to Dunkin' Newsroom, there are at least 25,000 custom drink combinations. The chain has various coffee blends and add-ins that include sweeteners, cream, whole and skim milks, non-dairy options such as almond milk, oat milk, and coconut milk, as well as flavor shots and flavor swirls. Although flavor shots and flavor swirls sound like the same thing, there are some key differences between them (per Dunkin' Newsroom).
Different flavor options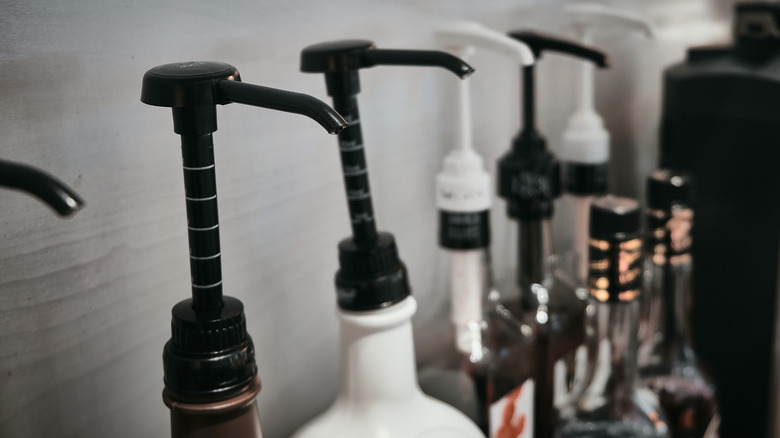 phil_berry/Shutterstock
The biggest difference between flavor shots and flavor swirls is the flavor options. Since 2018, most of Dunkin's menu items do not contain artificial dyes and sweeteners, and this includes its flavor shots and flavor swirls (via Dunkin' Newsroom). However, the flavor swirls are pre-sweetened and have a creamy, syrup-like consistency, while the flavor shots are not sweetened and have a thin consistency.
The staple flavor shot offerings are hazelnut, caramel, vanilla, coconut, toasted almond, blueberry, and raspberry. Mocha, hazelnut, caramel, and french vanilla are the flavor swirls the popular coffee chain always keeps stocked. Now what about popular seasonal flavors, such as pumpkin, cake batter, peppermint mocha, and butter pecan? Those are always flavor swirls.
With all of these flavor options comes a few limitations. Of course, hot and iced coffees can have both flavor shots and/or swirls; however, lemonade, iced tea, and hot chocolate beverages only have the option to add flavor shots. Dunkin's frozen chocolate can be enhanced with flavor swirls, and coolatas and refreshers don't have the option to add shots or swirls.
Different calories and allergens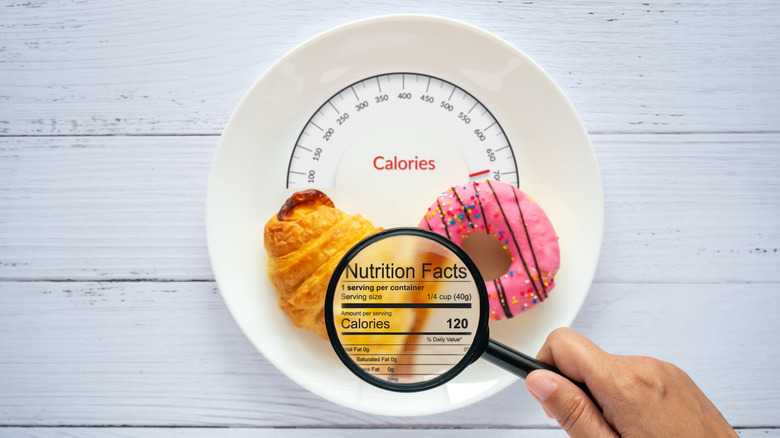 asiandelight/Shutterstock
Two other notable differences between flavor shots and flavor swirls are calories and allergens. There is quite a contrast in calories, as flavor swirls add between 150 and 160 calories and flavor shots only add about 5 to 10 calories per medium-sized drink (per Dunkin' Newsroom). Danielle Omar, a registered dietitian at MyFitnessPal Blog, shared that similar flavor shots have fewer calories and less sugar than comparable flavor swirls and gave the caramel options as an example. Omar claimed that opting for a flavor shot instead of a swirl could be a conscious choice for this reason.
The main allergen of concern is dairy. Per Dunkin' Newsroom, all of the flavor shots do not contain dairy, but all of the flavor swirls besides mocha swirl do. The coffee chain wants to make it clear that although its flavor shots and mocha swirl are dairy free, "They are NOT produced in a dairy free environment, which means there is always a chance for cross contact with dairy from other products in the manufacturing facility or restaurant."