A Viral Chick-Fil-A TikTok Proves An Unofficial Fast-Food Rule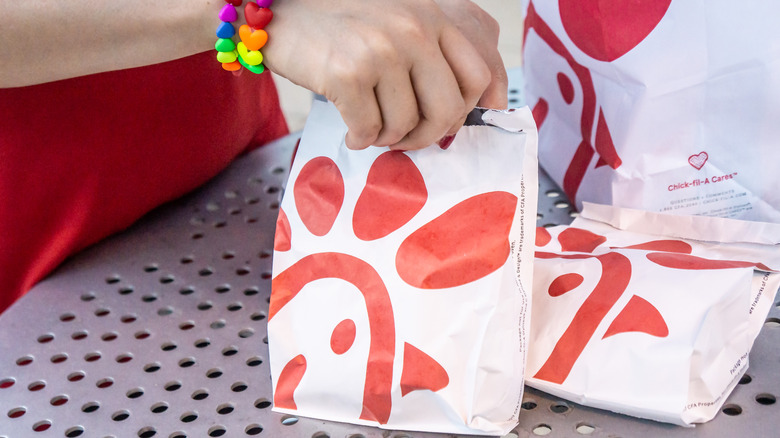 Jaimieandkyleshootstock/Shutterstock
Chick-fil-A has angered two customers after the staff at one of its restaurants apparently refused to let them pick up a meal they had ordered. "They closed the door on our faces," the woman in the video clip alleges. Both customers claim to have arrived before the store closed at night. The video — uploaded by @trizzyxdz — has gone viral on TikTok, being viewed so far 1.3 million times.
To add insult to injury, the video shows a Chick-fil-A worker picking up bags and drinks from a table that the customers believe were destined for them. "All he had to do was hand us the food," one customer exclaims, before watching the worker dispose of the order by "throwing it in the garbage" while other servers laugh.
Chick-fil-A is notorious for setting some tight rules that its employees must follow, but it doesn't appear to publicize any rule about refusing to provide orders to its late customers. The refusal also seems strange given that Chick-fil-A has maintained the highest customer satisfaction rating of fast food brands for seven years, according to Business Wire (and has faced criticism about food waste, notes New York Post). TikTokers aren't happy with the treatment of the customers, but some think the patrons should have planned their timing better.
TikTok has mixed feelings about this Chick-fil-A protocol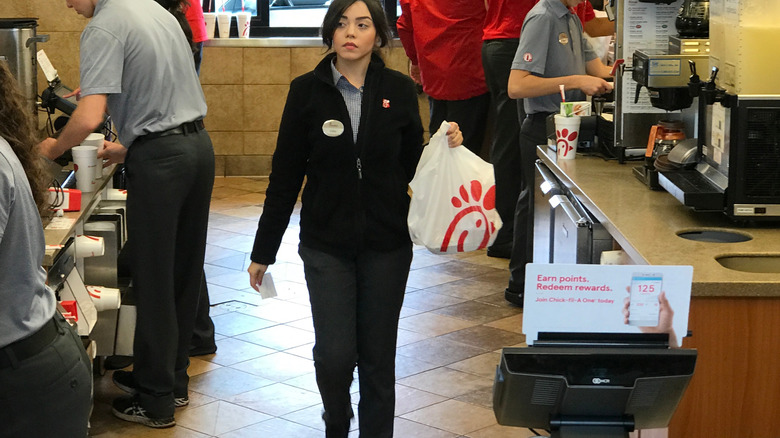 Jeff Bukowski/Shutterstock
Responding to the TikTok, one user said "that seemed personal," while another describes the employees' actions as "petty." "I would've called corporate so fast," argues another. One viewer predicts that "someone is getting fired," but the video's uploader seems more reserved, replying "No need to fire anyone."
Users also argue that the customers should have arrived sooner. "Y'all was late!" is one response, while others say the doors should remain shut for security reasons. One user said they would have ignored the customers, and others simply state that there are two sides to every story.
A follow-up video reveals the customers were refunded, but that the store's manager "didn't care" about their complaint. Chick-fil-A makes clear it is down to individual restaurants to decide on refunds, suggesting that the decision not to serve them could have been independent of the whole chain. If there is an actual moral to this story, perhaps it's don't leave things until the last minute. And if you do find yourself without the bag of chicken you wanted, here are some copycat Chick-fil-A recipes you can try at home.