Ree Drummond Talks Big Bad Budget Battle, Cooking For Cowboys, And More - Exclusive Interview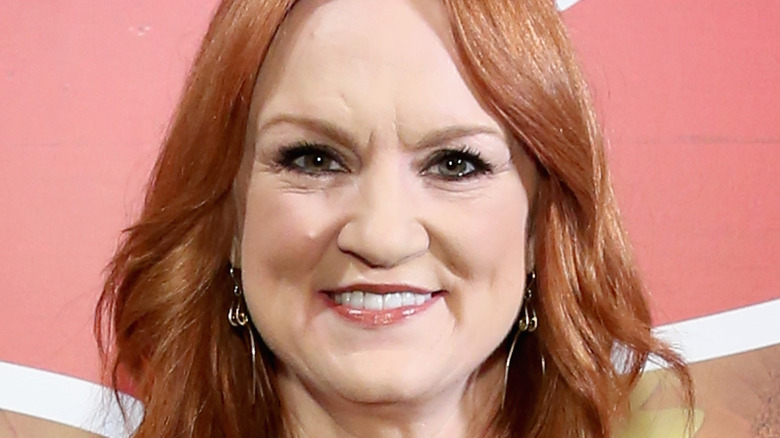 Monica Schipper/Getty Images
The Pioneer Woman's incontrovertible mystique is that even with a general store, a restaurant, a pizzeria, a bakery, several cookbooks, a clothing and home goods line, and a TV show — Ree Drummond still comes off as your small-town Oklahoma aunt-with-a-cowboy-husband who happens to make decadent, exceptionally good food (and, of course, likes to talk about it). Drummond once emphatically told CBS that she hates the word "empire." "I really am a mom who cooked for her family," she insisted. 
Now, she and her husband, Ladd, are five months out from becoming empty nesters. "My son Todd will start college in January. He's starting a semester early to start football," Drummond dished to Mashed. "The cooking definitely has changed drastically. For years and years, cooking was the backbone of my day." 
Soon-to-be empty nester or not, Drummond's unlikely to relax anytime soon. For one, Drummond has added another laurel to her list of accomplishments. You can watch the Pioneer Woman starting August 9 as a host on Food Network's upcoming "Big Bad Budget Battle." In an exclusive interview, Drummond took us behind the scenes on "Big Bad Budget Battle" — as produced by Guy Fieri, Mayor of Flavortown — and talked cheese, butter, Bobby Flay, and life on the ranch (sans kids) with Ladd. 
Ree Drummond remembers beating Bobby Flay
Congrats on "Big Bad Budget Battle"! One of the first TV competitions we saw you in was back in 2010. Bobby Flay came to your house, and you did a throwdown before Thanksgiving. Trisha Yearwood judged. You wrote in a blog post after that you slept for a month. Take us back to that time — if you watched the show today, what feedback would you give yourself?
Oh, my goodness. First of all, I would wear cooler clothes. I was covered in sweat 30 minutes in, and it was a seven- or eight-hour ordeal. I would've cranked the AC along those same lines. But I probably would have done a lot more prep ahead of time and thought things through [more]. I remember thinking, "Well, I'm going to make my classics for Thanksgiving," and I didn't really give too much thought to it.
It worked out. I wound up winning the throwdown, but you can always watch old clips of yourself and think, "Wow, don't do your eye makeup like that!" or "Wear something a little cooler next time." But that was such an incredible experience and couldn't have been more crazy and fun.
You have since judged alongside Bobby Flay, Giada De Laurentiis, Ann Burrell, and Aarón Sánchez on "Beat Bobby Flay," "Food Network Star," "The Kitchen," and more. On "Iron Chef America," you reunited with Trisha Yearwood, both as judges. On the judging side of things, who's the best judge that you've worked with? And what were your takeaways for "Big Bad Budget Battle"?
Oh, wow. I promise I'm not saying this because I just shot with her, but my experience with Damaris Phillips — she was a judge on "Big Bad Budget Battle" — was incredible. All the judges I've worked with are amazing and bring their own point of view. It was the first time I had ever met or worked with Damaris, and her feedback is so right on the money and descriptive and sharp. You can tell that she is 100% there and engaged and thinking through each piece of feedback she gives. I honestly learned as much from Damaris as I did from the cooking contestants on the new show.
Ree Drummond dishes on Big Bad Budget Battle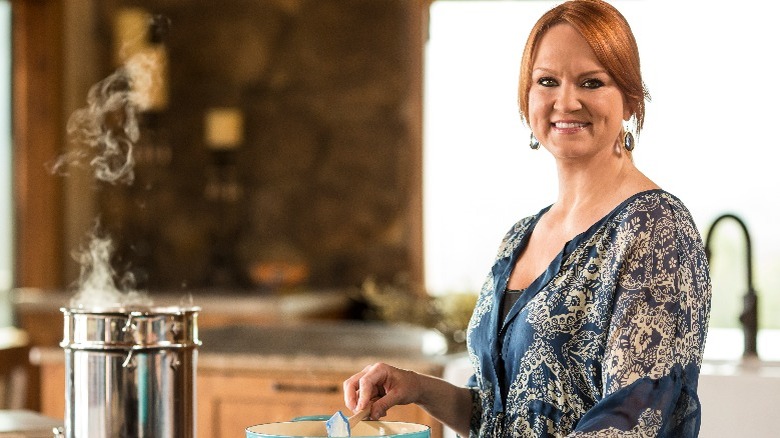 Food Network
What did Damaris [Phillips] teach you?
It's hard to put my finger on, but she and I share the same love of old recipes that our grandmothers might have made. We both have a little bit of a Southern spin on the kinds of foods that we like to cook. She has crossed over into vegetarian cooking because she is married to a man who's a vegetarian, so she has a little bit more of a meatless point of view that doesn't enter into my cooking very much since I live on a cattle ranch. But her ideas are fresh. She takes a lot of the kinds of dishes that she grew up eating and puts a vegetarian spin on them. While I'm probably not going to change into a vegetarian lifestyle anytime soon, it's fun to hear her fresh spin on recipes that I recognize from the old days.
Is there anything that the contestants did to save time on food prep — or money on food in the supermarket — that surprised you?
Yes. Part of the fun of the show is that we go along with the contestants and watch them as they're shopping in the market. They are all given the same amount of money to shop for the things that they need to cook. You come away with a really well-rounded sense of tips and tricks for how to shop smart. What was fun for me was we would hang out at the checkout counter, and there were a few times that the contestants would go over and they'd have to put something back.
Watching what they chose to put back was sometimes just as instructive as watching the things that they bought. It was almost always something that I wouldn't have chosen to put back, but their decisions were usually right on the money. [With] those little tips — over the course of the six episodes — you come away thinking of things in a slightly different way. Next time you go supermarket shopping, you might whip out one or two of the tricks. It was really fun to watch.
Ree Drummond on working with Guy Fieri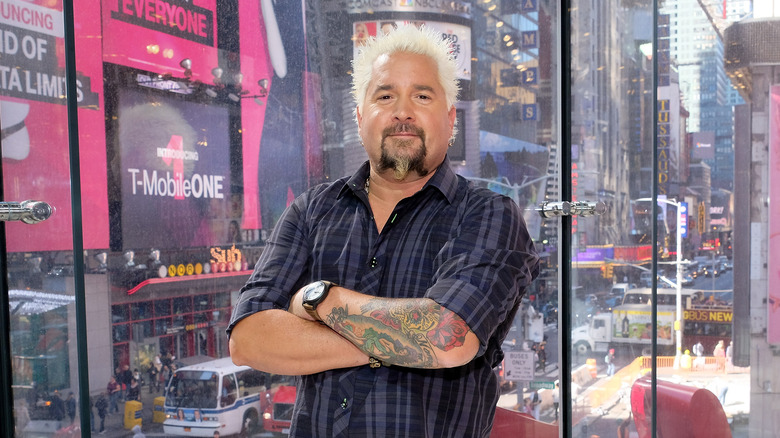 D Dipasupil/Getty Images
What was the most delicious food you ate as part of the experience?
That's like asking me to choose my favorite child, because whatever I'm eating at the moment is what I love. One of my favorite challenges and one of my favorite shows in terms of the contestants is the [episode] that airs first. We gave them a leftover challenge. There were three meals of leftovers. One was pork tenderloin, green beans, and mashed potatoes. Another one was a barbecue. Then there was a fajita leftover dinner. It was chicken and fajita vegetables and that sort of thing.
The cook turned the fajita dinner into this amazing, rich chicken tortilla soup. She made little dippers with tortillas, and refried beans and cheese. They were like refried bean quesadillas for this chicken tortilla soup. Both of them were Tex Mex meals, but it was great to watch them take the leftovers and reimagine them into something totally new. That's a fun part of some of the challenges — a lot of times we love leftovers, but we just heat them up and eat them in the same way. The whole idea of re-imagining leftovers and turning them into something totally different was super fun to watch.
 Guy Fieri is producing "Big Bad Budget Battle" — what's it like to work with him? Is there anything about working with him that you didn't expect?
Oh, my goodness, Guy is pure energy. I don't know how else to describe him. You see the energy on his shows, but he's the same in person. He takes over the room in a good way. He gave me some tips. I've actually never hosted a show on my own that wasn't my "Pioneer Woman" show. He was sweet and gave me a few little tips about bringing the energy. I said, "Well, I've got to bring my own kind of energy." I can't bring Guy Fieri energy to a room. 
He was really sweet and talked me through the first day. He's got a great team of people that work for him, and that reflects who he is, that he is able to put together this crew that they all loved being at work. They all really like each other. It was a fantastic experience all around. I loved it.
Ree Drummond on butter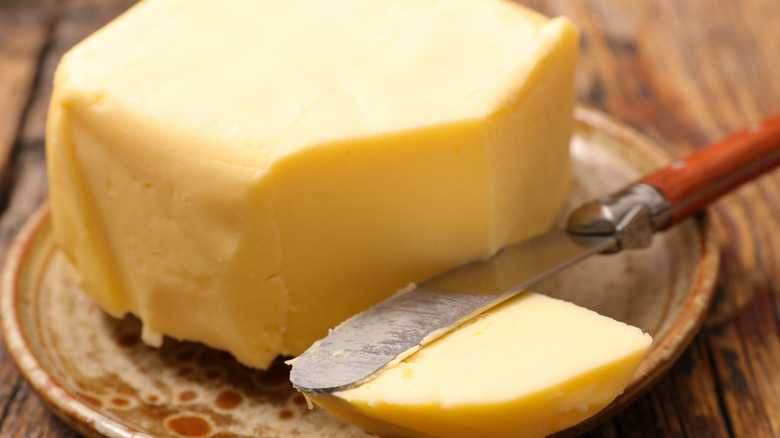 margouillat photo/Shutterstock
You've said that you eat string cheese to calm your nerves. Did you have any string cheese-eating moments filming this, and what was your last big string cheese-eating moment?
I wonder why I said I calm my nerves by eating string cheese? I think I calm my nerves by eating cheese in general. I hope I never have to go on a diet that cuts cheese out of my life because I would not do well. String cheese ... On the show, actually, interestingly — this is not a paid advertisement — but Damaris introduced me to the world of sugar-free Red Bull. I've never been a Red Bull person, but it was like she was a bad influence and encouraged me to try it. I had sugar-free Red Bull every day on set.
I definitely had some string cheese — I love string cheese. If we could sing its praises for a minute — people don't know that you can make fried mozzarella out of string cheese, but it's the best way to make fried mozzarella. Just bread it and fry it. String cheese is the perfect snack. I take it on the road with me when I drive places. I guess it does [calm my nerves]. It's my best friend, string cheese.
You are also the unofficial queen of using butter. When you taste a dish, what are the telltale signs that there isn't enough butter in it?
Interesting. I do use a lot of butter with my cooking, but I'm usually pretty judgemental about a lack of butter on simple things like skillet toast, or egg in the hole, where you cut a hole out of a piece of bread and fry it in butter and crack an egg in the center. It's my husband's favorite breakfast. I made him three of them this morning.
In situations like that, butter is definitely underutilized. For three egg in the holes — I used over half a stick of butter for Ladd's egg in the holes this morning. You've got to have the butter that sizzles, the fried egg; you've got to have the butter for the bread to soak up. Usually, any time bread is involved, I watch for enough butter.
Ree Drummond's number one room service order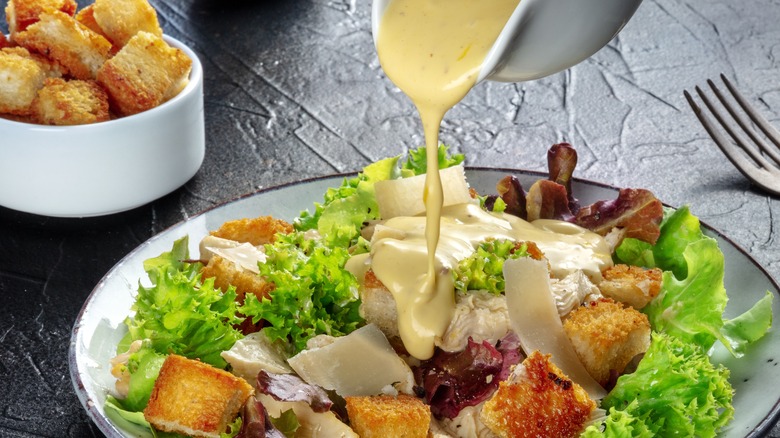 Cook Shoots Food/Shutterstock
Speaking of Ladd, you've spent most of your career now cooking for cowboys. We wanted to have your top three cowboy-approved dishes!
Number one is chicken fried steak with biscuits and gravy or mashed potatoes and gravy. Obviously, the gravy goes over the whole plate. You put the chicken fried steak on the plate, you open up two biscuits, and pour gravy over the whole thing. It's the most delicious thing on earth, and it's a complete gut bomb, so you can only eat it about once every six months. But it's hands down the favorite thing that I make anybody in this area.
Another favorite is fried pork chops. I use breakfast chops, which are bone-in, the thinnest pork chops. You can almost see through them, they're so thin. I dredge them with seasoned flour [and] fry them in a little oil and butter. They take about a minute per side. You can spend 45 minutes and make a huge pile of them. Then they can grab them and wrap them in a paper towel and take them with them. That happens to be my son Todd's favorite food on earth, my fried pork chops.
A third non-predictable thing ... Let's see. Strangely, cowboys love chicken parmesan. Again, it does have a little bit of a fried protein component with the chicken breast, but [it's] real saucy, real cheesy, and served with some kind of noodle. That's always a hit, too.
Let's shift to people cooking for you. You've copped to loving hotel rooms because of the room service. What's your go-to room service order when you're traveling?
Hands down, Caesar salad. I love a hotel room Caesar salad. I usually add shrimp or chicken, and I always ask for a bread or roll basket. I find that hotel room service baskets of rolls are so dreamy. They usually have a brown roll, a sourdough roll, and some kind of olive or raisin roll. [My favorite order is] definitely some kind of Caesar salad. There's always some chocolate cake or torte that I tack on the order, and usually, a glass of wine.
Ree Drummond's daring food experiences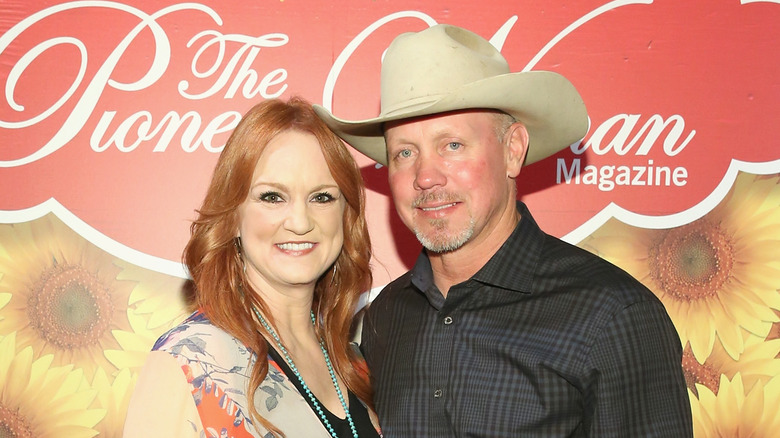 Monica Schipper/Getty Images
You've also told a story about how on a trip to New Orleans, you went into a hot sauce shop and tried the hottest sauce in the shop on purpose. What's the most daring you've been when it comes to trying foods?
That was pretty daring, and I won't forget that day for a long time. There's hot sauce and then there's hot sauce that causes the systems in your body to respond violently. But I don't mind adventurous things. If Ladd and I ever went on "The Amazing Race" together, I would be the one that had to do all the eating across the globe. The thing that I have had the hardest time with are Rocky Mountain oysters. Do you know what those are?
I've never had the experience of tasting them.
Well, they're abundant on a cattle ranch. They're testicles from the bull calves that are castrated, but that's probably TMI. People like them around here. They deep fry them and they have what they call calf fries, which is an event where they fry the Rocky Mountain oysters and people gather around the outdoor fryer and pop them in their mouths. 
I don't like them, and I've tried them — I've tried them twice. If I never have one for the rest of my life, I'll be okay. Midway through the first one I realized what I was eating, and the texture got to me. There are limits even for me. That was definitely TMI — I'm sorry about that!
Ree Drummond is almost an empty nester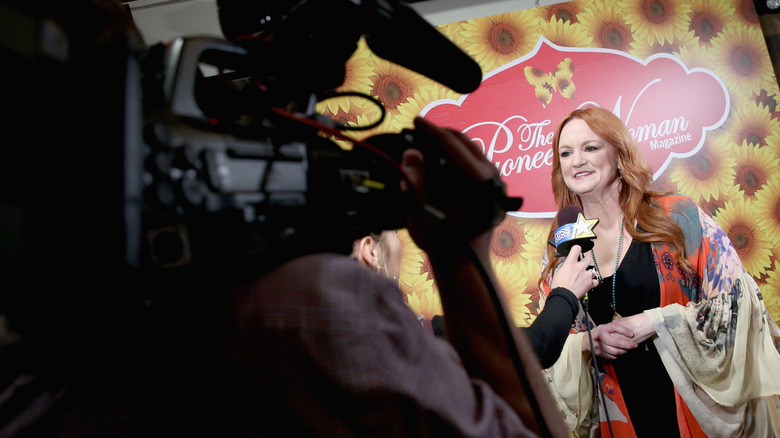 Monica Schipper/Getty Images
You started on your journey when your kids were so little, and today it seems like you and Ladd are basically empty nesters. How has cooking as a ritual changed for you throughout the years? How has it shaped your family?
You're so right. I am about five months away from being an empty nester. My son, Todd, will start college in January. He's starting a semester early to start football. The cooking definitely has changed drastically. For years and years, cooking was the backbone of my day. Most of my thinking was centered around getting something started for dinner, or getting things prepped for lunch, or packing up food to deliver to Ladd. It's changed so much. I'm not cooking as much. Todd is home only probably one or two evenings per week because of his football practice schedule. A lot of times, Ladd and I will eat lunch and get dinner all together, or have pico de gallo and chips, or just have a snack.
It's lighter. I'm actually enjoying it. I feel like I'm entering a different season in my life. When I cook now, it's less about food production and more about enjoying making what I'm making. I used to have to go through three or four batches of frying or cooking, and now it just takes one batch, and everybody's fed. I consider it a season that I'm enjoying. I'm sure down the line, if grandkids enter the scene, maybe it'll change again. I'm enjoying where I am now, though.
Tune into "Big Bad Budget Battle" on Food Network starting Tuesday August 9 at 10:00 p.m. ET/PT and streaming same day on discovery+. Fans can get Ree's top tips and recipes for saving time and money at FoodNetwork.com/shows/Big-Bad-Budget-Battle. Follow the competition on social media using #BigBadBudgetBattle and share your favorite budget-friendly dishes.
This interview was edited for clarity.