The Dunkin' Reward Program Is About To Go Through A Major Change
Perhaps one of the best parts of having a favorite store is the ability to take advantage of its loyalty program. And for coffee and breakfast lovers, Dunkin' offers perks that might be hard to resist.
The current program, known as DD Perks, allows customers to sign up through the Dunkin' website or app. From there, they will earn five points for every $1 they spend at the coffee chain. At the 200-point mark, or for every $40 spent, customers are entitled to a free beverage of their choice. Dunkin' offers other perks, too, including a partnership with Shell fuel to earn $0.15 off per gallon for every five Dunkin' drinks ordered. The website also advertises faster checkout for DD Perks members, plus the ability to order via the app and skip the wait time at the counter or drive-thru.
Though the loyalty program has worked for a while, Reddit seemingly just revealed that DD Perks is getting a major change.
Here's what's happening to DD Perks, according to Reddit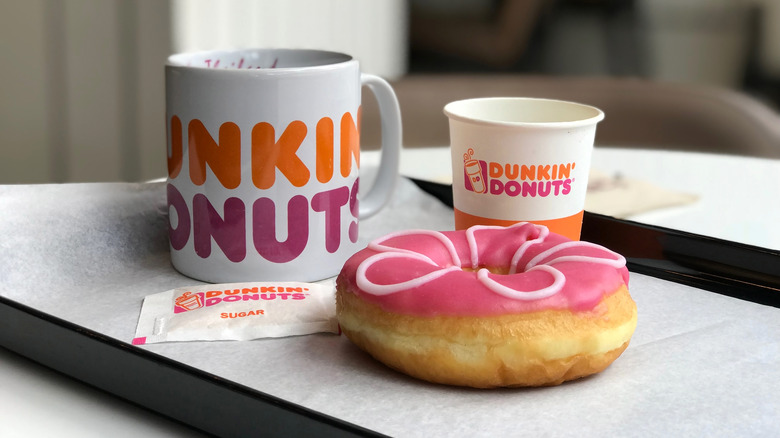 pancha.me/Shutterstock
According to a post on Reddit, new changes are happening with Dunkin's rewards program. First things first, the name "DD Perks" is a bit outdated, considering Dunkin' no longer goes by Dunkin' Donuts (via Today). As a result, the program will soon be called "Dunkin' Rewards." The author of the thread then went into details on what customers can expect with the new rollout, providing a bulleted list of the changes.
"You now earn 10 points for every $1 spent," the user wrote, adding that those who purchase at least 12 drinks per month will also get "Boosted Status," which gives them 12 points per $1; the status lasts for three months. "Points can now be converted to 8 different product reward categories," they continued, including donuts, teas, coffees, and breakfast sandwiches, among other Dunkin' menu categories, all of which have different point values. For example, a free donut is valued at 250 points, while a free breakfast sandwich costs 800 points. The Redditor also added that points have no expiration date.
Ultimately, while the points earned are going up, so are the reward costs. Users could previously earn a free coffee at 200 points, but now it's 500, meaning they'll need to spend $50 instead of $40 — and it's already no secret that Dunkin' used to be a lot more affordable.
Customers sound skeptical of the new Dunkin' Rewards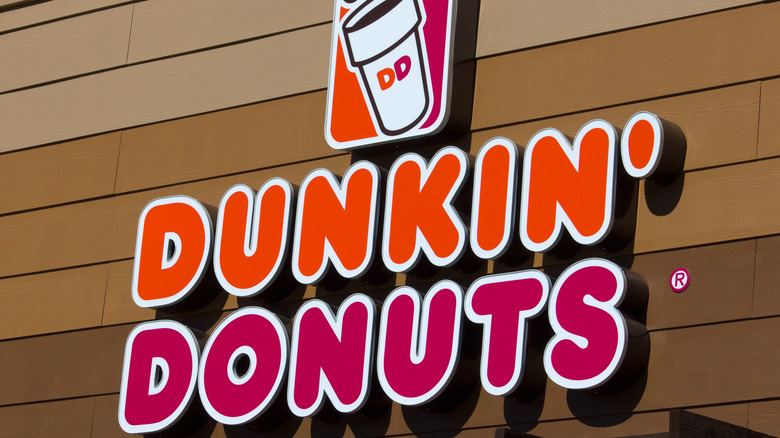 Ken Wolter/Shutterstock
Based on the Reddit feedback, users aren't thrilled with how much they'll have to spend to take advantage of the rewards. While there are more reward categories, meaning customers can cash in for more options, some users think some of the items feel too out of reach.
"Free drinks going from 200 points to 400-900? Awful ... I love the expanded selection but it's gonna take forever to get any rewards now," one person wrote. Others echoed the complaint, with one person adding, "This is a quick way to make me find another coffee spot to support."
Comparably, coffee giant Starbucks has a rewards program similar to Dunkin's — the more you purchase, the more items you earn for free (per The Points Guy). Starbucks offers two "stars" for every $1 spent through the Starbucks card on the app, and a free brewed hot coffee for every 50 stars, or every $25. Though Starbucks has higher prices than Dunkin', that's a substantially lower threshold than what Dunkin's new rollout will offer for the same type of drink. It's unclear when the changes roll out, but the original poster said they'll be happening "in the coming months."