Instagram Can't Get Enough Of Ree Drummond's Pancake ASMR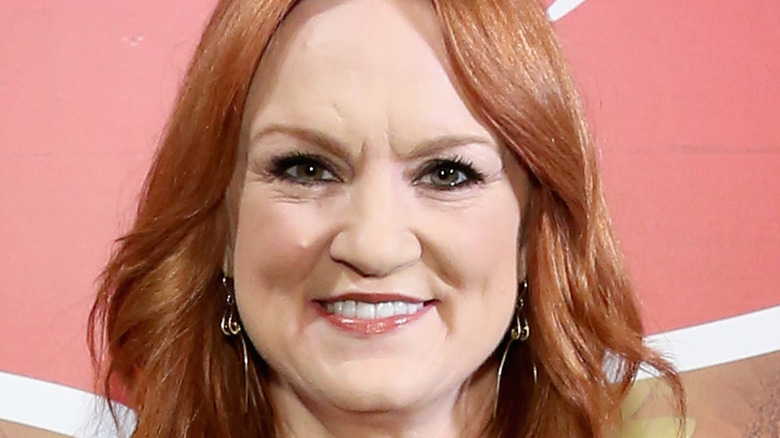 Monica Schipper/Getty Images
The Pioneer Woman Ree Drummond is normally something of a chatterbox, which is par for the course for most television personalities. She's also used to narrating her culinary creations step-by-step on her hit show "The Pioneer Woman," whether she's whipping up a batch of funeral potatoes, Hawaiian chicken skewers, or one of her beloved Southern-style creations.
Now, the celebrity chef is trying something new by dipping her toe into the ASMR trend on social media via her latest Instagram post. If you're not familiar with it, ASMR stands for autonomic sensory meridian response. Put simply, a lot of people find videos that only feature quiet visuals and sounds to be relaxing, rather than those with tons of talking and other stimulation, according to Ad News. People often whisper on ASMR videos, if they say anything at all. More often, the videos involve people quietly completing tasks. For example, a shoe shiner in Denver has recently gone viral for videos of him just doing his regular day-to-day job – apparently, shoe-shining has something of a soothing quality (via YouTube). Now, Drummond has turned her kitchen into a quiet sanctuary of sorts for the folks out there who appreciate ASMR with a side of fluffy, perfectly cooked pancakes.
Quiet pancakes generate a loud response from Ree Drummond's fans
The only noises heard in Ree Drummond's Instagram post are those commonly associated with kitchen activities, such as the quiet clink of ceramic bowls, the hiss of the pancake griddle, and the scoop of dry ingredients, like sugar and flour. In the video, Drummond expertly — but quietly — mixes up pancakes from scratch. The viewer is treated only to the process itself, no narration or extraneous noise included. So far, fans are eating the whole thing up.
Actor Molly McCook comments, "This is VERY dreamy and satisfying," and another fan says of the finished pancakes, "That is the most perfect stack of stacks." Yet another person notes that the "mic work on this video is perfect," to which Drummond herself responded, saying that it's just the microphone on her iPhone. "So much better than my old Panasonic tape recorder in 1981," Drummond writes.
Another person, after seeing the gorgeous tableware the Food Network star set out for the breakfast, asked where they could find the same utensils for purchase. Drummond replied that the set is part of her brand-new line with Walmart, called Pioneer Woman "Maizie" flatware, which another commenter refers to as "stunning" and "vintage." Overall, Drummond's foray into the ASMR world is a big old success, making people hungry for her pancakes and merchandise all in one fell swoop, all while helping them relax. Not a bad day at the office for this country gal.