Here's How You Can Become A Pumpkin Taste-Tester At Trader Joe's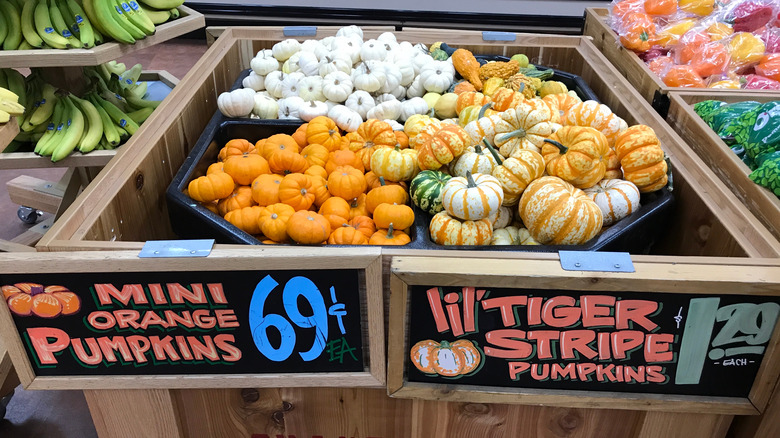 Jeff Bukowski/Shutterstock
Some people visit U-picks, sunflower fields, and corn mazes when fall rolls around. Others brew apple cider and binge every episode of "Over the Garden Wall." And others head to their local Trader Joe's, where seasonal items both coveted and new highlight autumn's most beloved squash: the pumpkin. Limited-edition items at the market chain are a topic of interest year-round and have given way to mountains of monthly blog posts and Instagram accounts, but customers get particularly buzzed about shopping at TJ's when the leaves start to change. 
There are the recurring characters, like Pumpkin-O's and pumpkin bread and muffin mix, and then there are the breakout stars. For last year's fall release, Trader Joe's introduced new products, like mini pumpkin ginger ice cream cones, pumpkin Alfredo sauce, and pumpkin spice hummus (via BuzzFeed). 
We're still riding the wave of summer here in the Northern Hemisphere, but it won't be long until Trader Joe's unveils its latest line of pumpkin-centric delights. This year, one lucky customer can take part in deciding what those temptations will be — and they'll get paid for it. 
Pumpkin samosas, pumpkin ravioli, and pumpkin waffles are on the menu
Instead of patiently waiting for Trader Joe's to reveal its 2022 pumpkin-flavored items in the fall edition of "Fearless Flyer," one victorious applicant will actually be able to participate in selecting the fall lineup. The "Pumpkin Palooza" taste tester (or "Pumpkin Spice Pundit," if you prefer) will not only have the privilege of influencing Trader Joes' fall inventory, but they'll also receive a $500 TJ's gift card and $1,000 stipend, according to the official "job posting" shared by program sponsor FinanceBuzz. 
"You'll need to eat your way through a grocery list including foods like pumpkin-stuffed ravioli and pumpkin samosas," reads the listing. "For breakfast, you'll chow on pumpkin waffles, pumpkin-flavored cereal, and cinnamon rolls." Non-pumpkin items like apple cider donuts and "autumn-inspired drinks" are also on the menu. The new hire will sample all these treats using their gift card, then share brief comments that will be published on FinanceBuzz. Not bad for a side gig, eh? Interested pumpkin lovers over 18 must fill out an application form by August 28. The chosen candidate will be selected by September 2 and notified via email.