Tiffani Thiessen Dishes On The New Season Of Deliciousness - Exclusive Interview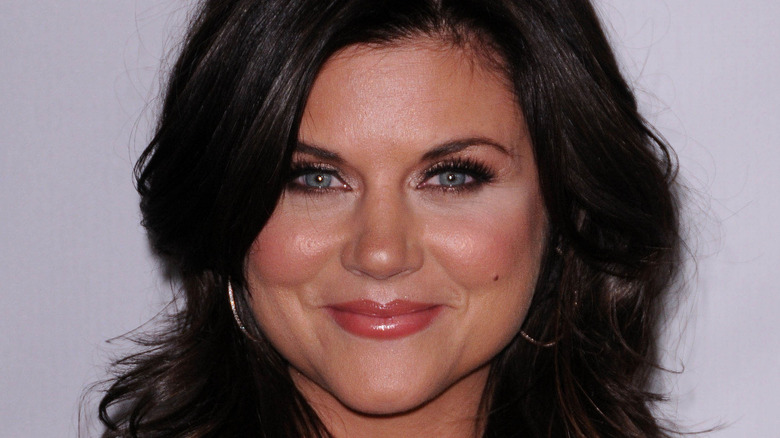 s_bukley/Shutterstock
We may receive a commission on purchases made from links.
Superfans probably remember Tiffani Thiessen from her time on the massive hit "Saved by the Bell" portraying the now iconic Kelly Kapowski. Who doesn't remember Zack Morris and A.C. Slater pining for her character's affections? But Thiessen has continued to carve out her own niche in media, with roles in "Beverly Hills, 90210" and her own cooking show, "Dinner at Tiffani's." The actress demonstrated delicious no-fuss recipes that were easy to make and a family crowd-pleaser.
Now, the busy star is gearing up for the release of the newest season of MTV's hugely successful "Deliciousness." Thiessen hosts the show along with foodies Angela Kinsey, Kel Mitchell, and Tim Chantarangsu. The cast shares the internet's most viral and entertaining food videos, from kitchen fails to hilarious food blunders.
In an exclusive interview, Mashed spoke with Thiessen about what viewers can expect from this season of "Deliciousness." She also shared her own cooking mishaps and her go-to recipe for those of us who are in a hurry but still want to enjoy a flavorful meal.
What fans can expect this season on Deliciousness
What can viewers look forward to seeing this season?
[There will be] more amazing clips that will make you laugh, just like they made Angela, Kel, Tim and myself [laugh].
You guys have such great chemistry on the show — what was it like when you all met for the first time?
It's usually never an instant thing with chemistry in Hollywood. I always feel like it takes some time, but this crew was truly instant. Never has that happened to me in my entire career.
What food disappears first on the craft services table?
What's the wildest clip you've seen while hosting "Deliciousness"?
Wow, it's hard to pick just one. The grossest ones are anyone throwing up. The cutest is always any little one doing something with food. But the wildest ... [is] the clips of some people eating crazy weird stuff — for a dare, usually.
Thiessen reveals her cooking mistakes and her go-to fast food order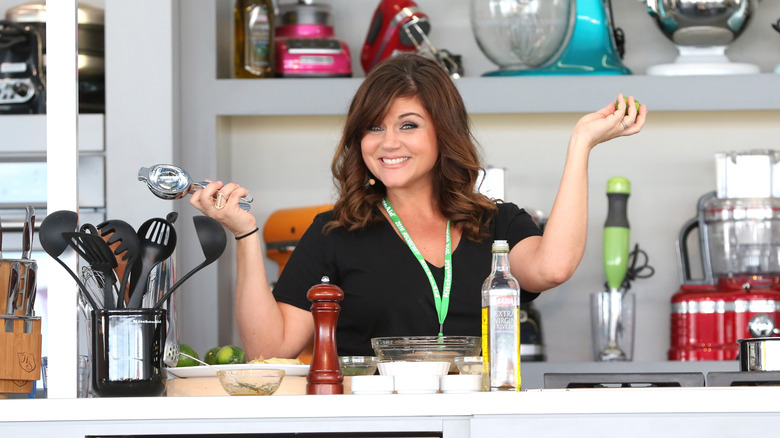 Alexander Tamargo/Getty Images
Have you had any of your own mishaps while in the kitchen?
I did start a small oil fire once on my show "Dinner at Tiffani's." That was ... exciting. Ha!
How have your Southern California roots influenced your own cooking style?
Being a sixth-generation Cali girl has really given me my deepest roots, but it truly was my travels all over the world that has shaped my cooking style the most. Being able to experience different cuisines and regions from all over has allowed me to be experimental in all types of flavors and styles.
Who is the one chef you'd want to cook you dinner?
What's one ingredient you could never live without?
Good quality olive oil.
When you're busy, what is your go-to fast food order, and at which restaurant?
It's a tie — pizza and salads at Pizzana and salads at Sweetgreen.
Can you recommend any delicious and easy recipes for busy parents?
My homemade granola recipe that includes dried cherries, cinnamon, and maple syrup.
When talking about your cookbook, "Pull Up A Chair: Recipes from My Family to Yours," Vanessa Lachey said that you always make everyone feel welcome. Do you think making a home-cooked meal is a way of welcoming people into your home?
I have always said food brings people together. Sitting around a table "breaking bread," per se, does exactly that. It's a way to connect with the people you care about.
MTV's "Deliciousness" is back for Season 3 on Monday, August 15. Tiffani Thiessen's cookbook "Pull Up A Chair: Recipes from My Family to Yours" is available on Amazon.
This interview was edited for clarity.