What Happened To P-Nuff Crunch After Shark Tank?
We may receive a commission on purchases made from links.
Never in the history of humanity has there been a better time to be a gluten-free vegan. Currently, there's a huge variety of foods that are both kind to animals at every phase of creation that also don't contain gluten. Even better, those foods are not only edible, but most are delicious. Gone are the days when eating vegan or gluten-free meant bland meals that often looked even worse than they tasted. With the creation of foods like P-nuff Crunch, there's almost no food choice that doesn't have a healthy alternative that is also good for non-standard diets to consume.
According to the official P-nuff Crunch website, the snack food was created by Dr. Juan Salinas, founder of Perfect Life Nutrition, LLC. The website further states that the goal of P-nuff Crunch is to create a snack food where, "Every major ingredient must have significant nutritional value ... no GMO, preservatives, artificial flavors and colors, artificial sweeteners, etc. are ever to be used." However, the site also declares it, "Must be enjoyed by kids and adults, alike." Therefore, it must be as good tasting as it is good for you.
The intent when P-nuff Crunch was taken to ABC's "Shark Tank" in 2020 was to help bring this healthy snacking choice to a bigger audience.
What the sharks thought of P-nuff Crunch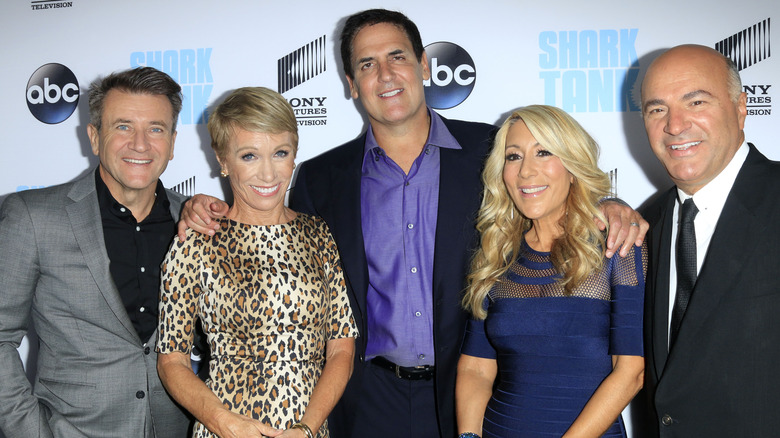 Kathy Hutchins/Shutterstock
When he appeared on "Shark Tank," Dr. Salinas said he was seeking "$300,000 in exchange for 10% equity" in his company (via YouTube). He highlighted the health benefits of his snack and, naturally, brought along samples. His P-nuff Crunch puffs look much like puffy Cheetos, though are a brown color and seem to lack the delightful dust that gets everywhere. These also aren't cheesy, as they said on the show, but are a sweet snack, with flavors that include roasted peanut, cinnamon, and cocoa.
For anyone making an appearance on "Shark Tank," it's always a good sign when one of the hosts has not only heard of your product but has tried it and enjoyed it. Though there was a little bit of a scramble as the Sharks grilled Dr. Salinas, Mark Cuban swept in with a lifeline. During the show, he told of how he "ate the whole friggin' bag" when his wife had brought some P-Nuff Crunch home. 
Kevin "Mr. Wonderful" O'Leary said he'd "never seen [Mark Cuban] more excited about a product," when Dr. Salinas unveiled his P-Nuff Crunch to the sharks. Ultimately, Cuban threw $400,000 down as an offer for a 25% stake in the company. Though the negotiation got tight, Dr. Salinas took the offer. However, per Shark Tank Blog, the deal didn't close, which means P-nuff has been moving forward without a shark's backing.
P-nuff Crunch survives and thrives all alone
Though the deal between Cuban and Salinas never closed — meaning that the entrepreneur didn't get his money, nor did he give up a huge stake in his company — P-nuff has managed to endure. The brand likely hasn't grown as fast as it might have with Mark Cuban's money and his marketing, but it survives nonetheless for anyone seeking a sweet snack that actually carries a lot of nutrients on the label. It may even join the pantheon of great foods which appeared on "Shark Tank."
There are many rumors surrounding the sales of P-nuff Crunch following its appearance on "Shark Tank." Shark Tank Blog claims that the company did hundreds of thousands of dollars in sales when the episode aired and that the company is currently valued at $1.5 Million. Mashed was unable to find any other reputable sources to back this claim up.
What is known is that P-nuff Crunch can now be found in some major retailers, like Walmart and Amazon, and may be in other select stores.