What We Know About Dippin' Dots' New Times Square Location
There's nothing quite like Times Square. When walking through the Midtown Manhattan hub, you're bound to be greeted by blinding lights and mega screens beaming from all directions, street performers putting on their best act at every corner, and souvenir shops left and right. No matter where you look, there's always something to see. It's like an ongoing carnival in the middle of New York City. And, just like any top tier carnival, Dippin' Dots is taking part in the action at its new location in Times Square.
We've all passed by a Dippin' Dots stand before and indulged in a cup of the fun treat. Those cool, sweet, creamy beads come in all of the classic ice cream flavors we know and love, and they're simply impossible to resist. Most of us can probably remember treating ourselves to Dippin' Dots at our local amusement parks, malls, and ballparks over the years. Now, those of us bold enough to take on the hustle and bustle of Times Square can grab a cup of the flash-frozen treat while we take in all the sights and sounds of New York City.
Dippin' into the Times Square scene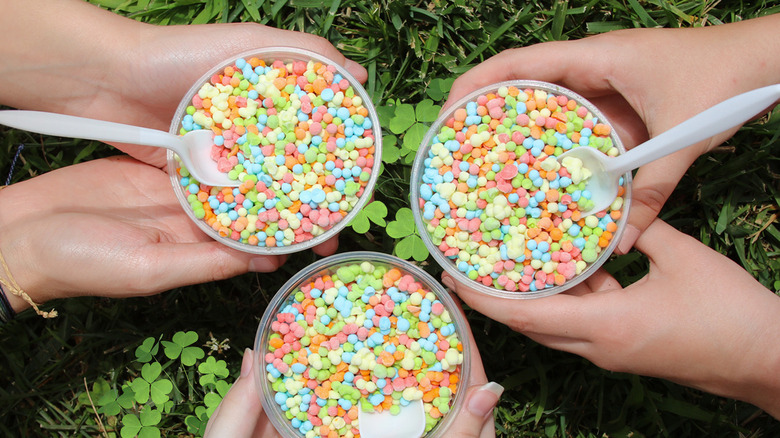 Dippin Dots
As of August 2022, Dippin' Dots is open for business in Times Square. The brand has partnered with Doc Popcorn — another company acquired by J&J Snack Foods corporation — at this location. Doc Popcorn is also one of those carnival classics, offering delightful popcorn flavors like Cheesy Cheddar, Caramel Bliss, and Sweet Butter. The two sister brands have come together to create one big shop that sells both the dots and popcorn in all of their glorious varieties (via PR Newswire). 
A flagship store for the Dippin' Dots and Doc Popcorn duo was opened near Madison Square Park in 2021 by local owner Neil Hershman, so this is not the brands' first NYC location (via Attractions Magazine). When asked about the new Times Square store, J&J Snack Foods CEO and president Dan Fachner said: "Times Square is one of the most iconic, energetic areas in New York City. It is a true crossroads of the world." Fachner went on to say, "We are grateful for our partnership with Neil to bring Dippin' Dots ice cream and our fantastic Doc Popcorn product to the 50 million visitors that pass through Times Square each year."
So, if you happen to be one of those 50 million visitors and you're suddenly in the mood for a snack, don't forget that Dippin' Dots and Doc Popcorn are only a few steps away!