The New Taco Bell Nachos That Are Cheaper Than A Gallon Of Gas
Over the past few months, many Americans have felt the many financial pressures of ongoing global inflation. The ongoing conflict in Ukraine, combined with limited refinery capacity, caused the price of gas to spike to over $5 per gallon in some places, according to CNBC. And while the average price of gas has recently fallen to just under $4 a gallon, many people are still experiencing quite a bit of pain at the pump (via AAA Gas Prices). As the cost of basic necessities like gas, food, and groceries have continued to increase, it should come as no surprise that people are looking for ways to save money wherever they can.
Luckily, Taco Bell has just recently released an affordable new menu item that aims to help relieve some of the stress caused by rising prices. The chain's new $2 nachos come in two different varieties, classic and spicy. Both of these tasty treats are made by covering tortilla chips with rich nacho cheese sauce, hearty refried beans, and a blend of three cheeses. These items are then finished off with Fiesta strips, a sprinkling of tomatoes, and a dollop of reduced fat sour cream (via Brand Eating). The spicy version combines these same tasty ingredients with slices of pickled jalapenos and spicy Chipotle sauce for a hearty nacho plate with an extra kick of heat.
So, when and where can you get these delicious-sounding products?
This limited-time release will only be available near Columbus, Ohio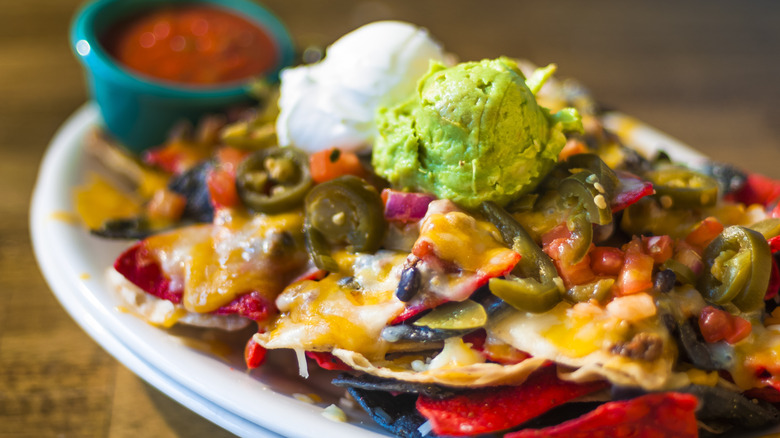 e2dan/Shutterstock
Customers who are looking for a more filling meal on a budget can take advantage of the new Chalupa and Nachos Combo, which includes the classic $2 nachos, as well as a "Chalupa Supreme, crunchy taco, and large fountain drink," according to Brand Eating. However, as of now, the item has only been released in the Columbus, Ohio area for a limited time. As of now, deal-seeking Taco Bell fans can only hope that this cheap and affordable snack might prove popular enough to warrant a larger release.
Taco Bell's new wallet-friendly nacho dish is part of a broader trend of restaurants lowering prices in the hopes of enticing people to eat out. Taco Bell might hope to compete with the deals that other fast food chains have recently launched in order to attract customers to their stores even amidst rising food costs, such as Burger King's $5 Your Way Meal or McDonald's 2-for-$6 offer, via Restaurant Business Online. As the cost of living has risen across the country, many restaurants and chains have responded by lowering their prices with various discounts and deals in order to draw in budget-conscious customers who might otherwise be tempted to eat at home or spend their disposable income on other items.