Why Reddit Is Worried About A Fan-Favorite Aldi Protein Bar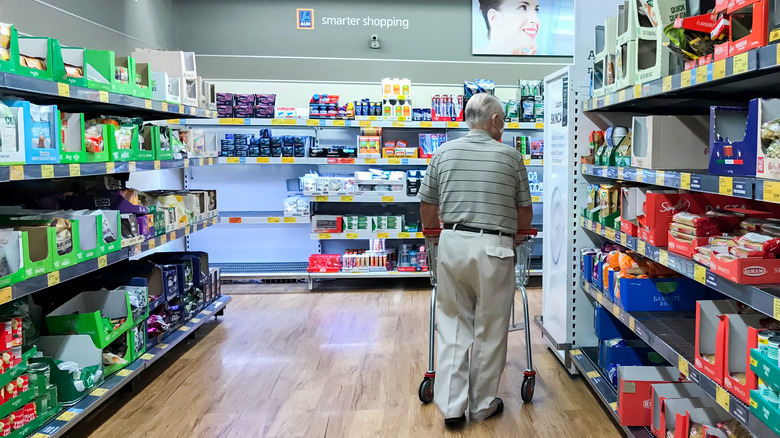 Daria Nipot/Shutterstock
From its Winking Owl wine to its Mama Cozzi's take-and-bake pizzas, Aldi has a huge variety of items at reasonable prices. Among Aldi's 2022 fan-favorite products, you can find white cheddar puffs, Greek yogurt, chicken tenderloins, organic extra virgin olive oil, ravioli, and fresh Atlantic salmon (per Aldi). However, it appears that some Aldi food items, even those with a cult following, may be suffering from supply chain issues.
Businesses are still trying to recuperate from supply shortages due to the COVID-19 pandemic. According to CNN Business, supply chain issues and inflation go hand in hand, and it's difficult to say when things will return to "normal," with experts predicting that current issues will last until at least 2023. One concerned Aldi customer took to the r/aldi subreddit to share that they are having a hard time finding their favorite protein bars and express worry that they may be discontinued.
Supply chain issues are to blame
One Redditor asked, "Did Aldi discontinue the Millville Chewy Dark Chocolate Peanut Butter Protein Bars? I can't find them anywhere!" The caption was posted above a picture of the protein bars in question. The OP went on to explain that "These were my favorite grab and go snack. I went to buy them the other day and they've been replaced. No more Dark Chocolate Peanut Butter bars. They still have the almond ones but I don't like them as much."
Thankfully, the comments cleared the air, and it turns out the protein bars are yet another victim of supply chain issues. "I just bought several boxes of these last week, maybe they will be back in your store soon," one user wrote. Others said, "My Aldi has too many of these" and "My store had them last Saturday." It seems some Aldi products are more scarce in certain locations.
The protein bars are still on Aldi's website, along with the disclaimer that is on each of its products: "Available while quantities last. Items are limited and may not be available in all stores. We reserve the right to limit quantities sold. Prices and labels may vary by location." So, it seems that Aldi is not saying goodbye to its Millville protein bars, or at least, not right now.