The PB&J Trader Joe's Item Reddit Is Calling 'Incredible'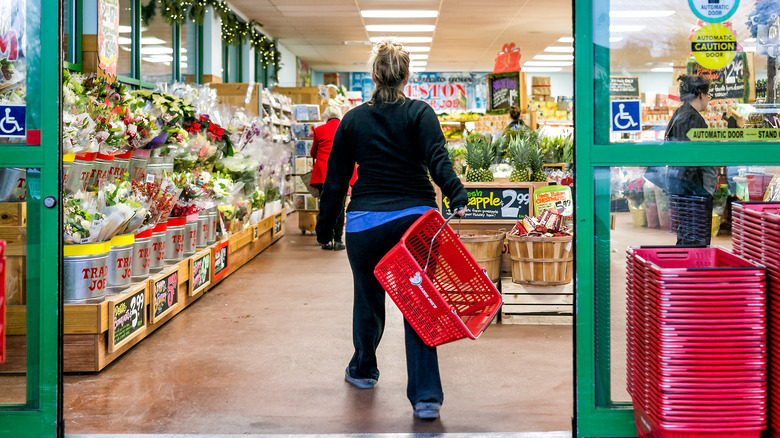 Kristi Blokhin/Shutterstock
Cheese and crackers. Chips and dip. Tortilla chips and salsa. Hotdogs and mustard (or ketchup or relish). Milk and cookies. Salt and pepper. Cake and ice cream. Hummus and pita bread. What's your favorite culinary collaboration? Let's not forget peanut butter and jelly. We can debate the best bread for building the American sandwich staple and argue about the virtues of, say, apricot jam over Concord grape jelly (per Reddit), but there's no denying the pleasure and comfort that comes with eating PB&J (unless, of course, you have peanut allergies, or jelly makes you uncomfortable).
PB&J is a dynamic duo because you can take liberties with it and take it in any direction you like, says the not-exactly-impartial National Peanut Board. People can try it with sliced banana for a change of pace. Or with fresh berries. Or bacon. Or (shudder) mayonnaise.
Peanut butter and jelly are very adaptable. Case in point: A couple of weeks ago, Redditor Ms887687 started a discussion on the r/traderjoes subreddit (not affiliated with the grocery store chain) about Trader Joe's "PB&J" snack duos. "Oh my goodness they are incredible," the Redditor gushed.
The Reddit reaction to Trader Joe's PB&J snack duo
For those who haven't taken a stroll through Trader Joe's lately, the "incredible" PB&J product referenced on Reddit is a riff on the traditional sandwich that features petite rolled wafer cookies filled with salted peanut butter. On the side is a compartment of raspberry fruit dip that appears to be seeded, like jam. Trader Joe's calls them a "snack duo," but they could certainly double as dessert.
The Trader Joe's website explains that each snack pack (eight wafers, plus jam) contains 270 calories (and 8 grams of protein). And each box of PB&J snack duos contains six individual packs, which seem to be right-sized for tucking in lunch boxes, backpacks, and purses – and maybe even pockets.
In the thread, user n0raply lamented "all the plastic packaging," and bubblygranolachick wished for "peanut free wafers," but the Redditor who started the discussion isn't the only one enthused about Trader Joe's reimagination of the classic peanut butter and jelly sandwich. "I think these are supposed to be for kids, but I love them," said Efficient-Cricket-72. "Crispy slightly sweet wafers rolled with peanut butter that you dunk into raspberry jam, what's not to love? I like the wafers even without the jam." Added pug_mama106, "A great snack for the whole fam bam."