The Surprising Reason A Top Chef Finalist Was Turned Away At A Restaurant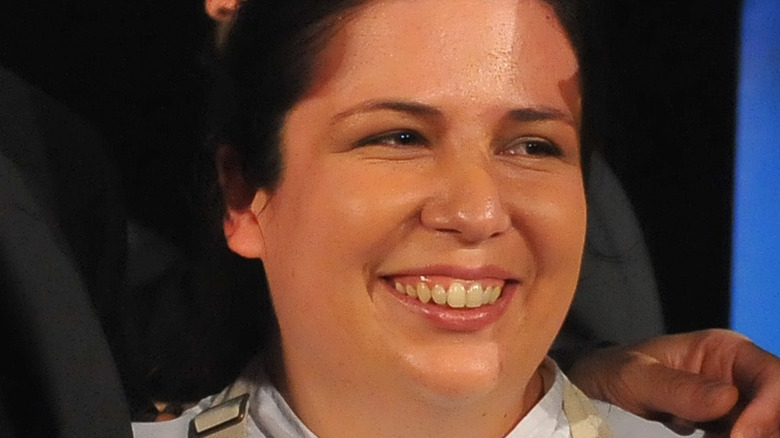 Larry French/Getty Images
She may have found fame for her skills in the kitchen, but Top Chef finalist and current corporate chef Marjorie Meek-Bradley is currently in the news for something else entirely. In a social media post that has since gone viral, D.C. chef Danny Lee called out Washington restaurant Shōtō on social media for denying Meek-Bradley entry because of her shoes, which were described as "flip flops." Lee had described himself as, "looking like I came straight from a kitchen, wearing a hat and orthopedic shoes," while door staff didn't take issue with his outfit, per The Washingtonian. And in a post to his Instagram story picked up by the publication, Lee continues, "they picked out [Meek-Bradley's] birks. They asked her if she could 'go outside and change shoes.'" Lee and Meek-Bradley were with a third restaurant world celeb, Michael Rafidi.
While Lee might have taken issue with Shōtō's dress code, Eater says the restaurant does take pains to remind diners that there is a dress code when they make a reservation, or when guests walk in. In a statement sent to Eater, Shōtō's managing partner Arman Naqi said in part: "We do not and cannot make exceptions based on who people are — even if they are fellow chefs and restaurateurs that we respect greatly."
Dress codes have become controversial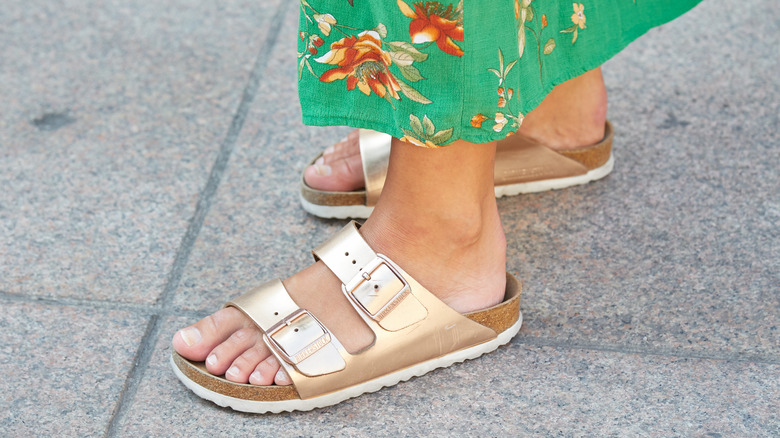 andersphoto/Shutterstock
Publications including The Washingtonian and Eater say the ongoing social media storm over whether Birks are shoes or flip flops speaks to a bigger issue involving restaurant dress codes as a whole. There are those, like social media influencer Leckie Roberts, who are celebrating the return of dressing up after two years in athleisure wear and sweatpants (per Today). "It's nostalgic, associated with a time when the world was less chaotic and stressful — and we weren't stuck inside wearing Lululemon pants."
But Stanford Law School professor Richard Thompson Ford tells The New York Times that there are broader concerns raised by dress codes, like gender identity, race, class, and status. Ford adds that when people can't talk openly about these issues, they use other means, like clothing. Another real reason people call out dress codes are because of the vague definitions of what are and aren't acceptable. A former restaurant host told the NY Times that dress codes put staff in an uncomfortable situation.
Both David Lee and Meek-Bradley agreed with that sentiment, as Lee said: "To be clear, the reason why dress codes are so problematic is because it's impossible to enforce them with any consistency. This enables sexist/classist/elitist/racist thought to guide the enforcement of these 'codes'" (per Eater).