Fans Are Counting Down To The Last Days Of Summer With Aldi's Fruit Spreads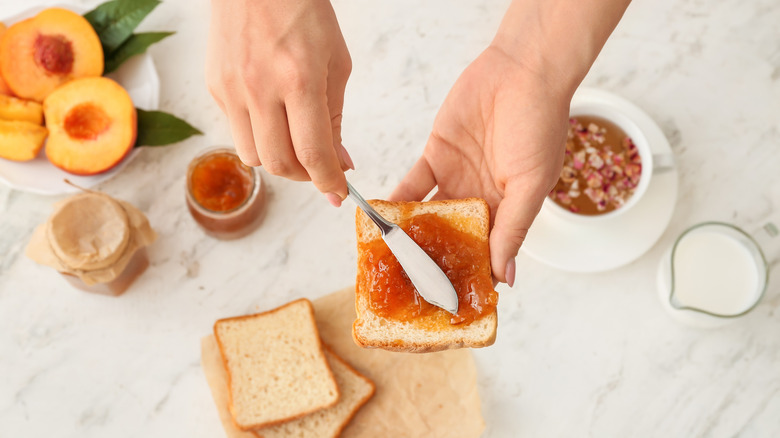 Pixel-Shot/Shutterstock
Like other big-name grocery chains, Aldi has its own collection of private label brands. In fact, some people insist that certain Aldi-brand products are better than the original items they're duping.
According to Aisle of Shame, more than 90% of the products Aldi carries are from its own private label brands. These include Friendly Farms, Baker's Corner, Kirkwood, Mama Cozzi's, Clancy's, Simply Nature, Benton's, Specialty Selected, and Berryhill, among others. Chances are you've heard of at least one of these, even if you don't regularly shop at Aldi.
Berryhill in particular has been finding a lot of love lately, with countless Aldi fans gushing over the brand's fun flavors. In addition to producing the Aldi version of Nutella, Berryhill also sells preserves, honey, jellies, butters, and fruit spreads. These fruit spreads got even more attention when fan account Adventures in Aldi posted about them on social media.
Nothing says summer like fresh, fruity flavors
When it comes to Aldi foods you need to try before you die, Adventures in Aldi would probably recommend Berryhill's fruit spreads. According to their Instagram post, they want "one of each of these yummy summer fruit spreads."
The post shows two Berryhill fruit spreads in the flavors Watermelon and Strawberry Rhubarb. Does it get more summer-tastic than that? Per the price label in the photo, each 11.2 oz jar sells for $2.99, and the product was one of the weekly-featured Aldi Finds on August 10.
Several Aldi shoppers commented on the post to share their thoughts about the fruit spreads, as well as how they use them. Two people noted that the spreads didn't have much flavor to them, but said they were still very good. Another person said they planned to use the strawberry rhubarb spread on toast, while someone else said they especially enjoy the watermelon spread with Aldi's brie cheese.