What Trader Joe's Is Getting Right About Its Ube Products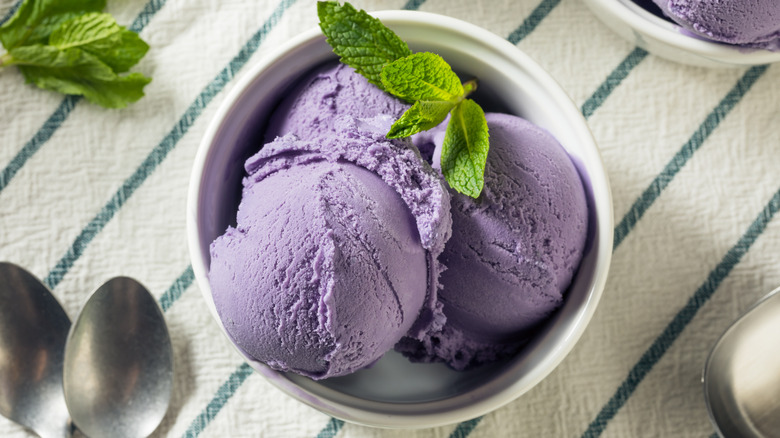 Brent Hofacker/Shutterstock
Ube (pronounced "oo-beh") is a purple yam that has roots in the Philippines, according to Real Simple, but it has made waves internationally for its subtly sweet flavor. Trader Joe's hopped on the bandwagon with ube-flavored products, and they have been flying off the shelves. It's so popular that stores are reportedly rationing with signs that read, "two per customer," affixed to TJ's Ube Mochi Pancake & Waffle Mix, per Instagram.
In addition to the mochi pancake mix, TJ's also carries Ube Ice Cream, Ube Mochi, Ube Tea Cookies, and introduced a new Ube Spread to the lineup in June 2022. The products are limited and Thrillist reported the challenge of finding them. If you're lucky enough to get your hands on some, you'll have to let us know if it lives up to the hype.
So, what makes ube so good? Trader Joe's described the taste as a mix of vanilla and pistachio with a touch of coconut. As for the texture, cooked ube has the texture of sweet potatoes. The distinctive purple color is all-natural and gives the products a tinge of lavender. TJ's uses grape and red cabbage extract and beet juice to enhance the purple color of its Ube Ice Cream but don't worry — It doesn't alter the taste. It has even gotten the nod of approval from Filipino fans and taken off on TikTok.
What is Trader Joe's doing right?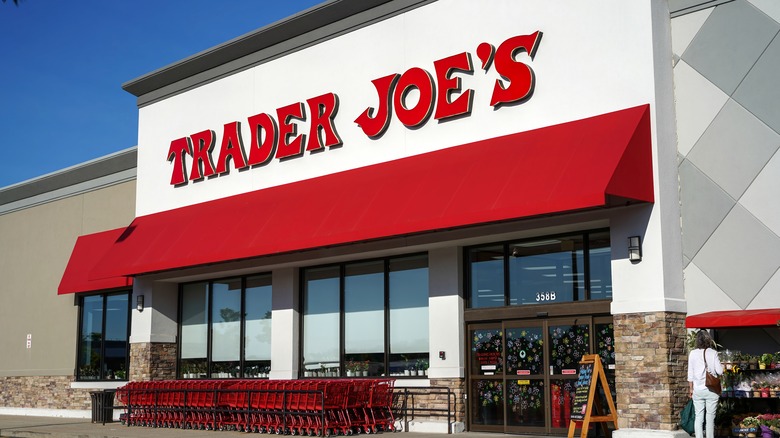 QualityHD/Shutterstock
Trader Joe's is doing ube right. James Aldrin, creative director of Filipino bakery Hopia Like It, told Thrillist, "We're absolutely elated to see ube becoming more popular, and therefore Filipino cuisine. As a small bakery, our goal is to introduce our culture's food to the mainstream and hope that it can become even more popular." TJ's is known for its culturally diverse range of products, from Mexican Style Roasted Corn to Cha Siu Bao Chinese Style Pork Buns.
Filipino-American blogger Abi Balingit told Thrillist, "Trader Joe's does a great job of saying it's from the Philippines and describing the flavor." We would take her word for it, but try it yourself for the real deal. As ube has officially gained a cult following, Real Simple reported how TikTok has come up with ways to use TJ's Ube Spread, such as ube croissants or ube matcha. It's a delicious mashup deserving of its time under the spotlight. Here's hoping Trader Joe's will extend the ube lineup with more products. Ube-flavored bread, anyone?