The Hilarious TikTok Account Costco Fans Should Know About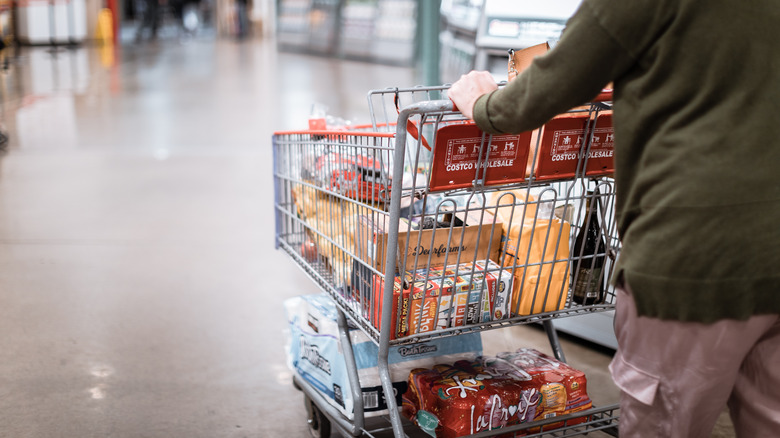 ARTYOORAN/Shutterstock
Costco sells hundreds of products, from fresh bakery items and produce to household items, clothing, and pet supplies. Some of the most popular, tried-and-true items that customers keep coming back for include Kirkland brand plastic wrap, rotisserie chicken, raw honey, peanut butter pretzels, Aussie bites, coffee, and olive oil, but the list goes on and on (per SheKnows). Considering all Costco has to offer, many people would agree that a Costco membership is well worth it.
But, what some people may not know is that Costco actually sells alcohol at some of its locations. The wholesale retailer also has its own Kirkland brand of various alcohols, such as rum, whiskey, vodka, gin, tequila, brandy, and cognac (via Costco). But are the Kirkland liquors good enough to pass off as the real thing? One TikTok account is doing all the work for us by sampling and comparing Kirkland brand liquors to name-brand liquors — and entertaining us, too.
'Can it Kirkland' is the series you never knew you needed
One TikTok account, @neverendingfall, started a series in June 2022 that's deemed "Can it Kirkland?," where five friends/bandmates try name-brand alcohol and Costco's Kirkland brand liquor, then see if they can tell the difference to find affordable alternatives. So far they have nine videos in the series, and they sample a different type of alcohol in each video. In their first video, they tried Casamigos tequila and Kirkland tequila silver, and three of the friends correctly chose the Kirkland brand, meaning this particular tequila "can't Kirkland" and you're better off getting the name-brand tequila instead.
They go through the same process for several other alcohols, including vodka, Tennessee whiskey, gin, spiced rum, Añejo tequila, Irish whiskey, Canadian whiskey, and Scotch whiskey. The group determined the vodka, Tennessee whiskey, gin, and spiced rum can Kirkland, while the Añejo tequila, Irish whiskey, Canadian whiskey, and Scotch whiskey can't Kirkland. 
What makes this series so hilarious and lovable are their reactions to trying the alcohol and the catchy "Can it Kirkland?" jingle they made just for the series. They also have a big following that, as one user stated in the first tequila video, "Addicted to this series already."