The Hilarious Way A TikToker Responded To Getting Sued By KFC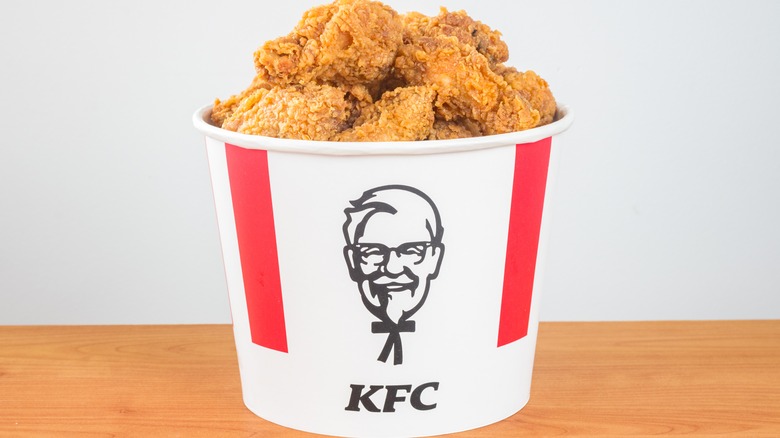 Robson90/Shutterstock
The first thing to understand about KFC's lawsuit against a TikToker is that it's purely fictional. But that makes the response by said TikToker even more hilarious, which was funny enough without the backstory. It starts with a KFC-obsessed TikToker, @realcolonelsanders, whose TikTok profile claims he's the great-great-grandnephew of Colonel Harland Sanders. In fact, it appears he is. First, we found his Twitter account, which led us to his YouTube profile and a 2017 news clip in which he and his grandfather Colonel Ed Sanders spoke with Kentucky's 10NewsWTSP. From the clip, we learn that the TikToker, then-20-year-old Colonel Anthony Sanders, is indeed the great-great-grand-nephew of Colonel Harland Sanders, KFC's founder. 
We also learn Colonel Anthony Sanders, a real Colonel, enjoys walking around dressed as Colonel Sanders. However, that doesn't mean he's a fan of the restaurant. In fact, Anthony and Ed have a bone to pick with KFC's "misleading" portrayal of "Uncle Harley." Unfortunately, their attempts to contact KFC directly have been rebuffed. Accordingly, they're courting KFC's attention another way — through Anthony's prolific social media postings, which seem bent on provoking a KFC response. For example, Anthony supposedly revealed the 11 herbs and spices that make up KFC's original recipe as a joke. When the fast food chain didn't take the bait, Anthony kept the joke going by pretending the brand sued him and then responding to the lawsuit in this hilarious way.
KFC isn't actually suing this TikToker, but he jokingly responds
"It would appear that I am being sued by KFC for releasing the original 11 herbs and spices," Colonel Anthony Sanders said in a TikTok video from a few days ago. "This is going to require a suit," he notes before reappearing in his white Colonel Sanders suit and revealing what is supposedly KFC's biscuit recipe. Whether it is authentic or not is anyone's guess, but we suspect that young Colonel Sanders is probably not revealing true KFC trade secrets on TikTok because that could actually get him sued (via American Bar Association). In any event, one of the first visible comments to the post comes from Anthony, himself, who writes, "For those who missed it, this is a joke, the lawsuit is not real; the message was photoshopped [sic]." 
There have been dozens of TikTok videos posted by Sanders about the recipe and fictional lawsuit, and it seems that he has been courting KFC's attention for at least seven years now (via TikTok). Back in 2015, he claims he was very close to hearing from the company. Alas, it did not happen. But in case KFC is secretly watching his account, it would appear that Colonel Anthony Sanders is still very much open to hearing from them.