The Fictional McDonald's That Caused A Stir On Twitter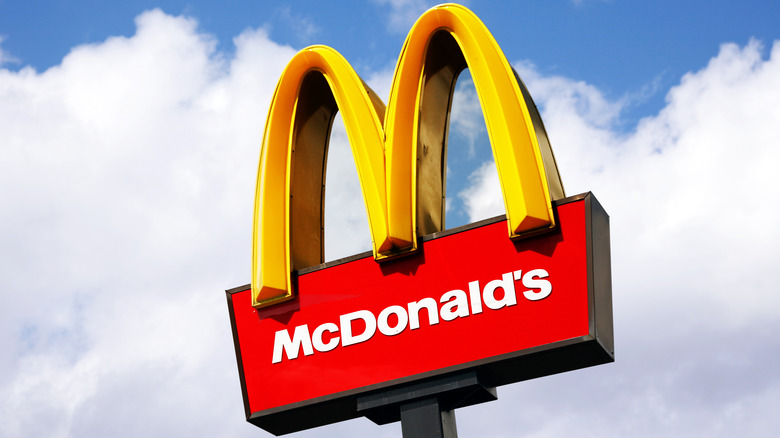 Sampajano_Anizza/Shutterstock
Hate it or love it, McDonald's is accepted as a permanent fixture in society, fulfilling a key function in our lives — namely the convenience of being able to stop at the Golden Arches and absorb the comforts of a large soda and giant french fries after a big night out, for a quick lunch, or just for the sake of it. The prolific fast food chain has a physical presence in roughly 120 countries, per World Population Review.
McDonald's has set up shop in some places you'd never expect, per the Mirror, like the unforgiving Negev Desert in Israel, a spaceship-shaped structure in Roswell, New Mexico, and in Guantanamo Bay in Cuba, despite the dearth of American enterprise in the nation. (Indeed, it's the only McDonald's in Cuba.) More recently, the fast food empire transcended the boundaries of the tactile world to make an appearance in the wonderful and fictitious world of video games.
Morrowind's McDonald's lights up Twitter
On July 20, 2021, two pixelated images were posted on Twitter by @D1C0MM. The first image displayed the familiar Golden Arches, and the adjoining image showed a surreal and rather bored-looking character in a cavernous room with McDonald's-like menu boards in the background. This fictitious McDonald's look-alike goes by the name of McDagoth's.
These snapshots are from a medieval-themed role-playing action game called "Morrowind," part of the "Elder Scrolls" franchise which also includes the well-known game "Skyrim." "Morrowind," like many games, allows players to expand their in-game features with add-ons called "mods" (short for modifications). McDagoth's, the make-believe cousin of McDonald's, is one such mod positioned in a town in the game, per PC Gamer.
The post drew a fair amount of attention, receiving more than 3,000 retweets and 20,000 likes. One user jokingly replied, "Balmora gentrification," referring to the fictitious outlet's in-game location. Another netizen posted a screenshot of a McDonald's advert appearing below the McDagoth's tweet on their feed.