You'll Never Guess Who's Behind The Canned Finnish Long Drink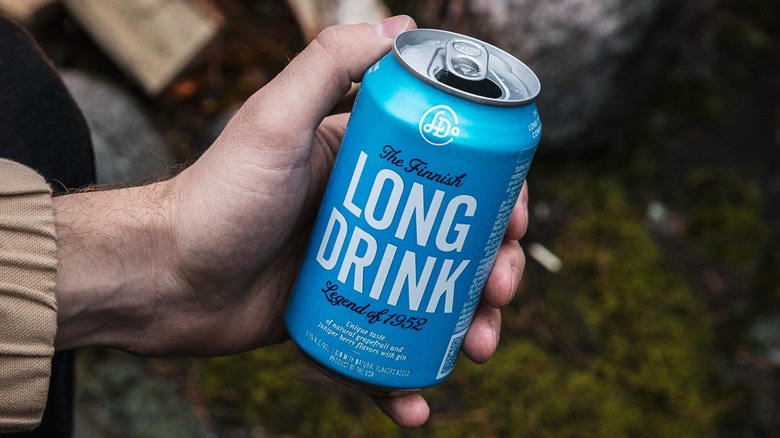 Finnish Long Drink
Celebrities know how to throw a party, and there's no shortage of celebrity-backed booze brands to show for it. You've heard of Kendall Jenner's 818 Tequila and Shay Mitchell's Onda tequila seltzer, but did you know the Finnish Long Drink is backed by an A-list celebrity squad? The highball drink has origins in Finland when the country hosted the 1952 Summer Olympics in Helsinki, according to the brand.
On a mission to serve drinks quickly to its visitors, the long drink was invented. Known as lonkero to locals, it consists of gin and grapefruit soda (via europeana). People loved it so much that they demanded it stay after the Olympics ended. It has since become the unofficial national drink of Finland, and the average Finn drinks around 5.5 gallons of it every year, Forbes reported.
Despite its popularity in its home country, the Finnish Long Drink wasn't introduced to U.S. drinkers until a couple of lonkero lovers brought it to New York City in 2017 in the form of a canned beverage. It was there that founders Ere Partanen and Sakari Manninen hosted a tasting in the Lower East Side in 2018 that caught the attention of a certain movie star.
Which celebrities first partnered with the Finnish Long Drink?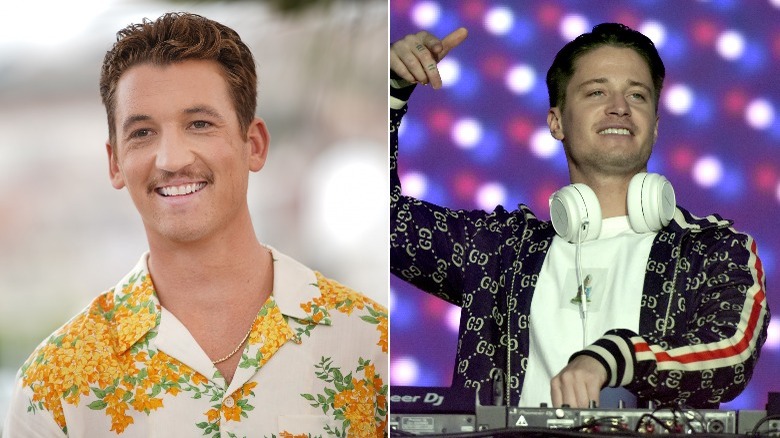 Tim Mosenfelder/Getty & Denis Makarenko/Shutterstock
It was by chance that Partanen and Manninen bumped into none other than "Top Gun: Maverick" star Miles Teller when he stopped by the store where the Finnish Long Drink was hosting a tasting. Teller cracked open a can and loved the gin beverage so much that he would have cases of it shipped to his home in Los Angeles. In an interview with Forbes, Teller said, "I kept hitting up these guys to stock me up. I'd get it shipped to my house, and I'm always giving it out to family and on the golf course." 
It wasn't long after Teller's first sip that he wanted to find a way to get more involved with the brand. In 2019, Teller signed on to become co-owner of the brand along with founders Ere Partanen, Sakari Manninen, Mikael Taipale, and Evan Burns. Of course, Teller had to have the drink at his Hawaii wedding in September 2019, where Norwegian DJ Kygo provided the beats for dancing. Kygo had a taste of the drink and wanted in on the Finnish Long Drink's growing family. "We all had plenty of them that week, and I loved the taste," Kygo told Forbes. It's even become part of his tour rider, the DJ told Rolling Stone in an interview. If you're a Kygo fan, you might've spotted the drink in his "Dancing Feet" music video featuring DNCE. The drink's celebrity fans didn't stop there.
How the Finnish Long Drink grew its celebrity following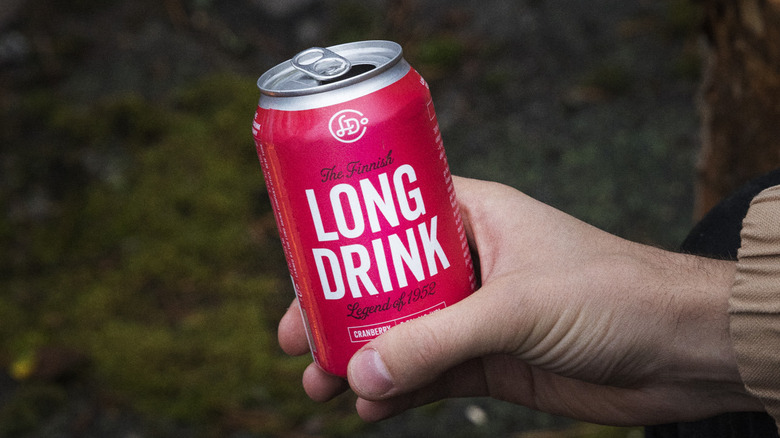 Finnish Long Drink
With the likes of Teller and Kygo backing the drink, the list of star-studded celebrities joining the Finnish Long Drink crew began to grow. Kygo brought on his friend and business partner Myles Shear to run marketing, and Shear got the word out (via Forbes). From pro-golfer Rickie Fowler to rally driver Ken Block and tennis player Taylor Fritz, other celebs have invested in the beverage brand, Fortune reported. Plus, Justin Thomas, Kramer Hickok, Reilly Opelka, and Diego Boneta were reported as investors.
Celebrities can't stop raving about it. Per Rolling Stone, Kygo called it "summer in a can." Teller added, "It's really refreshing, and the buzz of the gin and juniper is really light and energizing." The Finnish Long Drink might have won the hearts of celebrities, but you'll have to try it for yourself for the full review. It comes in four varieties — traditional, cranberry, zero with no sugar or carbs, and strong with 8.5% abv. The traditional cans have 5.5% abv, and a six-pack retails for around $11.99 to $13.99.