The Five Guys Menu Hack That's Making Reddit Jealous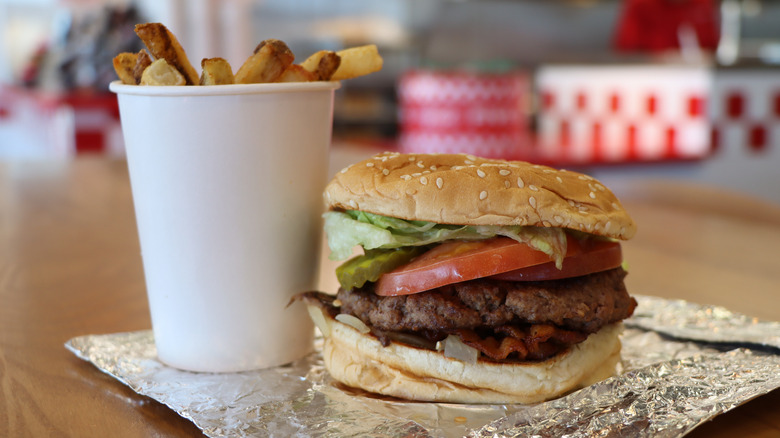 Deutschlandreform/Shutterstock
When it comes to fast food burger chains, Americans have no shortage of options. From McDonald's and Burger King to Wendy's and In-N-Out, the burger world is the nation's oyster. But if you are looking for the cream of the crop, Five Guys is always a great go-to. With 15 different toppings available, there are 250,000 ways to customize one of its burgers to your liking, as noted by the Virginia-based chain's official Twitter. Not to mention, there's a reason why Five Guys' burgers are so delicious. While many run-of-the-mill chains rely on frozen patties, all of its are made from fresh meat.
While Five Guys may be known for its renowned burgers and fries, the chain's diverse menu also includes various hot dogs, sandwiches, and milkshakes. To add to its tasty offerings, there is also a secret menu from which you can order, including nacho-style fries, steak frites, and a vegetarian BLT. One savvy customer posted on Reddit a secret menu hack of their own, and users seemed eager to give it a try.
Adventurous Five Guys' customers can try a chopped cheese on a hot dog bun
User @OpeningHorror took to Reddit to bestow a nugget of secret menu wisdom upon fellow Five Guys' lovers. Labeled "Five Guys Menu Hack #420," the post showcased a photo of ground beef, onions, peppers, and melted cheese all layered on top of a hot dog bun. 
Several other users shared their enthusiasm over this culinary creation. "Five guys chopped cheese is crazy," one user commented, while another remarked, "People are salty that they can't get ground beef on their sandwich instead of a patty bruh this is madness." User @CrispFreshley asked the question that everyone was wondering: "How does one order this?" A former Five Guys' staff member helpfully responded, "ask for a chopped cheese on a hot dog bun, I no longer work at five guys but we'd get that all the time. Most of us know what it means. Be sure to ask for things like peppers and onions if you want them though." Thanks, @RedApple-Cigarettes!
And if the chopped cheese on a hot dog bun is not calling your name, Thrillist writer Kevin Alexander highly recommends another secret menu item: the patty melt. Alexander described it as the "most delicious thing on the whole menu." The patty melt consists of a grilled cheese with an additional beef patty and grilled onions.