The Limited-Time Treat Aldi Shoppers Wish Would Return For Good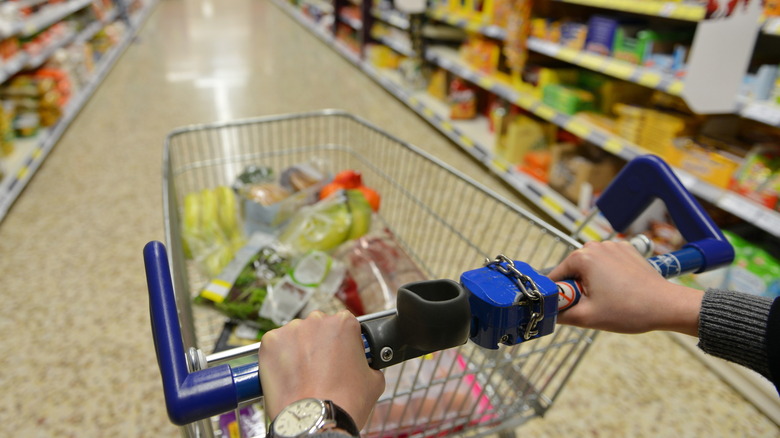 1000 Words/Shutterstock
Aldi is a go-to store for many people who like its no-frills approach to selling groceries. While Business Insider shared a positive review of its economic value, that doesn't mean its product selection is as minimalistic as the way in which it presents those products. On the contrary, Aldi offers multiple private-label food products that customers clamor for.
For example, in Aldi's annual polling of its customers for 2022, shoppers showed their love for Mama Cozzi's Pizza Kitchen Take and Bake Deli Pizza. As Insider explains, that item is now minted in the Aldi "hall of fame" due to its being voted a customer favorite for a fourth consecutive year. Other items that made the cut as customers' favorite products this year were Specially Selected Ravioli and Simply Nature White Cheddar Puffs.
However, an item that didn't make the fan-favorite list this year has gotten a ringing endorsement on Reddit.
A sweet but perhaps unavailable treat
Earlier this year, u/ragingestrogen started a thread on the r/aldi subreddit featuring a Creamy Coconut & Chopped Almonds variety of Aldi's Sundae Shoppe Dark Chocolate Covered Fruit Bars. The user wrote, "they need to make this a permanent item. I had this two years ago and never thought they would bring it back!"
The consensus on the thread concurred with u/ragingestrogen's assessment. U/nyloraco_o stated, "OH!!! I remember those!!! Yay!!" and u/MojitoMom added, "I just got this in my pickup today!!!! Cannot wait to try." Another user named u/PCHH87 pointed out that besides the coconut flavor, the fruit bars also come in banana and strawberry varieties.
As Aldi Reviewer explains, some of the best foods to buy at Aldi are called Seasonal Items. These are foods culturally associated with specific seasons that Aldi stores stock for a few weeks at a time. Due to warmer temperatures in much of the United States, it made sense for Aldi to bring these frozen bars back for the summer. Aisle of Shame compiled some other Aldi frozen treats that were available only during the summer last year, so that seems to be a strategy for the store.
There's no guarantee that Aldi will be re-introducing these fruit bars for summer 2023 or beyond at this point, probably to the dismay of fans of the frozen dessert. Aldi hasn't stated it will never bring the bars back either, though, so there's still room for hope.