How KFC Helped Resolve A 'Below-The-Belt' Exchange Between 2 RHOA Stars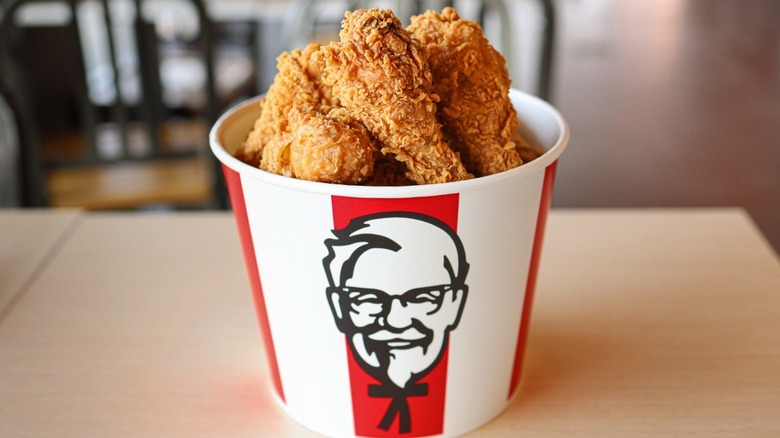 KPPWC/Shutterstock
Not only is KFC remedial for hungry stomachs and chicken wing cravings, but as we have discovered, the fast food giant may serve as a proverbial olive branch.
Celebrities and TV stars have their junk food habits too, it seems. Kim Kardashian, for example, loves some crispy chicken wings with fries, as well as plain cheeseburgers (per Insider). As far as her fast food choices go, Kardashian is part of a bigger league. Former POTUS Donald Trump is known to eat fast food and has been photographed eating Southern-style fried chicken while tucked into the luxury of Air Force One, an anomaly also noted by the South China Morning Post.
Back in Georgia, the KFC brand fulfilled an even bigger calling than servicing the volatile eating habits of those in high places. Its chicken wings served as a sort of peace offering between two stars of "The Real Housewives of Atlanta," as discussed on Entertainment Tonight.
KFC's peace-making wings
Marlo Hampton of "The Real Housewives of Atlanta" brims with the pride of being promoted from "friend of the cast" to one of the lead cast members. But the promotion is not as straightforward as it sounds. The on-screen drama is as real as the R in "RHOA," and prevails behind the scenes. During an interview about Season 14, Hampton told Entertainment Tonight that her co-cast member Kenya Moore was not pleased with the promotion. "Kenya has a bad case of can't take. She can't take Marlo!" she said.
Moore was not Hampton's only foe. Speaking on "Housewives Nightcap" (via YouTube) during "RHOA" Season 13, Kandi Burruss found herself as the target of slander, and one of the champions of what seemed to be a group sport was Hampton. She went way below the belt, and it turned into an exchange where both Hampton and Burruss smeared each other with harsh words on TV. What would patch the rift and heal those scars, we wondered?
When the time for reconciliations came, Hampton knew the way to her co-cast member's heart. "I got us some chicken wings from KFC and [Burruss] was all right. We made up," she told ET. It's hard to argue with peace-making wings.