Ree Drummond's Temperature Tip For The Perfect Fried Chicken
Monica Schipper/Getty Images
Google Ree Drummond and fried chicken, and your search will yield thousands of results. First up is the basic fried chicken recipe from The Pioneer Woman that calls for two whole fryer chickens, cut up. The chicken pieces swim in a buttermilk bath for up to 24 hours before being breaded, fried in a deep skillet on the stove, and finished in the oven (per Food Network). Sure, it sounds like a lot of work, so maybe it's a dinner project better designed for a weekend than a weeknight. Nevertheless, Kitchn tested the recipe and loved it, despite the huge amount of food left. They said that the additional bits may come in handy the next cold day.
Drummond loves to make fried chicken to feed Marlboro Man (aka husband Ladd Drummond) and their brood. "My family really loves fried chicken," the Food Network host and cookbook author says in a YouTube video. Meanwhile, The Pioneer Woman's website offers a different take on her crispy chicken, and the culinary personality generously shares her top trick for achieving fried chicken perfection.
Perfect fried chicken is about the temperature of the oil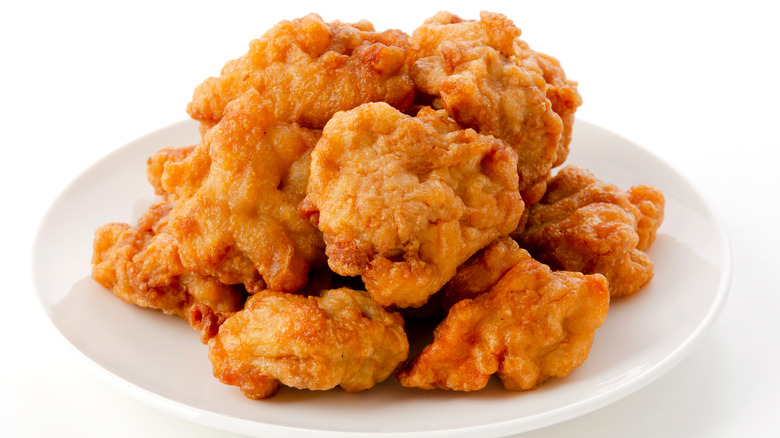 kariphoto/Shutterstock
Have you ever wondered how The Pioneer Woman comes up with her recipes? For this version of fried chicken, called Chicken Fried Chicken, down-home Drummond streamlines the preparation for the classic country-style comfort food and takes it in a slightly different direction (per The Pioneer Woman). It's even topped with gravy for an extra dose of comfort.
Chicken Fried Chicken is a sort of mashup of convenience and tradition. The recipe utilizes skinless, boneless chicken thighs, which are marinated in a mixture of buttermilk, egg, and pickle juice before cooking. Yes, pickle juice. But the secret to success here isn't the marinade. It's the oil — more specifically, the temperature of it. The Pioneer Woman likes peanut oil or vegetable oil for frying. You want to heat the oil to 350 degrees Fahrenheit and do your level best to keep it in that range during cooking.
"The ticket to delicious, crispy chicken is to get the oil hot enough and keep it from cooling off too much while frying," Drummond explains. "The best way to do this is to use an instant-read thermometer to keep an eye on the temperature. First, heat the oil to 350 degrees Fahrenheit, then add the first couple of chicken pieces. The oil temperature will drop slightly, but that's okay; just try to keep it above 325 degrees Fahrenheit."