Smoothie King's New Flavor Is Made For Coffee Lovers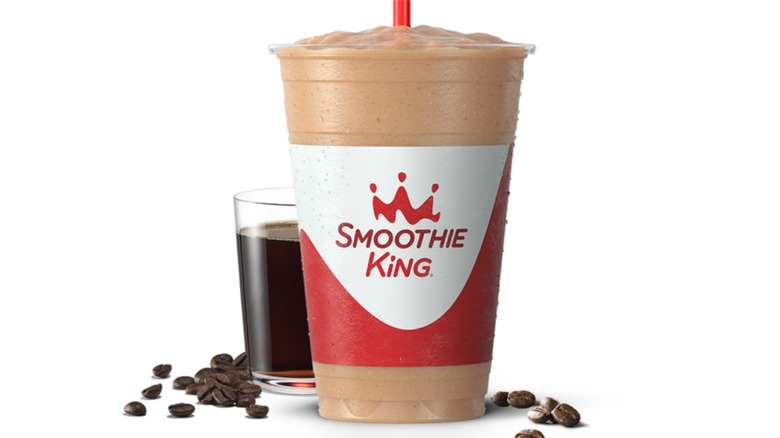 Smoothie King
Smoothie King has made a place for itself in customers' diets by providing an array of blended fruit beverages. A recent addition not only adds to the variety of those options, but could appeal to a different segment of people who feel compelled to pick up something to drink while they are on the go.
According to Grey Journal, Smoothie King founder Steve Kuhnau created the now widespread chain because of his own dairy allergy in the 1970s. About half a century later, Kuhnau's desire to enjoy a delicious dairy-free beverage has grown to over 1,100 locations across the United States, per Scrape Hero. In 2014, the company further expanded its brand recognition by splurging on the naming rights to the former New Orleans Arena — now dubbed the Smoothie King Center (via The Louisiana Weekly).
Yet, the corporation is not content to just rest on its laurels. Its newest menu items aim to stir things up in the coffee industry to Smoothie King's benefit.
The crown seeks new territory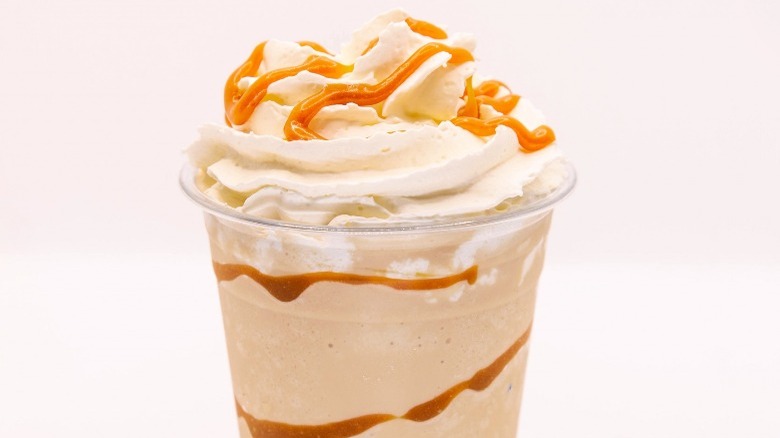 razum/Shutterstock
Smoothie King announced its newest creations in an August 30, 2022 press release. With the smoothie chain's blended coffee beverages already among its most popular menu items, the company is adding a new proprietary Espresso recipe to freshen things up. 
To promote the new product, customers can currently get a 20 oz. Espresso or Cold Brew blended smoothie for just $5 if they stop in before 11 a.m., starting August 30. Smoothie King says guests can also add Cold Brew or Espresso to any smoothie they would like.
While blended coffee beverages have already been a part of Smoothie King, having its own Espresso blend puts the company in a position to compete with quick service coffee chains like Dunkin' and Starbucks directly. Starbucks led the way in 2020 with a 40% market share in the United States (per Daily Coffee News), so Smoothie King definitely has some work to do.
These new coffee blends might help in that endeavor. If nothing else, people can now try Smoothie King's Espresso blend to see how it compares to some of their other favorites.