The Cheesecake Factory's New Menu Features An Ode To One Delicious Dish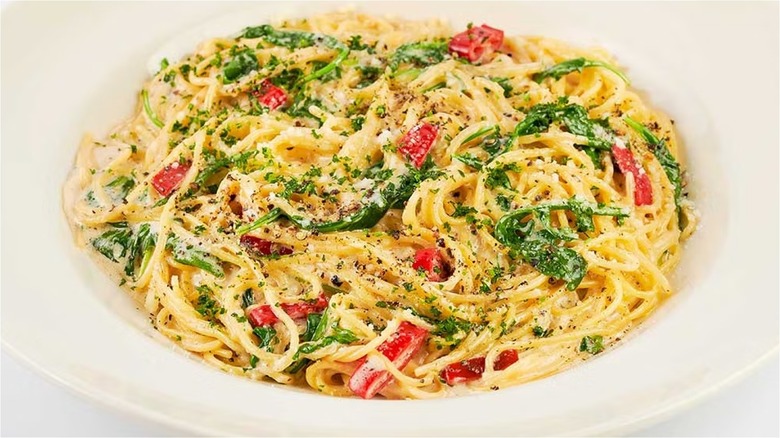 Cheesecake Factory
The Cheesecake Factory is not for minimalists. The restaurant is for those who delight in dramatic gold paint and dark wood; fawning over sumptuous desserts behind glass cases; and tucking into plates of fettuccini Alfredo, egg rolls, and shepherd's pie beneath the fronds of a majestic indoor palm tree. The Detroit-founded chain is known for its deluge of bold interior decorating choices that don't necessarily evoke the same era or theme, and for its menu that clocks in at no fewer than 5,940 words (per Insider). If variety is the spice of life, The Cheesecake Factory is the mill. 
To keep up its reputation for a range of eclectic American cuisine, the chain makes frequent updates to its behemoth of a menu. One such update arrived this week, and it's packed with spins on classic dishes. If you're a fan of the flavors of cacio e pepe, let's just say you're in for the meal of your wildest dreams. 
Three cacio e pepe-inspired dishes at the Cheesecake Factory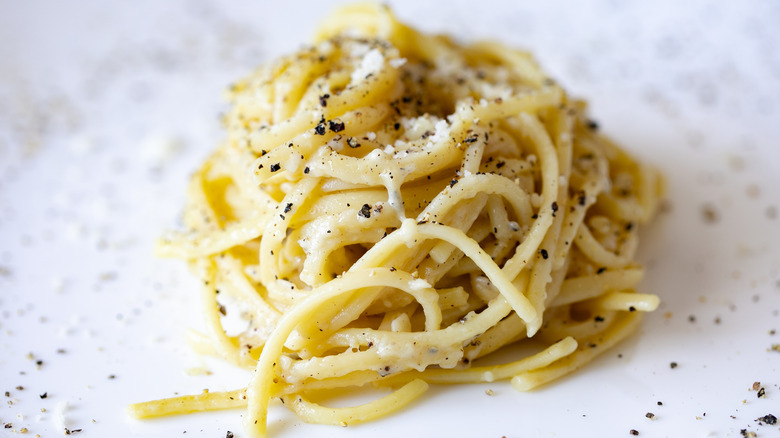 love4pixel/Shutterstock
Taste of Home reports 20 new additions to the Cheesecake Factory menu, which, appropriately enough for the brand, seem to have been thought up by someone who was craving many different things at once. There are "asparagus fries" fried in parmesan breadcrumbs; ahi tuna poke atop a bed of wontons and drizzled in sriracha aioli; and "bee string" flatbread pizza with bacon, pepperoni, Italian sausage, Calabrian chiles, mozzarella, parmesan, and honey. 
Most importantly for fans of one of Rome's most quintessential pasta dishes, there are three new menu items inspired by cacio e pepe. Traditionally made with a simple trifecta of spaghetti, Pecorino Romano, and black pepper, many Italians will tell you not to mess with the perfection of the dish's original form (via Foodicles). But clearly, The Cheesecake Factory is comfortable taking some artistic liberties. The new menu features cacio e pepe flatbread pizza; a spaghetti dish topped with Romano, parmesan, arugula, and black pepper (per the restaurant); and cacio e pepe pasta with chicken, which adds grilled poultry to the dish. For dessert, diners can order up a slice of newly added basque cheesecake topped with fresh berries (via Food Network) — and yes, it is supposed to look slightly burnt.