What Happened To Slice Of Sauce After Shark Tank?
How much do you hate biting into a burger only to get a big slop of ketchup on your shirt? Many people might agree that few things ruin your lunch quite like getting it on your clothes. What if there was a simple solution to that eternal problem? Well, the makers of one of the best foods we've seen on "Shark Tank" tried to provide one. The product is called Slice of Sauce and it's basically what it sounds like- – a slice of solidified condiment packed like and resembling American cheese. All the flavor you love, none of the mess you don't.
Creator Emily Williams stumbled upon the idea by accident (via Fox5 News) and would later take to "Shark Tank" with her husband Cody. One day, while trying to replicate a family barbeque sauce recipe as a dry rub, something went awry. Instead of a dry rub or a sauce, Williams ended up with something like fruit leather. Instead of throwing it out, Williams popped it on a sandwich and found, to her surprise, that she actually thought it was delicious and positively packed with flavor. That gave her the idea to share this tasty, no-mess treat with the world.
Swimming with the sharks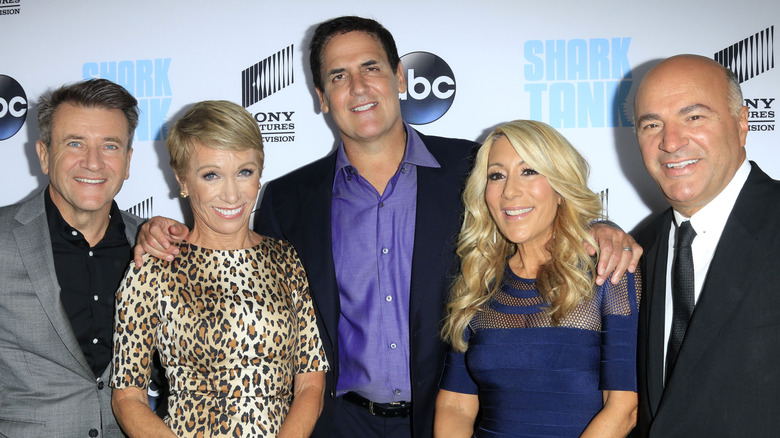 Kathy Hutchins/Shutterstock
Husband and wife team Cody and Emily Williams appeared on "Shark Tank" with an unusual pitch (via YouTube). The couple not only brought an unusual product, but they also had the unusual caveat of having never sold a single unit! What's even more surprising is that despite seeming a little green in the sales arena, the Williamses had actually been fending off advances from "Shark Tank" for more than two years. As explained in a Tig Talks interview (via Tig Brands), they were first invited to apply to the show back in 2018 but felt they weren't ready.
When the couple appeared on "Shark Tank" Season 12 in January 2021, they still had some hiccups in their production process to work through (via All Shark Tank Products). These all-natural, clean ingredient condiments were being manually produced at the time of the show. Most significantly, while they'd had great success with fundraising (they'd raised over $400,000 prior to appearing on "Shark Tank") and even had a pending deal with Thrive Market, the couple had yet to sell a single unit, they were still "pre-revenue" at the time of taping.
The couple requested $200,000 for 10% equity. Instead, they accepted a deal from guest investor Alex "A-Rod" Rodriguez for a $200,000 loan that would convert to 15% equity if the company hit $1.8 million in sales according to Shark Tank Blog.
Where are they now?
Although at the time of taping the "Shark Tank" segment Slice of Sauce planned to launch sales in November 2021 (per YouTube), there is no sign of it today. While the Slice of Sauce website says "coming to a grocery store near you," that's about all it says. The company's Facebook page is no longer available. The company stopped updating its Instagram page in September 2021. According to both Shark Tank Blog, the deal with A-Rod wasn't completed.
While we haven't found a full account of what may have gone wrong, some of the difficulties mentioned by the founders could shed some light. According to an interview that Emily and Cody Williams gave with TIG Talks, they ran into shipping and manufacturing issues: "One of the challenges that we've had is this cart-horse situation because we haven't been able to ship product for so long, we've been in this scale-up process, manufacturing conundrum of finding our co-packer and getting that going." They also admitted that they delayed taking steps to build their brand and engage possible customers.
They were accepting pre-orders at the time the episode aired, and apparently, at least one of those initial orders did go out. But one fan on Instagram commented about being unable to order more and said their messages and emails to Slice of Sauce had gone unanswered. It seems that this product never really got off the ground or maybe just hasn't fully gotten off the ground yet.