The NBA Star Who Just Launched His Own Wine Collection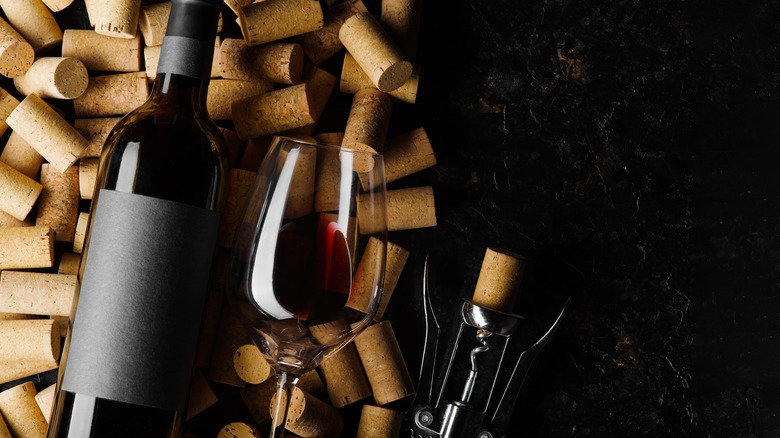 Anton27/Shutterstock
We know many NBA stars team with big brands like Nike or Adidas to create their own footwear or clothing lines. However, did you know that some are also involved in the business of wine and spirits?
In regards to athletes getting into the booze biz, Lisa Hawkins, senior vice president of public affairs at the Distilled Spirits Council, told ESPN, "Actors and musicians have been investing in distilled spirits brands for some time, and professional athletes are a natural progression of this celebrity trend."
Back in June, former NBA player Dwayne Wade of Miami Heat fame, multi-time all-star Carmelo Anthony, and CJ McCollum of the Nor Orleans Pelicans spoke at the Aspen Food & Wine Classic in a Food about inclusivity in the wine industry (via NY Post). President of the Stoller Wine Group, Gary Mortensen, said the three basketballers are "bringing opportunity and visibility for people of color, and the underprivileged in general. They're making an industry that hasn't been that accessible in the past, accessible, and that's really, really important" (via NBC News).
As the door to the wine business opens wider, it may seem more inviting to other athletes who are interested in entering that arena. Therefore, it stands to reason that another high-profile basketball player might follow the wine industry path.
James Harden is bringing the wine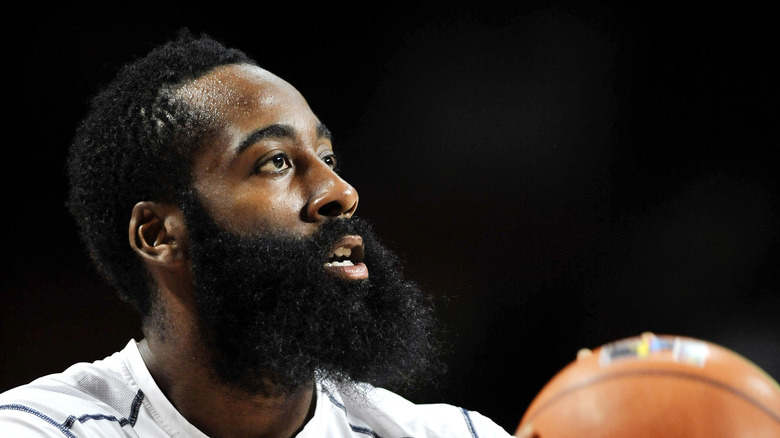 Marcos Mesa Sam Wordley/Shutterstock
According to the Wine Spectator, Philadelphia 76ers star James Harden, who was previously one of Carmelo Anthony's teammates on the Houston Rockets, teamed up with Jam Shed Wines – part of Australia's Accolade Wines – to create his own brand of wine called J-Harden.
The first two wines will be a California Red Blend and a California Cabernet Sauvignon. The bottle features an image of Harden's signature beard with a bright floral background. The Sixers star said that the design of the bottle was important to him as he wanted it to reflect his personality and stand out on the shelves. But he also has larger aims. "I have always seen the wine industry as a closed-door environment. ... [M]y goal is to make a high-quality product that can be enjoyed by the masses at a reasonable price," Harden said (via The Drinks Business).
Enrique Morgan, Accolade's managing director of the Americas, said, "The project has moved extremely fast, and James has been involved in every step of the way, from the packaging direction to the wine profile to ultimately selecting the final blend" (via Wine Spectator).
J-Harden will start appearing on the shelves in September (via The Drinks Business). Each bottle will retail for $17, and Accolade expects to roll out around 100,000 cases over the next year.