What Happened To Tom + Chee After Shark Tank?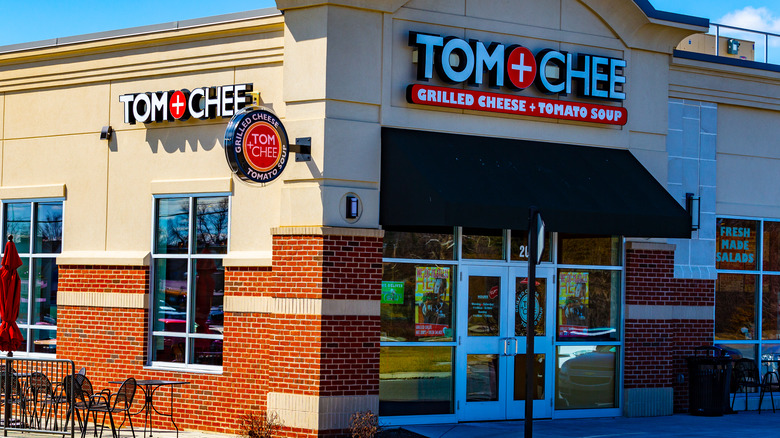 George Sheldon/Shutterstock
Reality shows have taken over the tube, from cheesy dating shows (we're looking at you "The Bachelor") to wild competitions like "Survivor," proving it difficult to not become invested in one or two of them. For foodies, culinary competitions like "Hell's Kitchen" and "Beat Bobby Flay" reign supreme, but for budding entrepreneurs or anyone interested in innovation, "Shark Tank" takes the cake. 
"Shark Tank" is a show that many can appreciate as it has helped birth incredible inventions, including some of the best kitchen tools and foods around. One company, Tom + Chee, debuted on the show back in 2013 pitching a grilled cheese and tomato soup fast-casual concept. At the time, the founders Trew Quackenbush and Corey Ward said that in 2009 they used their life savings to open a tent in Cincinnati to sell their cheesy creations. It was only upward from there for the duo, as they reveal on the show that they sold their first franchise and have 70 employees (via YouTube).
Per SharkTankBlog, the duo planned on building an empire and sought $600,000 with a 10% share of the business. They brought along one of their edible creations, the grilled cheesed donut, which wowed the sharks. With a fight among the sharks, the founders eventually took a deal with Barbara Corcoran and Mark Cuban for $600,000 and 30% of the business.
Tom + Chee rises and falls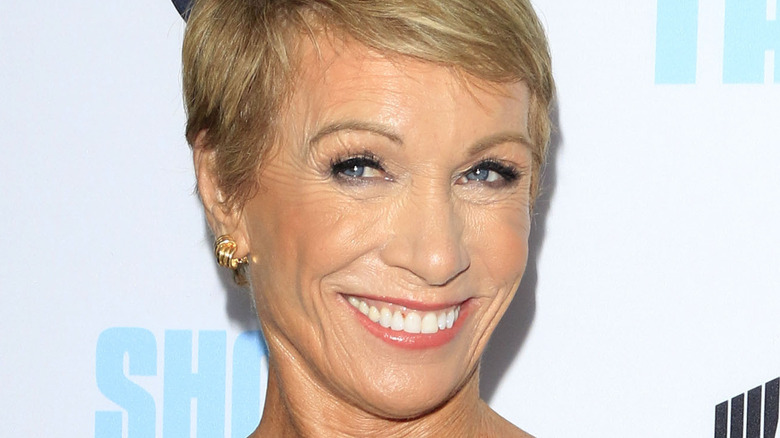 Kathy Hutchins/Shutterstock
After the show, the deal with Cuban fell through, but Quackenbush and Ward remained partners with Barbara, who was to receive a "franchise fee" from every New York location (via Dallas Business Journal). The grilled cheese company moved onward and upward with expanding locations and menu items (via Detroit Free Press).
As of 2015, it seemed that the sky was the limit for Tom + Chee, as the company reportedly had 19 locations, 500 employees, and $14 million in sales. The Mayor of Cincinnati at the time, John Cranley, announced a National Tom + Chee day due to the company's positive economic impact on the city (via YouTube).
In 2017 the Cincinnati Business Courier reported that Gold Star Chili bought the company for "an undisclosed sum." The 2017 update doesn't mention the purchase of the company but does share that Tom + Chee had $47 million in sales with 31 franchises across 15 states. Corcoran states in this update that Tom + Chee is one of her most successful investments. Sadly, the buck seemed to stop there.
The rebranding of Tom + Chee
SharkTankBlog reports that after GSR brands (the parent of Gold Star Chili) acquired Tom + Chee, Trew Quackenbush left the company for a teaching position in a local high school while Corey Ward stayed with the brand. Although the duo split up, Tom + Chee continued on. Since 2017, many Tom + Chee locations shut down due to a lack of infrastructure to support openings as well as the impact of COVID-19, leaving only seven open by April of 2021.
GSR began rebranding the company, which included replacing the + in the company name, which now goes by Tom & Chee. In 2021, PR Newswire reported that the company was going strong and that the GSR rebranding was proving to be successful. As of this past June, GSR reports that they've developed a "leaner business model" and that franchises are again available for purchase.
The Tom & Chee website offers delivery or online ordering and there is an active social media presence on Instagram and Twitter. Mashed could not find any reputable sources of what has become of the original Tom & Chee founders, Quackenbush and Ward.