How Whole Foods Leveled Up The Viral Yogurt Toast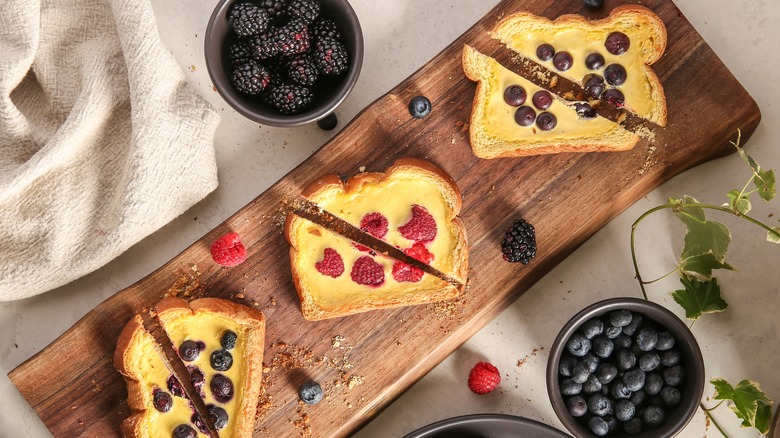 abeer estaitia/Shutterstock
Level up your morning toast with TikTok's viral yogurt toast. It started as a trend in early 2022 and stuck around as an easy breakfast snack. In a custard yogurt toast video with 2.6 million views, TikToker Cooking with Ayeh called it a dessert for breakfast, "but healthy." In the video, she showed how the OG yogurt toast is whipped up with five ingredients.
It starts with a "custard" that's made by mixing an egg, a few spoons of greek yogurt, and a splash of maple syrup. The custard is then poured onto a slice of toast that has been pressed down with a spoon, so the center is a sort of bowl for the custard. It's topped off with toppings like berries or chocolate chips. Toast it in an oven or air fryer until golden, and tada! You've made custard yogurt toast.
Variations of the yogurt toast have popped up everywhere online. From pomegranate fig to brûlée banana, the toppings are endless. You can follow our custard toast recipe that uses vanilla bean paste for extra vanilla flavor and powdered sugar raspberries as a topping. Whole Foods shared a video by @rachlmansfield on Instagram on Jan. 27 showing how she has given the viral toast a "citrus glow up." Here's how it's made.
How to make Whole Foods' citrus yogurt toast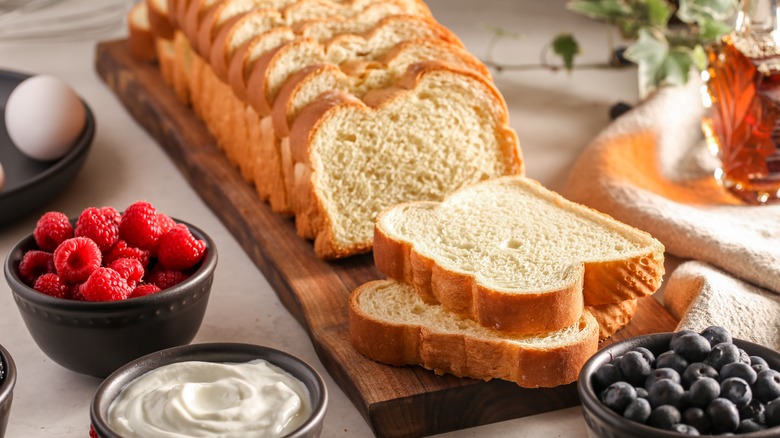 abeer estaitia/Shutterstock
In the Instagram video shared by Whole Foods, Rachel Mansfield gave the yogurt toast a citrusy spin. Instead of plain bread, she used fruit and nut bread for added flavor and texture. In the custard mixture, she added coconut sugar and cinnamon for a kick of spice. Then, she topped the toast with blood orange slices with the peel removed. She suggested using any "peak season citrus" for best results. After it's all toasty and golden, her secret ingredient is a sprinkle of salt.
Fans of the citrus toast recipe commented, "You won this trend," and, "need to try this!!!" Mansfield's other recipes are fun and healthy. On her Instagram, she shares recipes such as cinnamon toast crunch cereal made of tortillas and zucchini cake with cream cheese frosting. If citrus isn't totally your thing, TikTok has plenty of recipes to satisfy your custard toast cravings. TikToker @shineeedee used thick slices of milk bread, and grocery giant Kroger shared its version with brioche, blueberries, and peach slices (via TikTok). What would you put on your custard toast?