Here's What Happened To The Breakfast Place After Restaurant: Impossible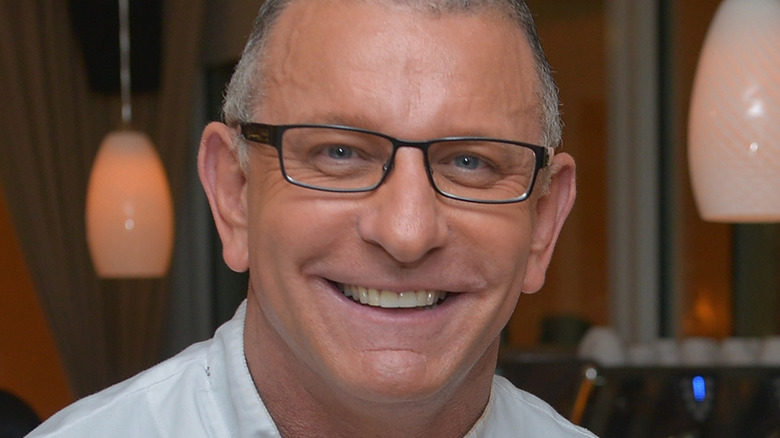 Zoltan Leclerc/Getty Images
As the first meal of the day, it's perfectly acceptable for breakfast to burst into the morning light with an action-packed line-up. If you want cereal, make sure there's milk pouring over the sides of the bowl. If you'd rather have pancakes, pile them up to the ceiling with fountains of syrup and entire pigs chopped into bacon. Don't hold back on starting your day with happiness.
80% of Americans tend to eat the meal every day, according to Kitchen Infinity, so there's certainly a market for cashing in on hunger. IBISWorld estimates the U.S. breakfast dining market is worth $11.1 billion. However, with a host of popular chain breakfast restaurants to contend with, squeezing into the market is sure to be a difficult task — especially if your business isn't quite up to scratch.
That was the unfortunate situation that one restaurant found itself in when its owners desperately sought the help of "Restaurant: Impossible" genius Robert Irvine. Based in San Jose, California, The Breakfast Place was described by Food Network as "uninspired, dirty, and close to shutting the doors for good." With a prognosis as bad as that, where is The Breakfast Place today?
The Breakfast Place has undergone a major transformation
The Breakfast Place seemed to be somewhat of a horror story when it appeared on "Restaurant: Impossible." In a video uploaded to Twitter, chef Robert Irvine is seen loudly and violently gagging as he discovers a mess in the restaurant's kitchen and reveals evidence of a potentially devastating fire. In addition to criticisms of its cleanliness, Food Network details The Breakfast Place's owners as being burnt out and lacking the confidence to manage their staff. "I think you're in the wrong business," Irvine warned.
Irvine helped to reorganize the business, with the Twitter clip showing one of the owners throwing eggs against a wall while rehearsing giving instructions to staff. The Breakfast Place held a grand re-opening on September 19, 2021 (via Facebook). Since then, customers have praised the restaurant's cooking, particularly its waffles, omelets, and coffee, according to Google reviews.
But another twist has developed in The Breakfast Place tale. According to its Facebook page (which boasts a rating of 4.4 stars), further renovations of the restaurant started on June 13, 2022 and were scheduled to last "for the next week or so." However, the restaurant is still showing as being "temporarily closed" and there has been no update on its re-opening.