The Fan-Favorite Burger That's Finally Returning To Wendy's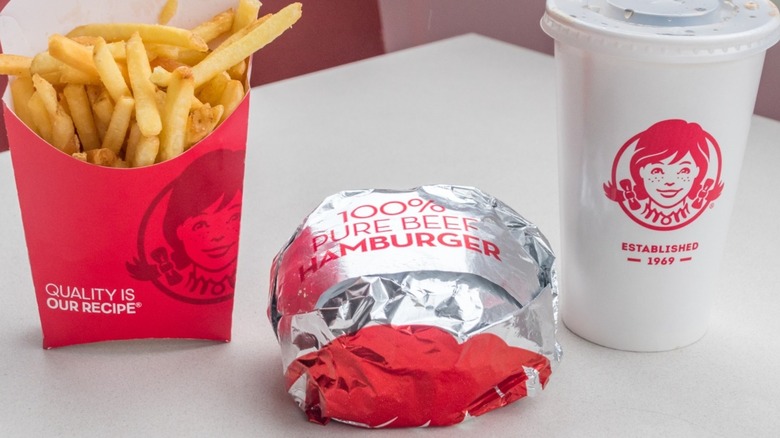 Robson90/Shutterstock
Ever since it first opened its doors in Columbus, Ohio back in 1969, Wendy's has been famous for its square-shaped, fresh and never frozen burgers (per Wendy's). That, plus its famous baked potatoes, hearty chili, and Frostys have set it apart from other fast-food chains like McDonald's or Burger King. Over the years, the Wendy's menu has grown to include a variety of other offerings, from spicy chicken nuggets to southwest avocado salad.
While the OG burger remains one of the most popular orders, you can also opt for something a little fancier, like the Baconator layered with strips of bacon or the massive Dave's Triple. And now, there's a new burger to add to the line-up: the Pretzel Bacon Pub Cheeseburger. As part of Wendy's just-released "Made to Crave" menu, the gourmet sandwich is coming back to the fast-food chain after it was taken off the menu last year (via PR Newswire). Here's what you need to know about the eagerly awaited cheeseburger.
Wendy's pretzel bacon burger has received rave reviews
The new Wendy's Pretzel Bacon Pub Cheeseburger clocks in at 850 calories and contains a quarter-pound burger patty topped with beer cheese sauce, strips of bacon, fried onions, honey mustard, Muenster cheese, and pickles. Here's a fun fact: According to a press release, Wendy's is the only fast-food restaurant with a pretzel bun. You can currently order the Pretzel Bacon Pub Cheeseburger at Wendy's locations across the country in person or via the mobile app. And if burgers aren't your thing, you can swap out the beef patty for a chicken breast (per PR Newswire).
The pretzel burger received plenty of positive reviews from fans the last time it was on the menu at Wendy's. "The pickles, honey mustard, and beer cheese sauce, deliver a balancing sweetness that gives it more layers than you demand from food coming out of a drive-thru," Thrillist's Dustin Nelson raved. Describing the pretzel bun as firm and slightly sweet, Nelson goes so far as to say the pretzel burger might be the best burger at Wendy's. We can only hope this burger sticks around for good this time.